How about some White House officials visit Houston…
More than 100 countries are represented in Houston. Routinely ranked top in the country for job growth, with a school system where 80 percent of students are disadvantaged. For details, go here.
Lee High School for instance has 1700 students, a Vietnamese principal and student are from 40 different countries.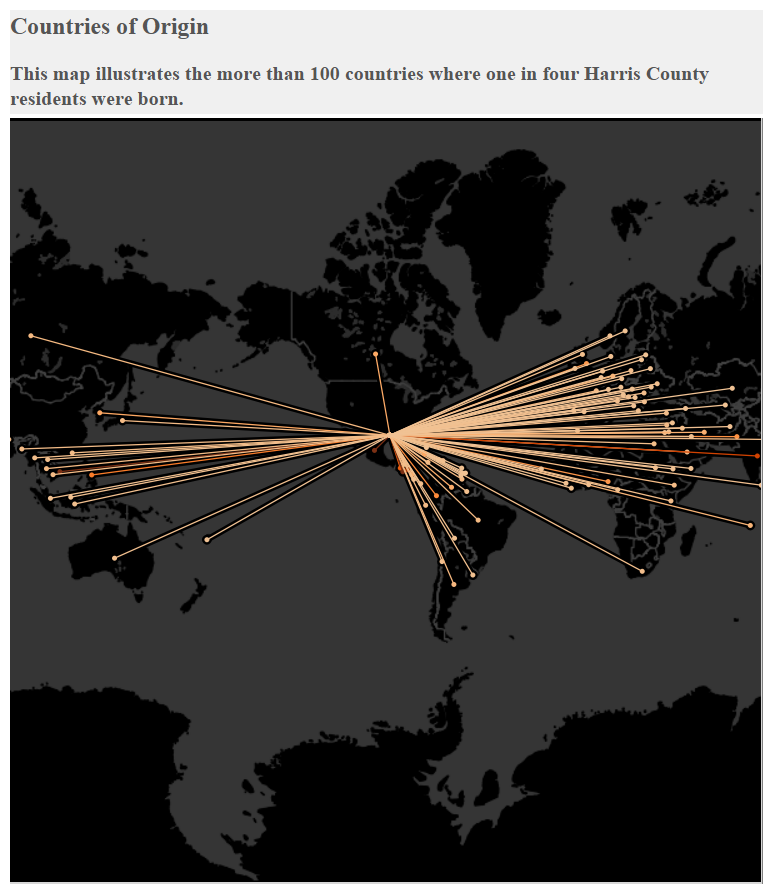 Illegal immigrant "Dreamers" said they staged a sit-in to block the entrance to the Democratic National Committee's offices in Washington on Monday in order to show they blame Democrats as well as Republicans for missing President Trump's March 5 deadline for action.

Immigrant-rights activists who are U.S. citizens and who are supporting the Dreamers will also cancel their membership in the Democratic Party in order to make their point, the organizations said.

Monday marked six months since Mr. Trump announced a phaseout of the Obama-era DACA deportation amnesty. The president had said Congress should use the phaseout period to approve a new plan, with full congressional authorization, to grant DACA recipients legal status.

Mr. Trump offered a middle-ground approach, but the security enhancements went too far for Democrats, while his proposed amnesty for illegal immigrants went too far for many Republicans, and the bill stalled.

While Democrats have blamed the GOP, activists made clear Monday they will pin some of the blame on Democrats.

"The Democrats made the calculation to kick the can down the road and allow hundreds of thousands of us undocumented youth to live in uncertainty. We are anxious and we are scared of being torn away from their homes and our community", said Maria Duarte, one of 683,000 people covered by DACA.

DNC Chairman Tom Perez, though, said Mr. Trump is the problem, calling his phaseout "cruel and reckless."

"Donald Trump's decision to end DACA created an unnecessary crisis that has left hundreds of thousands of Dreamers uncertain about their future. And now his arbitrary deadline has passed without any action from the president or Republicans in Congress," Mr. Perez said in a statement.

The protesters Monday were part of the Seed Project, which staged a march from New York to Washington late last month, in anticipation of the March 5 deadline.

The protesters said they expect Congress to pass a "clean" bill granting perhaps 2 million illegal immigrants citizenship rights — without agreeing to any other provisions such as Mr. Trump's planned border wall or changes to legal immigration policy.
Work permits expiring March 31 are automatically extended through Sept. 27
WASHINGTON—Current beneficiaries of Temporary Protected Status (TPS) under Syria's designation who want to maintain their status through Sept. 30, 2019, must re-register between March 5, and May 4, 2018. Re-registration procedures, including how to renew employment authorization documentation, have been published in the Federal Register and on the USCIS website.
All applicants must submit Form I-821, Application for Temporary Protected Status. Applicants may also request an Employment Authorization Document (EAD) by submitting a completed Form I-765, Application for Employment Authorization, when they file Form I-821, or separately at a later date. Both forms are free on USCIS' website at uscis.gov/tps.
USCIS will issue new EADs with a Sept. 30, 2019, expiration date to eligible Syrian TPS beneficiaries who timely re-register and apply for EADs. However, given the timeframes involved with processing TPS re-registration applications, USCIS is automatically extending the validity of EADs with an expiration date of March 31 for 180 days, through Sept. 27.
To be eligible for TPS under Syria's current designation, individuals must have continuously resided in the United States since Aug. 1, 2016, and have been continuously physically present in the United States since Oct. 1, 2016, along with meeting the other eligibility requirements.
On Jan. 31, Secretary of Homeland Security Kirstjen M. Nielsen announced her determination that the conditions supporting Syria's TPS designation continue. The secretary made her decision after reviewing country conditions and consulting with appropriate U.S. government agencies. Before the 18-month extension ends, the secretary will review conditions in Syria to determine whether its TPS designation should be extended again or terminated.