JOIN OUR TEAM!
DENISE SIMON ON THE RADIO
THE CAPTAIN'S AMERICA - THIRD WATCH
Denise is also a regular guest / analyst on The Captain's America - Third Watch, hosted by Matt Bruce.
Nationally syndicated and broadcast live from Tampa, FL every Monday through Friday from 2:00AM - 6:00AM on WGUL AM 860 The Answer, Red Nation Rising Radio, and a multitude of stations across America!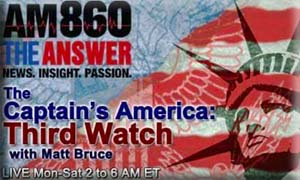 ---
THE SCOTT JAMES MORNING SHOW
Denise is a daily guest / analyst on The Scott James Morning Show, heard weekdays on WDDQ - Talk 92.1FM and WJHC - Talk 107.5FM.
Catch her tomorrow morning as she discusses what the mainstream media "might" cover two weeks from now!

---
FOUNDERS CODE ARCHIVES BY DATE