Let's begin with the 39th Congress shall we?
1865-1867, it was a time of reconstruction. For context, scan this summary of the activity of Congress.
On the matter of ratification of the 14th Amendment, a year long study was completed by a 15 member committee. Much of the debate was on citizenship for slaves. For reference, the Joint Resolution was H.R. 127.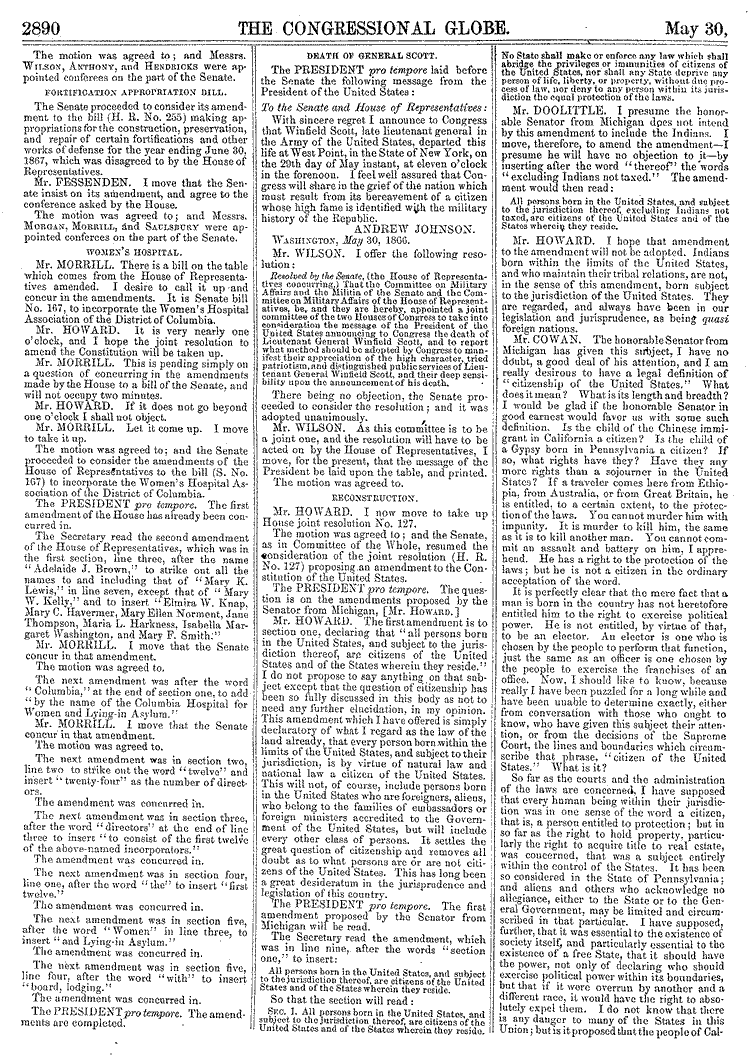 Of particular note is the text in the middle column under 'Reconstruction'. This document is found in the Library of Congress. This matter has been debated often over many decades and there is no law defining natural born v. foreign ownership, loyalty or jurisdiction. Hence the reason the debate continues and proposed legislation in addition to President Trump considering an Executive Order. Frankly, the common existing definition on birthright gives an additional argument to chain migration, somewhat in reverse.
Here is a cogent presentation on the case against birthright.
Need more?
Claremont Senior Fellow Matthew Spalding
Spalding raised the question in "Should the Children of Illegal Aliens Be U.S. Citizens?" and his U.S. News & World Report op-ed: "14th Amendment Doesn't Make Illegal Aliens' Children Citizens"
Others
Frequent Claremont Review of Books contributor and summer fellowship faculty member Richard Samuelson provides more historical and legal context in his essay for The Federalist: "Birthright for Whom?"
*** Is it okay that there are actually birthing hotels in California where Chinese woman take full advantage?Federal agents raided several maternity hotels in January of 2018 where these pregnant women paid between $40,000 to $80,000 to give birth in the United States. This has been the case for many years. There was/is a list of sites for birthing tourism for California.
How about pregnant Russian women making the long trip to Miami just to give birth? Birthing tourism is a thriving business for Russians in Miami. It is all for dual citizenship. If the mainstream media complains about President Trump authorizing an Executive Order, the text is most important. He cannot alter any Constitutional amendment but he can issue an order to stop birthing tourism. Even NBC News is quite aware of the issue.
"for a growing number of Russian women, the draw isn't sunny beaches or pulsing nightclubs. It's U.S. citizenship for their newborn children. In Moscow, it's a status symbol to have a Miami-born baby, and social media is full of Russian women boasting of their little americantsy."

*** If President Trump signs an Executive Order it will be legally challenged with a lawsuit before the end of the day. Perhaps this is a good thing to begin a final legal opinion on the matter.