The money to Iran is already moving.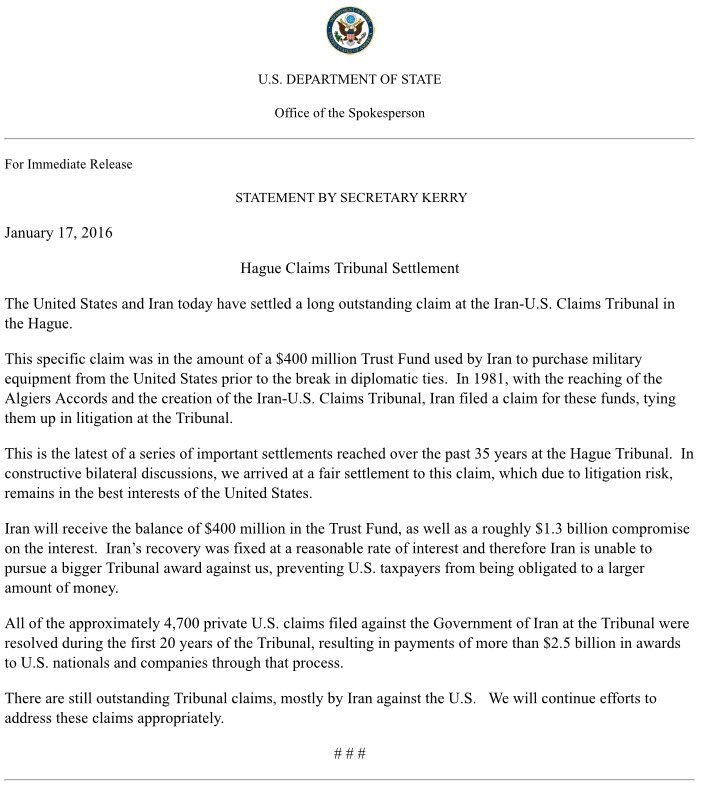 This is going to be a long read, but an important one such that history is included, details of diplomacy is included and described implications are described. Imagine what the next president of the United States will have to deal with, but more, imagine what Iran may do in the immediate coming months with $100 billion dollars, which by the way is bigger than Iran's current economic value.
Iran Is More Deeply Tied to ISIS Than You Think
As the West continues to partner with Iran to "degrade and ultimately destroy" the Islamic State, it is worth remembering that one of Iran's highest-ranking terrorists was instrumental in founding Al-Qaeda, and that the split between Shia and Sunni jihadis is murky at best.

Iranian operative Imad Mughniyeh was instrumental in the training, development, and support of Hezbollah, Hamas, and al-Qaeda – and thus its offshoot, the Islamic State.

The power vacuum Mughniyeh created helped to further Iran's geopolitical agenda. (This is a very long, detailed and important read, don't miss the whole summary)
In part from the WSJ: The head of the Treasury Department's Office of Terrorism and Financial Intelligence is in Europe to discuss joint counterterrorism finance efforts and where things stand with the global agreement on Iran's nuclear program. Talks on the former will be straightforward enough, but the latter could get bumpy.
Over the past few months, investors from Europe and Asia have gone to Tehran in droves, searching for post-sanction deals and bolstering Iranian hopes that the lifting of international sanctions will draw significant investment. Some in Europe have described Iran "as 'an El Dorado' and potential 'bonanza.' " The chief of Iran's central bank has cited the country's "unique geographical advantage," its "sense of timeliness and discipline," and "very good history of being a trade partner." In October, he predicted that "Iran will be a very favored destination for many international investors."
But Treasury officials bear mixed news: The U.S. is preparing to meet its commitments on sanctions relief tied to implementation of the nuclear deal. Still, many U.S. sanctions tied to Iran's support for terrorism, human rights abuses, and other negative behaviors remain in place.
And within days of the Iranian central banker's comments in October, the Financial Action Task Force, which sets global standards on countering money laundering and terrorist financing, issued another searing rebuke of Iran's "strategic deficiencies." Only Iran and North Korea, the task force said, present such "on-going and substantial money laundering and terrorist financing" risks that the international community should apply active "counter-measures" to protect the global financial system.
The task force said that as sanctions are being lifted under the nuclear agreement, it "remains particularly and exceptionally concerned about Iran's failure to address the risk of terrorist financing and the serious threat this poses to the integrity of the international financial system." It repeated its long-standing call for financial institutions to "give special attention to business relationships and transactions with Iran, including Iranian companies and financial institutions." The full story is here.
From the White House: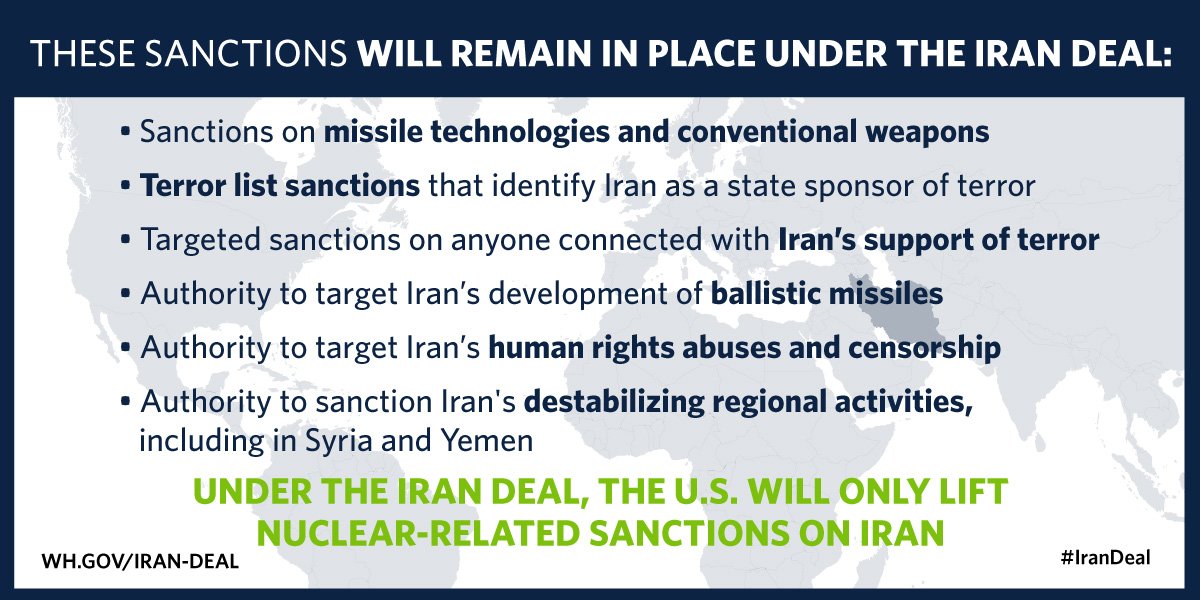 From the Treasury Department in part:
​Implementation Day Statement:
On July 14, 2015, the P5+1 (China, France, Germany, Russia, the United Kingdom, and the United States), the European Union, and Iran reached a Joint Comprehensive Plan of Action (JCPOA) to ensure that Iran's nuclear program will be exclusively peaceful.  October 18, 2015 marked Adoption Day of the JCPOA, the date on which the JCPOA came into effect and participants began taking steps necessary to implement their JCPOA commitments.  Today, January
16
, 2016, marks Implementation Day of the JCPOA.  On this historic day, the International Atomic Energy Agency (IAEA) has verified that Iran has implemented its key nuclear-related measures described in the JCPOA, and
the Secretary State has confirmed the IAEA's verification
.  As a result of Iran verifiably meeting its nuclear commitments, the United States is today lifting nuclear-related sanctions on Iran, as described in the JCPOA.
***
By Aniseh Bassiri Tabrizi and Timothy Stafford
The Iran deal remains at the mercy of a volatile and unpredictable political climate, both in Tehran and Washington. This could well overwhelm it in the coming year.
By Aniseh Bassiri Tabrizi
To make the deal successful, intensive co-ordination between domestic actors in Iran will be required to implement these highly technical processes.
By Emil Dall, Andrea Berger and Tom Keatinge
Over the last decade, the US and EU have constructed a complex network of sanctions in response to Iran's nuclear programme, ensuring the near-total isolation of Iran from global markets. On 'implementation day', this network starts to be disassembled and reintegration begin.
The signatories to the Iran nuclear deal should move to entrench processes that will enable the agreement to outlast the individuals that put it in place. By this time next year, a new US president will have been sworn in, and presidential elections in Iran will only be just months away. Time must be used wisely.