Primer: On Septmber 12, 1992, Susan Rice married her Stanford romantic interest, Ian Cameron, who was working as a television producer in Toronto for the Canadian Broadcasting Corporation. The couple lived in Canada until 1993, when Rice took a job with the National Security Council in Washington, D.C., under President Clinton.
The 5 Sunday talk shows, Benghazi was due to an video lady, who also told us that Bowe Bergdahl served with honor and distinction…yeah that was Susan Rice….
Social media blew up late Sunday night with the notion that Susan Rice was the leaker. Okay, so is there evidence? Well, no smoking gun yet…but where are the dots leading us?
Mike Cernovich is a journalist, documentary filmmaker, wrote a piece that pointed to Ambassador Rice, who was also on president Obama's national security council at the White House.
Susan Rice, who served as the National Security Adviser under President Obama, has been identified as the official who requested unmasking of incoming Trump officials, Cernovich Media can exclusively report.

The White House Counsel's office identified Rice as the person responsible for the unmasking after examining Rice's document log requests. The reports Rice requested to see are kept under tightly-controlled conditions. Each person must log her name before being granted access to them. Upon learning of Rice's actions, H. R. McMaster dispatched his close aide Derek Harvey to Capitol Hill to brief Chairman Nunes.
 ***
The U.S. intelligence official who "unmasked," or exposed, the names of multiple private citizens affiliated with the Trump team is someone "very well known, very high up, very senior in the intelligence world," a source told Fox News on Friday.

Intelligence and House sources with direct knowledge of the disclosure of classified names told Fox News that House Intelligence Committee Chairman Devin Nunes, R-Calif., now knows who is responsible — and that person is not in the FBI.
***
Resurgent writes for us: Susan Rice Sought Trump Data From Intelligence Reports. Is This Why The CIA Wanted Ezra Cohen-Watnick Ousted?
Eli Lake has an explosive report on who in the Obama Administration was seeking Trump staffers' names in intelligence reports. Turns out it was Susan Rice.

White House lawyers last month discovered that the former national security adviser Susan Rice requested the identities of U.S. persons in raw intelligence reports on dozens of occasions that connect to the Donald Trump transition and campaign, according to U.S. officials familiar with the matter.

The pattern of Rice's requests was discovered in a National Security Council review of the government's policy on "unmasking" the identities of individuals in the U.S. who are not targets of electronic eavesdropping, but whose communications are collected incidentally. Normally those names are redacted from summaries of monitored conversations and appear in reports as something like "U.S. Person One."

Now, there is an interesting other nugget in Lake's report.

The person charged with investigating the unmasking was Ezra Cohen-Watnick, the National Security Council's senior director of intelligence. This is relevant because of this report from the Politico.

President Donald Trump has overruled a decision by his national security adviser, Lt. Gen. H.R. McMaster, to sideline a key intelligence operative who fell out of favor with some at the Central Intelligence Agency, two sources told POLITICO. On Friday, McMaster told the National Security Council's senior director for intelligence programs, Ezra Cohen-Watnick, that he would be moved to another position in the organization.

So the guy who uncovers Rice's connection suddenly falls out of favor with the CIA, which pressures McMaster to remove him?

Hmmmm . . .

What are the odds of that?
*** More from Bloomberg: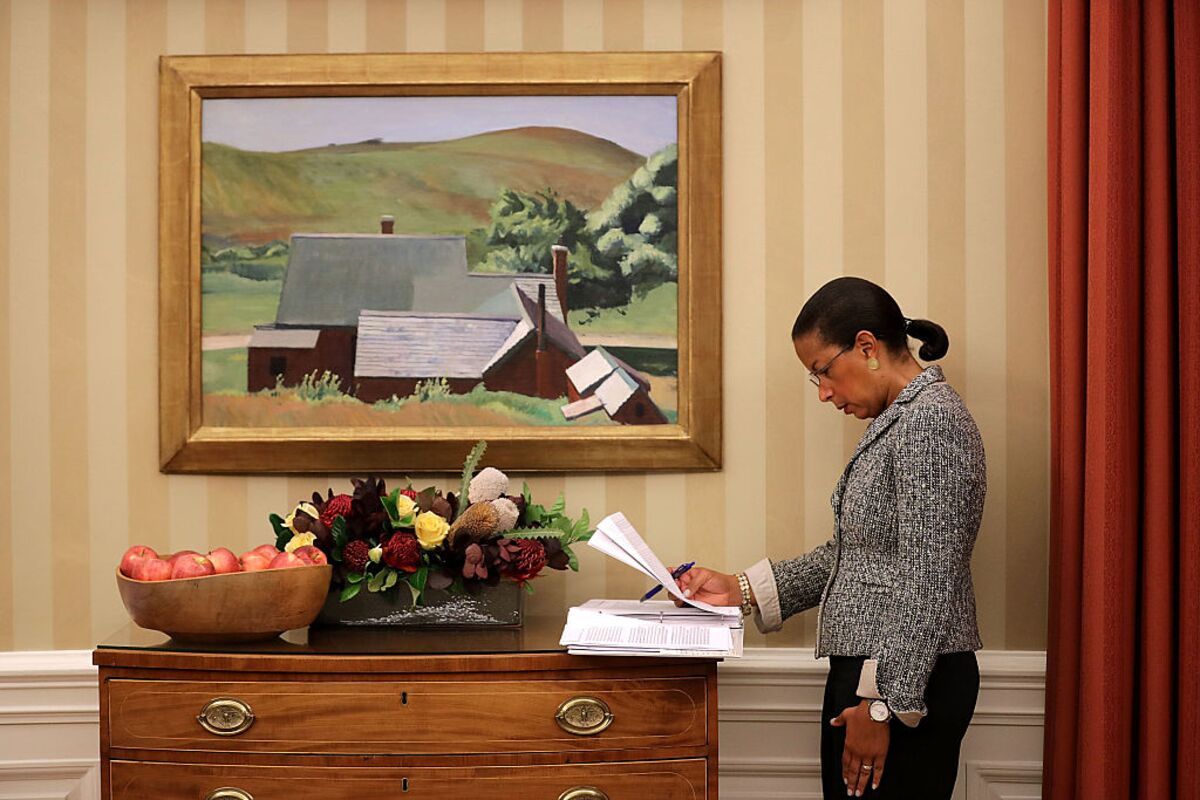 Rice's requests to unmask the names of Trump transition officials does not vindicate Trump's own tweets from March 4 in which he accused Obama of illegally tapping Trump Tower. There remains no evidence to support that claim.
But Rice's multiple requests to learn the identities of Trump officials discussed in intelligence reports during the transition period does highlight a longstanding concern for civil liberties advocates about U.S. surveillance programs. The standard for senior officials to learn the names of U.S. persons incidentally collected is that it must have some foreign intelligence value, a standard that can apply to almost anything. This suggests Rice's unmasking requests were likely within the law.
The news about Rice also sheds light on the strange behavior of Nunes in the last two weeks. It emerged last week that he traveled to the White House last month, the night before he made an explosive allegation about Trump transition officials caught up in incidental surveillance. At the time he said he needed to go to the White House because the reports were only on a database for the executive branch. It now appears that he needed to view computer systems within the National Security Council that would include the logs of Rice's requests to unmask U.S. persons.
The ranking Democrat on the committee Nunes chairs, Representative Adam Schiff, viewed these reports on Friday. In comments to the press over the weekend he declined to discuss the contents of these reports, but also said it was highly unusual for the reports to be shown only to Nunes and not himself and other members of the committee.
Indeed, much about this is highly unusual: if not how the surveillance was collected, then certainly how and why it was disseminated.