Imagine the conversations in meetings between respective military officers of these two countries. As the United States has very little in the way of remote espionage in China and due to the expulsion of U.S. diplomatic personnel from Russia, the U.S. has even less intelligence officers in and around Russia….so, what could be coming that we may soon miss?
CHINA'S EVOLVING OVERSEAS ACCESS
China is expanding its access to foreign ports to pre-position the necessary logistics support to regularize and sustain deployments in the "far seas," waters as distant as the Indian Ocean, Mediterranean Sea, and Atlantic Ocean. In late November, China publicly confirmed its intention to build military supporting facilities in Djibouti "to help the navy and army further participate in United Nations peacekeeping operations (PKO), carry out escort missions in the waters near Somalia and the Gulf of Aden, and provide humanitarian assistance." This Chinese initiative both reflects and amplifies China's growing geopolitical clout, extending the reach of its influence and armed forces.
China's expanding international economic interests are increasing demands for the PLAN to operate
in more distant seas to protect Chinese citizens, investments, and critical sea lines of communication
(SLOC).
China most likely will seek to establish additional naval logistics hubs in countries with which it has a
longstanding friendly relationship and similar strategic interests, such as Pakistan, and a precedent for hosting foreign militaries. China's overseas naval logistics aspiration may be constrained
by the willingness of countries to support a PLAN presence in one of their ports.
So far, China has not constructed U.S. – style overseas military bases in the Indian Ocean. China's leaders may judge instead that a mixture of preferred access to overseas commercial ports and a limited number of exclusive PLAN logistic facilities—probably collocated with commercial ports—
most closely aligns with China's future overseas logistics needs to support its evolving naval requirements.
Preferred access would give the PLAN favored status in using a commercial port for resupply,
replenishment, and maintenance purposes. A logistics facility would represent an arrangement in
which China leases out portions of a commercial port solely for PLAN logistics operations.
Such a logistics presence may support both civilian and military operations. China's current naval logistics footprint in the Indian Ocean is unable to support major combat operations in South Asia. A greater overseas naval logistics footprint would better position the PLAN to expand its participation in non-war military missions, such as non-combatant evacuation operations (NEO), search-and-rescue (SAR), humanitarian assistance/disaster relief (HA/DR), and sea lines of communication (SLOC) security. To some extent, a more robust overseas logistics presence may also enable China to expand its support to PKO, force protection missions, and counterterrorism initiatives.
For example, in 2015, the PLAN's naval escort task forces performing counterpiracy escort duties in the Gulf of Aden were able to utilize Djibouti and Oman for basic resupply and replenishment. The 156 page report is here.
***
Electronic attack J-16
A dedicated electronic warfare (EW) version of the Shenyang J-16 fighter completed its maiden flight on December 18 last year. The first images of the aircraft — sometimes described as the J-16D or even J-16G — reveal several changes compared to the standard J-16 fighter-bomber: most obviously, two large EW pods on the wingtips that are very similar in appearance to the AN/ALQ-218 tactical jamming receivers used by the Boeing EA-18G Growler. The aircraft also features a new, shorter radome and the standard 30mm cannon and the optical sensor in front of the starboard side of the windshield have been removed. In addition, several conformal dielectric EW arrays can be seen around the fuselage, front section (behind the radome), and intakes.
Photo
In the wake of Russia's demonstrations of advanced electromagnetic spectrum and communications jamming capabilities, most recently displayed in their incursion into Ukraine, China also is upping its game in this space, demonstrating similar capabilities in the Pacific.

The U.S. Department of Defense, in an annual report to Congress on China's military and security developments, assessed that the country is placing greater importance upon EW, on par with traditional domains of warfare such as air, ground and maritime.

"The [People's Liberation Army] sees EW as an important force multiplier, and would likely employ it in support of all combat arms and services during a conflict," the 2016 report asserts. "The PLA's EW units have conducted jamming and anti-jamming operations, testing the military's understanding of EW weapons, equipment, and performance. This helped improve the military's confidence in conducting force-on-force, real-equipment confrontation operations in simulated EW environments."

According to the report, China's EW weapons include "jamming equipment against multiple communication and radar systems and GPS satellite systems. EW systems are also being deployed with other sea- and air-based platforms intended for both offensive and defensive operations."More here.
***
Collaboration on Satellites
….uh huh…. Joint military operation locations: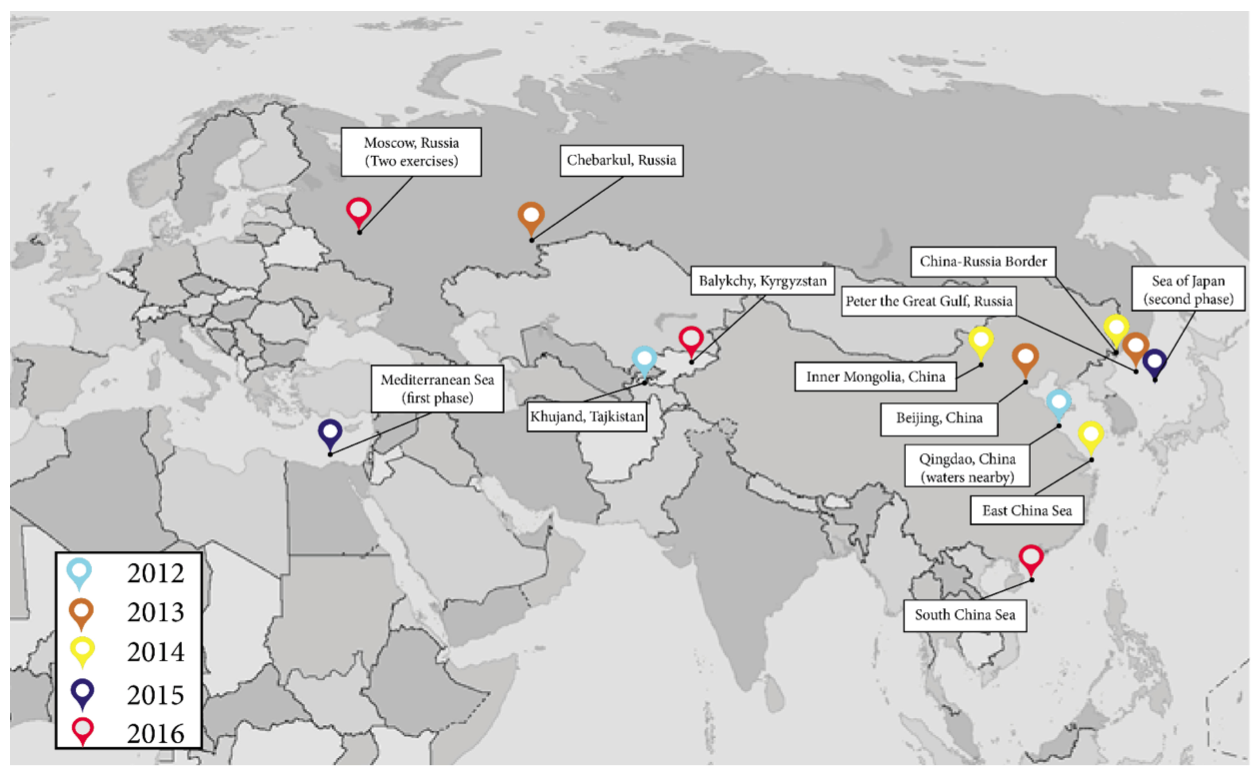 Before Russia and China began their recent series of bilateral exercises, the key tie between Moscow and Beijing was arms sales and military technology cooperation — totaling about $26 billion from 1992 to 2006 — according to estimates cited in the report.
Moscow sold Beijing, "export versions of the Su-27 and Su-30 fighter, the S-300 SAM defense system, Sovermennyy-class guided missile destroyer, and Kilo-class diesel-electric submarine," the report said, citing data from the Stockholm International Peace Research Institute.
Fears of China copying Russian systems led to a drop off in arms sales between the two countries – especially higher end weapon systems. Chinese arms manufactures are notorious for taking, modifying and reproducing weapon designs.  More here.
Russia and China are planning to merge their satellite tracking systems, RT.com is reporting.

The giant system will be able to cover most of an area including China, Kazakhstan, Kyrgyzstan, Russia, Tajikistan, Uzbekistan, India and Pakistan. according to RT, the Russian-funded news outlet.

The two nations will reportedly negotiate terms of the merger in May during a conference in China.

Russia and China will be able to share data on positions of navigation satellite groups and to improve efficiency in a real-time environment, RT reported.

The merger was initiated by Chinese officials.

"If the project is implemented, it will allow for an improvement in accuracy for both systems," a spokesman for the Russian Federal Space Agency, Roscosmos was quoted.

Japan and India are getting set for their own regional navigation satellite systems, RT reported. The system is expected to be operational by the end of the year.