source
In part from USA Today: GUATEMALA CITY – Vice President Kamala Harris, during a trip to Guatemala, announced initiatives Monday to address corruption and human trafficking in Central America and urged people from the region not to come to the U.S.-Mexican border. Harris announced that a task force would be created to work with the Justice, Treasury and State Departments to investigate corruption in the region. U.S. officials will train law enforcement in Guatemala to conduct their own investigations.
Joint Task Force Alpha was established to enhance U.S. law enforcement efforts against human smuggling and trafficking groups in Mexico and the Northern Triangle countries of Guatemala, El Salvador and Honduras.
"I have personally worked on these cases in my career and can say that when we see some of the most vulnerable in our communities being taken advantage of, being sold for profit, being abused, it should be a priority for all of us who care about the human condition and humanity," Harris said.
"Corruption really does sap the wealth of any country and in Central America is at a scale where it is a large percentage of GDP across the region," said Ricardo Zuniga, the State Department's special envoy for the Northern Triangle. "We see corruption as one of the most important root causes to be dealt with."
Part of the strategy to slow the pace of migration is creating better living conditions and economic opportunities for people in the region through investment. Last month, Harris secured the commitment of 12 U.S. companies and organizations – including MasterCard, Microsoft and Chobani – to invest in Guatemala, Honduras and El Salvador.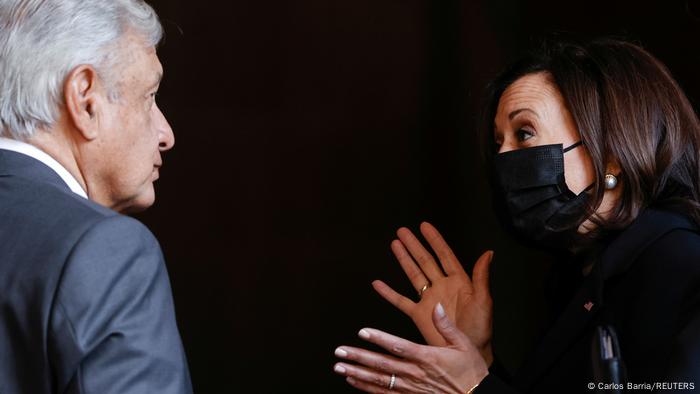 "Transnational human smuggling and trafficking networks pose a serious criminal threat," said Attorney General Garland. "These networks profit from the exploitation of migrants and routinely expose them to violence, injury, and death. The joint efforts we are announcing today will combine investigative, prosecutorial, and capacity-building efforts of both the Departments of Justice and Homeland Security. Our focus will remain on disrupting and dismantling smuggling and trafficking networks that abuse, exploit, or endanger migrants, pose national security threats, and are involved in organized crime. Together, we will combat these threats where they originate and operate."
In addition to the work of the Joint Task Force, Attorney General Garland directed the Office of Prosecutorial Development, Assistance, and Training (OPDAT) and the International Criminal Investigative Training Assistance Program (ICITAP), in coordination with the State Department, to enhance the assistance provided to counterparts in the Northern Triangle countries and Mexico to support their efforts to prosecute smuggling and trafficking networks in their own courts.
The Joint Task Force will consist of federal prosecutors from U.S. Attorney's Offices along the Southwest Border (District of Arizona, Southern District of California, Southern District of Texas, and Western District of Texas), from the Criminal Division and the Civil Rights Division, along with law enforcement agents and analysts from DHS's Immigration and Customs Enforcement and Customs and Border Patrol. The FBI and the Drug Enforcement Administration will also be part of the Task Force. And it will work closely with Operation Sentinel, a recently announced DHS operation focused on countering transnational criminal organizations affiliated with migrant smuggling.