There is no denial that the Federal government has overt abortion activists including beyond the White House, it goes to the Department of Justice and sadly even to the Department of Defense.
Wasting no time, Merrick Garland, the U.S. Attorney General took to Twitter to expose his advocacy for abortion.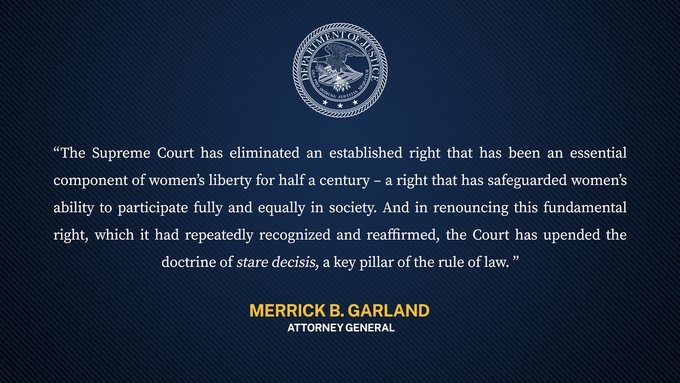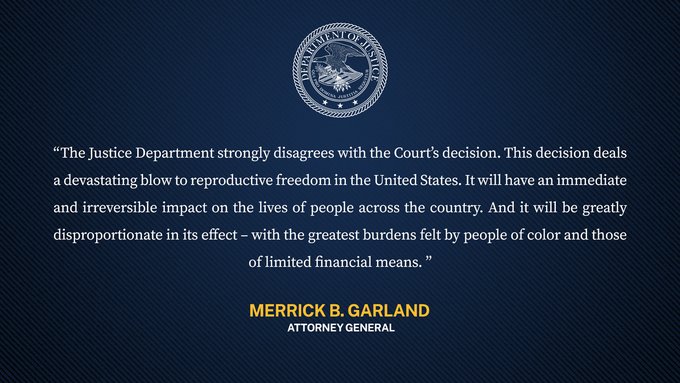 His full published statement is found here.
Garland, like the few Justices on the Supreme Court…just need to read aloud the text of the U.S. Constitution where it refers to a Constitutional right…we're waiting.
https://www.reuters.com/world/us/companies-offering-abortion-travel-benefits-us-workers-2022-06-24/
Meanwhile…there is General Lloyd Austin, the Secretary of Defense….yeesh…but read on…
Defense Secretary Lloyd Austin said Friday that the Pentagon is working to ensure that members of the military, their families and its civilian employees will still have access to "reproductive health care" after the Supreme Court's decision to overturn Roe v. Wade.
Why it matters: The Defense Department currently does not have a policy to accommodate service members or employees who are seeking an abortion but are stationed in a state that has outlawed abortion, Politico reports.
Federal law currently allows military medical facilities to provide abortions only in cases of rape, incest or if a woman's life is in danger, while the military's health program is allowed to cover abortions at private facilities for those same reasons only.
What they're saying: "Nothing is more important to me or to this Department than the health and well-being of our Service members, the civilian workforce and DOD families," Austin said in a statement on Friday.
"I am committed to taking care of our people and ensuring the readiness and resilience of our Force. The Department is examining this decision closely and evaluating our policies to ensure we continue to provide seamless access to reproductive health care as permitted by federal law," he added.
The big picture: The court's decision may further strain the military's recruitment efforts — already hampered by low employment and other factors — as potential recruits may fear being stationed in states that have banned abortions, according to Bloomberg.
Women make up around 20% of the military's 1.3 million-member active-duty force, and 95% of them are of reproductive age, according to Stars and Stripes citing department statistics.
Then..one of the first messages I received was a headline article from Associated Press predicting the stockpiling of abortion pills…imagine the looming black market on those. Then VOX weighed in –> Medication abortion, or taking a combination of the drugs mifepristone and misoprostol, is an increasingly common method for ending pregnancies in the United States. Reasons vary and overlap: Some women lack access to in-person abortion clinics; others prefer to end pregnancies in the comfort of their own home. Others seek out the pills because they cost far less than surgical abortion. (…)
small but growing number of reproductive experts have been encouraging discussion of an idea called "advance provision" — or, more colloquially, stocking up on abortion pills in case one needs them later.
It's an idea that has merit: Mifepristone has a shelf life of about five years, misoprostol about two, and both drugs work better the earlier in a pregnancy you take them. In states that are ramping up abortion restrictions, there's often a race against the clock to access care. In Texas, for example, if you don't realize until eight weeks in that you're pregnant — which could be only a couple of weeks after a missed period — you would have already passed the state's new legal deadline for obtaining abortion pills. But if you had already stored them in your home, or your friend or neighbor had, then you'd be able to take them.
Now…let's take a look at corporations that have made pledges to pay for abortion expenses…then consider when the lawsuits begin for corporations paying in kind for wanted pregnancies and full term, real birth for planned and wanted babies…will that be considered? Ah…but read on. It is still going to be ugly going forward.
Company

Benefit(s) Offered

The company told employees it would pay for their travel to states that allow legal abortions, according to a memo seen by Reuters.

read more

The bank has started covering travel expenses for employees who go out of state for abortions because of newly enacted restrictions in Texas and other states, becoming the first major U.S. bank to make that commitment.

read more

Goldman Sachs Group Inc

(GS.N)

Goldman Sachs Group Inc will cover travel expenses for its U.S.-based employees who need to go out of state to receive abortion or gender-affirming medical care starting July 1.

read more

Meta said in statement it intends to offer travel expense reimbursements, to the extent permitted by law, for employees who will need access to out-of-state healthcare and reproductive services.

The crowd-sourced review platform will extend its abortion coverage to cover expenses for its employees and their dependents who need to travel to another state for abortion services.

read more

The second-largest U.S. private employer told employees it will pay up to $4,000 in travel expenses yearly for non-life threatening medical treatments, among them elective abortions.

read more

Levi Strauss & CO

The apparel company will reimburse travel expenses for its full- and part-time employees who need to travel to another state for healthcare services, including abortions.

read more

United Talent Agency

The private Hollywood talent agency said it would reimburse travel expenses related to women's reproductive health services that are not accessible in an employee's state of residence.

read more

Tesla's Safety Net program and health insurance includes travel and lodging support for its employees who may need to seek healthcare services that are unavailable in their home state, according to the company's 2021 impact report. (

https://bit.ly/3beSOOQ

)

Microsoft said it would extend its abortion and gender affirming care services for employees in the United States to include travel expense assistance.

read more

Starbucks said it will reimburse U.S. employees and their dependents if they must travel more than 100 miles from their homes to obtain an abortion.

read more

Netflix said it will offer travel reimbursement for U.S. employees and dependents who travel for cancer treatment, transplants, abortion and gender-affirming care through its U.S. health plans.

Mastercard said it will fund travel and lodging for employees seeking abortions outside their home states from June, according to an internal memo seen by Reuters.

read more

Kroger Co

Kroger said it will provide travel benefits up to $4,000 to facilitate access to several categories of medical treatments and a full range of reproductive health care services, including abortion.

Uber Technologies Inc

Uber said its insurance plans in the United States cover a range of reproductive health benefits, including pregnancy termination and travel expenses to access healthcare.

DoorDash Inc

DoorDash said it will cover certain travel-related expenses for employees who face new barriers to access and need to travel out of state for abortion-related care.

Lyft said its U.S. medical benefits plan includes coverage for elective abortion and reimbursement for travel costs if an employee must travel more than 100 miles for an in-network provider.

Bank of America Corp

The bank said it will reimburse employees and their dependents for the cost of traveling to receive reproductive healthcare, including abortions.

Deutsche Bank AG

The bank said it is updating its U.S. healthcare policy to cover travel costs for any medical procedure, including abortion, that is not offered within 100 miles of an employees' home, according to a source familiar.

American Express Co

American Express said it will cover travel and other related expenses for employees and their dependents if they need abortion or gender-affirming treatment that is not available where they live.

The payments company said it will cover expenses for U.S. employees who must travel more than 100 miles for abortions starting July 1, a source familiar with the matter said.

Macy's Inc

Macy's said it made the decision to expand its benefits program to provide travel reimbursement for colleagues to receive the medical care needed and will abide by existing laws and legal standards.

Walt Disney Co

Disney said the company's benefits will cover the cost of employees who need to travel to another location to access care, including to obtain an abortion, it said.

read more

Gucci

Gucci said in May it will cover travel expenses of U.S. employees who need access to health care not available in their home state. The company also has said it will match employee donations to Planned Parenthood.

Bank of Nova Scotia

Scotiabank, Canada's third-largest bank, said it will pay for travel costs for U.S. employees in states that restrict access for abortions. Its U.S. employees have access to abortion coverage under its medical plan.

And they called Vietnam veterans baby killers….