This site on May of 2018, wrote a piece regarding John Kerry's global shadow foreign policy operations. His organization is called Diplomacy Works. Two areas of concentration for John Kerry via his organization since he launched it in 2017 are Iran and North Korea.
On his team of over 50 people are: Jeremy Ben-Ami, President of J Street and a former Clinton advisor, former Ambassador for Qatar, Dana Smith Shell, who also worked for Clinton and Kerry. Then there is Antony Blinken who is a former US Deputy Secretary of State and former National Security Advisor; former Ambassador Nicholas Burns who worked for Hillary; former Senator Tom Daschle; Jonathan Finer, former policy planner at the US State Department; Michele Flournoy, Juan Gonzalez, a special advisor to VP Joe Biden; Avril Haines, former Deputy National Secruity Advisor to Obama; Dr. Colin Kahl, former Special Assistant to President Obama and VP Joe Biden; Robert Malley, former Special Assistant to the Obama White House; Jen Psaki, former Obama White House communications director; former Ambassador Wendy Sherman to name a few.
Sounds like all Deep Staters….right? They are.
So with America just off the 2-3 year Mueller investigation, with continued lawsuits against policy decisions from the Trump White House, with constant leaks that came from not only the FBI and members of Congress to the media including the Washington Post and the New York Times and then the leak of the leak to the pesky whistle-blower about a phone call that launched the impeachment adventure, no one inside the Trump White House should trust anyone inside the Beltway.
Past working relationships from the Obama administration go on to be renewed relationships in new and often obscure places and such continues to be true with the names listed above. Take for example the name above Jonathan Winer….he at one point was special envoy to Libya and assistant secretary of state for international law under John Kerry. If his name is rather familiar, it should be. He and Christopher Steele are old pals from 2009. He too got his hands of the dossier summary and conferred with Victoria Nuland and Sidney Blumenthal.
Then there is Wendy Sherman, that when working for John Kerry was assigned as the North Korea Policy coordinator. Prior to that, Sherman directed the 1988 Democratic National Committee. She also did stints at Emily's List, for former Secretary of State Warren Christopher, as president of Fannie Mae Foundation and even was a foreign policy advisor to Hillary Clinton during her 2008 presidential campaign.
Kinda wonder now about those deep state relationships right? If you care to understand just one more among John Kerry's team, let's look at Robert Malley. He is a lawyer and most of all a communist sympathizer. Yup, a real anti-semite and in 2008 held meetings with Hamas. In 2014, the Obama administration named Malley to the National Security Council to work with Susan Rice as an expert on the Middle East.
So, when it comes to covert military operations such as that of the drone strike killing Qassim Soleimani and the failed strike in Yemen to take out the other Quds Force commander, Abdul Reza Shala'i who commands the Houthis, would you advise the Gang of 8 or others in Congress?
By the way, directly after the strike to kill Soleimani, Trump dispatched a back channel message via the Swiss embassy to Iran to NOT ESCALATE. Well, Iran did.
The failed strike was first reported by the Washington Post…hummm, how did they know? Shala'i does need to meet a drone as he leads the commanders in Syria, Yemen and Lebanon. Remember how those missiles and drones from Yemen strike Saudi Arabian targets?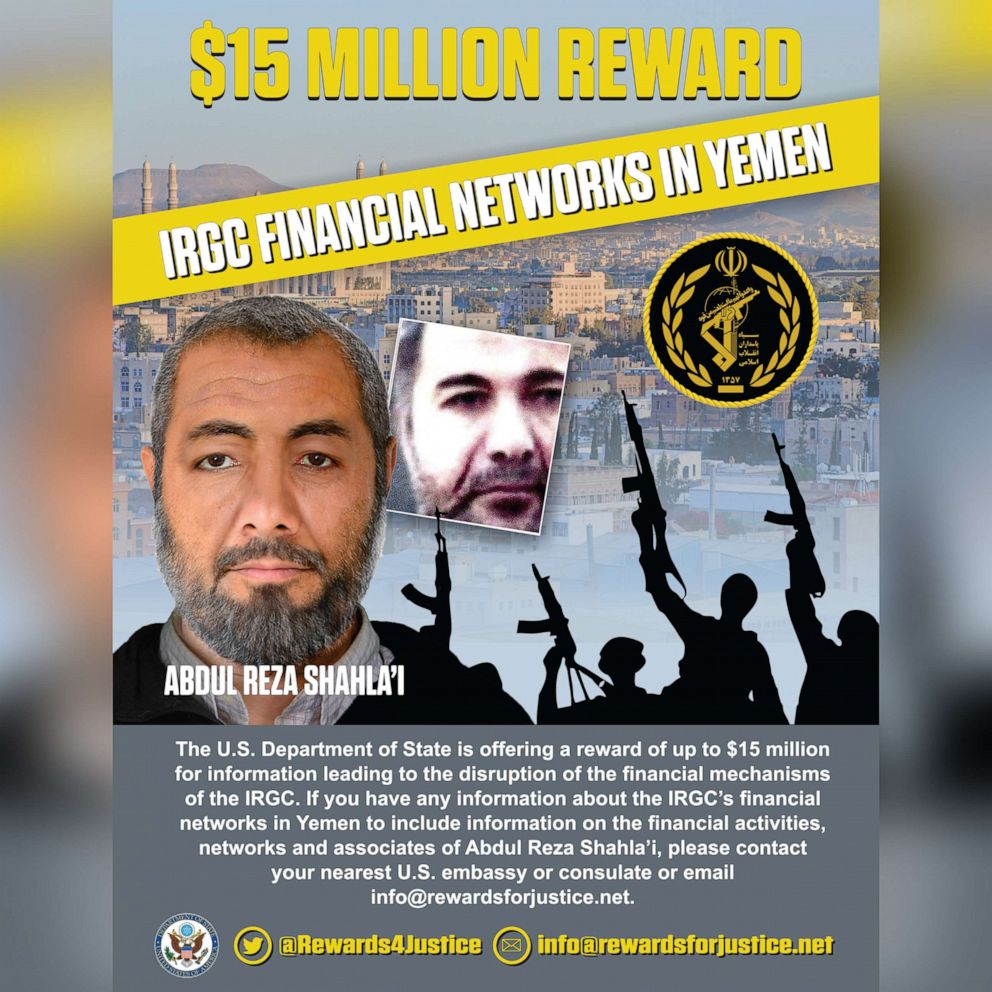 The United States has a $15 million bounty on him. Shala'i directed the plot to assassinate the Saudi ambassador in Washington DC in 2011.
photo
This was a plot right out of Hollywood actually that included an Iranian-American used car salesman and resident of Texas names Manssor Arbabsiar who has a cousin high up in the Quds Force named…wait for it….Abdul Reza Shahla'i. The assassination by the way paid well if successful, $1.5 million. (criminal complaint found here)
This was a plot right here in our homeland…those Democrats overlook the connections including Soleimani….