Many mysterious deaths of Russian oligarchs have gained the attention of those following the wealth of Russians and Putin…
In part from Newsweek:
Two Russian oligarchs were found dead this week alongside their family in luxurious homes in Russia and Spain, with the two cases discovered within 24 hours of each other.

Both deaths are believed by police to be cases of murder-suicide, but the evidence supporting these theories is muddled by the fact that the events happened so close together, with the two oligarchs the last of several who have been found to have died by suicide since the beginning of the year.

The longer list includes Sergey Protosenya, Vladislav Avaev, Vasily Melnikov, Mikhail Watford, Alexander Tyulyakov and Leonid Shulman. Click here to read their resumes and reported death details.
There are many many more oligarchs that are for sure getting their affairs in order meaning hiding their assets and hiding themselves or are simply laundering their reputations…from whom and what is quite crazy too. They are paying for higher security of themselves and their families and their assets while some are making donations to Western entities to save face as well as to keep off of sanctions lists by many governments.
In part, an initial database of oligarchic donations to more than 200 of the most prestigious nonprofits in the U.S. — from museums to universities to think tanks. Recipients included some of the country's foremost institutions, such as Harvard University, the Brookings Institution, and New York's Museum of Modern Art. U.S. nonprofits even accepted funds from the richest oligarchs in Russia. Vladimir Potanin, considered Russia's wealthiest oligarch, successfully donated to multiple significant U.S. nonprofits, including the Kennedy Center and Guggenheim Museum. And he didn't stop at donations: Potanin managed to obtain seats on the Guggenheim's board of trustees and the global advisory board of the Council on Foreign Relations think tank. All of this transpired despite Potanin's "close" relationship with Putin and the fact that, as author David Hoffman describes in his groundbreaking 2011 book, The Oligarchs, Potanin acted as the "ringleader" for the oligarchs as they seized assets and political power in the mid-1990s. Read more here.
Then there is Hollywood A-Listers and those relationships with a number of Russian oligarchs….those celebrities such as Arnold Schwarzenegger, Jack Nicholson, Kanye West, Mariah Carey, Leonardo Di Caprio and Brad Pitt.
There is nothing wrong with these international relationships…right? Well, that is to be determined given who is part of illicit activities globally and that does take some real research. You see, Putin exploits oligarchs for political and monetary reasons and locations across the world include the United States, Turkey, Greece and Britain.
Alex Finley, a former officer of the CIA's Directorate of Operations, explains how sanctions that target Russian assets in the West can have a direct impact on President Vladimir Putin's personal wealth. Finley tells Yahoo News, "Putin holds very little money actually in his own name," but adds that he maintains his fortune through funds taken out of Russia by oligarchs and stashed in offshore tax havens and companies with anonymous ownership structures.
Oligarchs hold investment interests in real estate, metals, mining, telecoms, and technology and soccer clubs. New York, Miami and London are favorite locations for international real estate and of course there are those that have concealed their identities by making acquisitions through LLCs or offshore trusts.
Only a documentary can put it all in context but Hollywood types hardly have the guts to produce such a piece and then there are the questions of our own Federal government actually sanctioning all those that should be for various reasons due to the devastating invasion/war against Ukraine.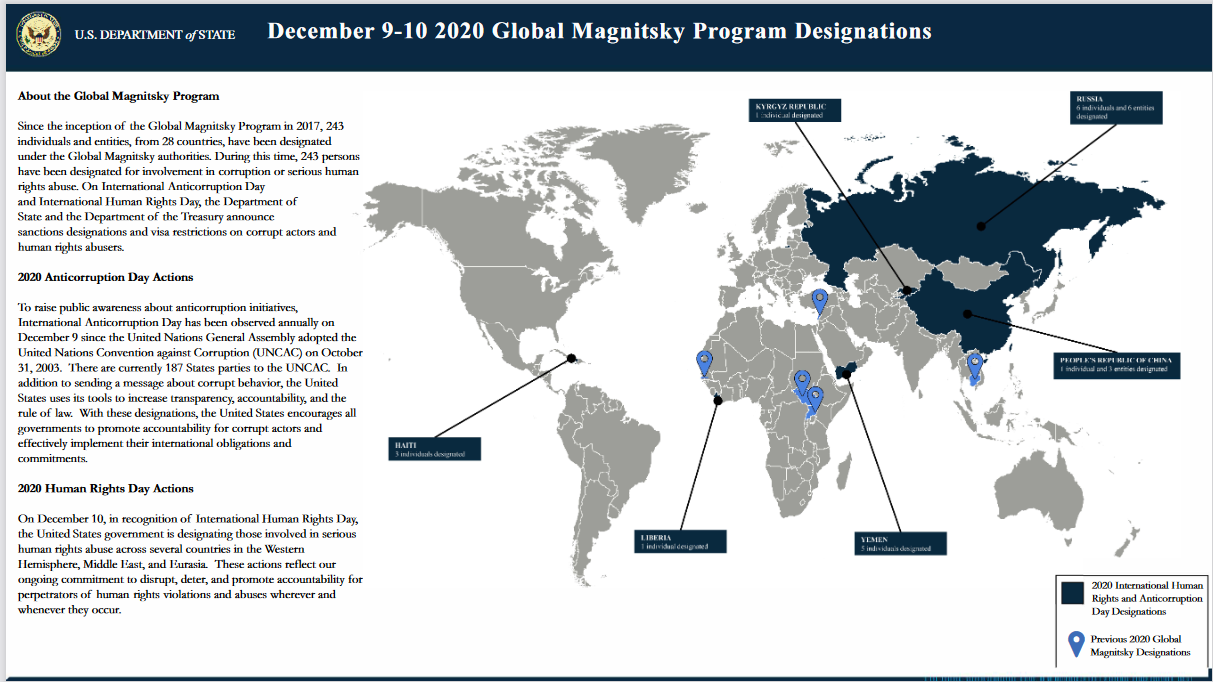 But there is a book, a real book that led to several countries adapting a new law called the Magnitsky Act…including the United States.