Democratic presidential candidate Joe Biden has a brand new Super PAC in his corner, and it's being run by a registered foreign agent for the government of Azerbaijan. Larry Rasky, a lobbyist who previously worked as a top campaign operative for Biden, is listed as the treasurer of the PAC, according to records filed with the Federal Election Commission (FEC).
"A former Joe Biden aide has filed paperwork to form a super PAC, called Unite the Country, that is set to boost the former vice president with millions of dollars in spending in the 2020 Democratic presidential primary," Politico reported on Tuesday.
Records filed with the Department of Justice show that Rasky is also a registered foreign agent lobbying on behalf of the government of Azerbaijan. The records, which were filed pursuant to the Foreign Agent Registration Act, show that Rasky was hired by the Azerbaijani government on April 23, 2019. Federal documents signed by Rasky show that he reports directly to Elin Suleymanov, Azerbaijan's ambassador to the United States.
"[The government of Azerbaijan] will pay RASKY a minimum monthly non-refundable fee (the 'Monthly Fee') for the Services provided of $15,000 per month, plus a 5% administrative fee as described below," Rasky's contract with the foreign government states. "The Monthly Fees totaling $94,500 shall be paid in two equal installments. The initial payment of $47,250 is due upon the signing of this agreement. The second payment of $47,250 is due on July 15, 2019."
Rasky changed the name of the PAC from "For The People" to "Unite the Country" on Monday, according to FEC filings. The filings do not state which country Rasky intends to unite on Biden's behalf. More here.
***
So, what does all this have to do with the current Hunter email scandal? Plenty as it seems that Hunter with other people including additional members of the Biden family via the surfacing emails are defacto lobbyists…..meaning paid foreign agents and in violation of the Foreign Agents Registration Act which is governed by the Justice Department.
Just now, a check of two keywords (Biden and Rosemont), shows no registration(s) at all.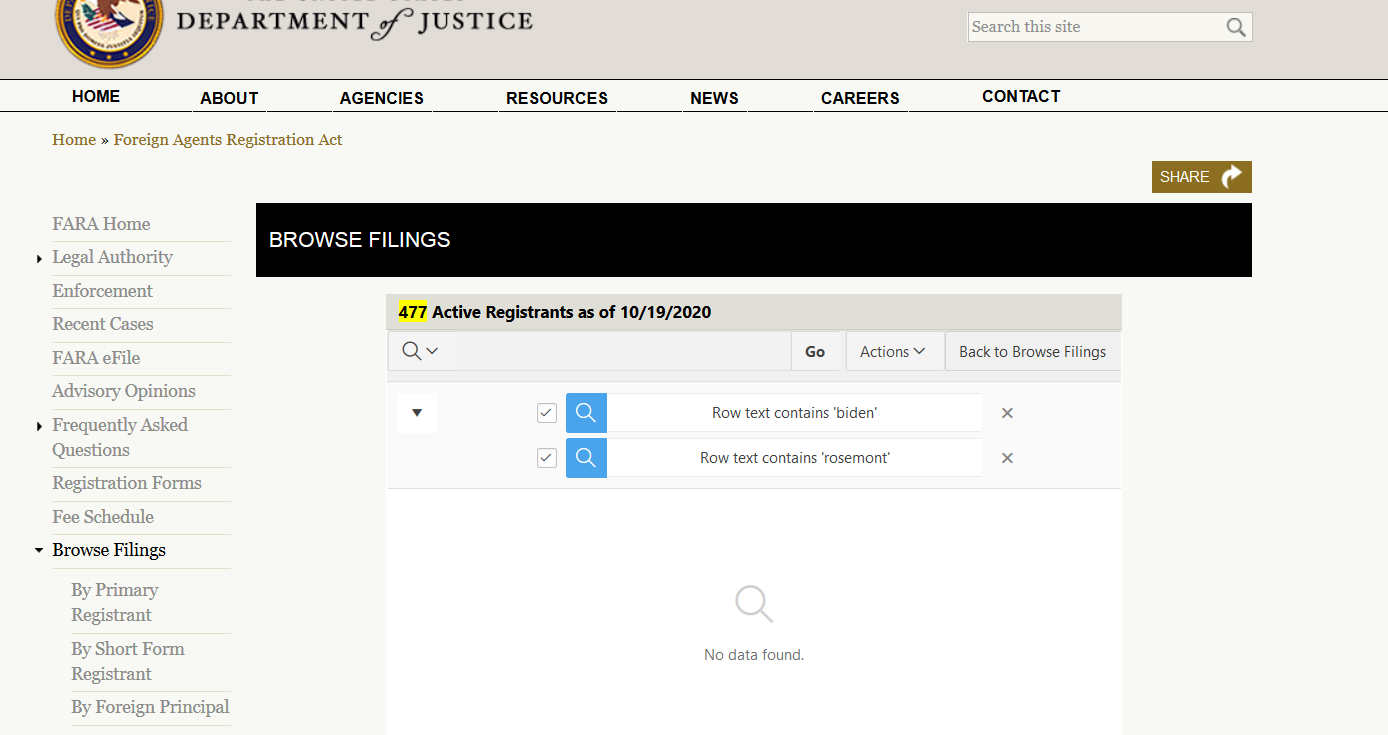 For reference on Rosemont:
U.S. banking records show Hunter Biden's American-based firm, Rosemont Seneca Partners LLC, received regular transfers into one of its accounts — usually more than $166,000 a month — from Burisma from spring 2014 through fall 2015, during a period when Vice President Biden was the main U.S. official dealing with Ukraine and its tense relations with Russia.
The general prosecutor's official file for the Burisma probe — shared with me by senior Ukrainian officials — shows prosecutors identified Hunter Biden, business partner Devon Archer and their firm, Rosemont Seneca, as potential recipients of money.
An update:
Devon Archer, whose conviction was reinstated by Wednesday's ruling, had partnered with Hunter Biden in Rosemont Seneca, a Washington-based investment firm. Starting in 2014, the pair served together on the board of Burisma, a Ukrainian natural gas company accused of corruption, at the same time that his father oversaw U.S. policy towards Ukraine. Hunter Biden has called his decision to take the board seat "a mistake," while Joe Biden has defended the decision, saying, "my son did nothing wrong."
A lawyer for Archer, Matthew Schwartz, decried the ruling by the Second Circuit Court of Appeals. "As the experienced federal judge who presided over Mr. Archer's month-long trial determined, he 'lacked the requisite intent and is thus innocent of the crimes charged,'" Schwartz said. "Today's ruling, which second-guesses that judge's decision without having sat through the evidence and listened to the witnesses, is beyond disappointing."
To say this is complicated is an understatement but now we must include Blue Star Strategies to be fair.
The company, Blue Star Strategies, was hired by Burisma in November 2015, after Hunter Biden joined the Burisma Board of Directors.   Blue Star's task was to improve the "image" of Burisma and it's oligarch owner,  Mykola Zlochevsky both in Ukraine and the United States.

The Obama administration let a Democratic p.r. company that worked for Ukrainian energy firm Burisma take part in a conference call about an upcoming visit to Ukraine by then-Vice President Joe Biden, emails obtained by The Post show.

An associate at Blue Star Strategies then emailed a memo with minutes of the conference call hosted by the White House to a top Burisma executive, Vadym Pozharskyi, as well as to Joe Biden's son Hunter and Hunter's business partner, Devon Archer, both of whom sat on Burisma's board.

The trip, in December 2015, turned out to be the one during which Biden later bragged about forcing Ukrainian officials to fire a state prosecutor who was investigating Burisma by threatening to withhold a $1 billion US loan guarantee.

The memo, sent shortly after the Dec. 2, 2015, call, also "outlined the trip's agenda and addressed several questions regarding US policy toward Ukraine."

Blue Star has said it began working for Burisma and contacting Ukrainian officials on its behalf in November 2015, and an email shows that on Nov. 18, 2015, Pozharskyi sent the Blue Star contract to Hunter Biden, Archer and Eric Schwerin, president of the Rosemont Seneca Partners investment firm. More here.

Ah yes, we did find a FARA filing there for Blue Star Strategies:

Interesting names right? One of them, Sally Painter.

Newly released State Department emails from 2016 shed light on an effort by a consultant for Burisma Holdings to set up a meeting with a top State Department official regarding Ukraine. 
Hunter Biden served with the consultant, Sally Painter, on the board of the Truman National Security Project. Biden reportedly recommended that Burisma hire Painter's firm, Blue Star Strategies.
Emails show that Painter approached Tony Blinken about Ukraine at a conference for the think tank in June 2016. Blinken is now a top campaign surrogate for Joe Biden.

Then there is Karen Tramontano. From 1997 to 2001, Ms. Tramontano served in the White House as deputy chief of staff to President William Jefferson Clinton and counselor to Erskine Bowles and John Podesta. Her portfolio encompassed a wide range of issues, including international trade and transatlantic relations as well as economic and financial issues concerning the World Trade Organization, Organization for Economic Cooperation and Development, World Bank, and International Monetary Fund.