WE: In the latest blow to the pure image portrayed by their supporters in Congress, newly released statistics show that over 500 illegals stripped of their "dreamer" status due to crime and gang charges remain on the streets.

A new analysis of United States Citizenship and Immigration Services statistics found that 2,127 individuals had their amnesty status terminated for criminal activity and/or gang activity as of November 22, 2017.

Of those booted from the Obama-era Deferred Action for Childhood Arrival amnesty program, 562 were deported.

But, said the analysis from the Center for Immigration Studies, a near equal amount — 535 — were released by Immigration and Customs Enforcement.

"While it is reassuring that USCIS is revoking DACA benefits for criminal gang members it identifies, it is concerning that almost as many criminal alien DACA beneficiaries have been released as have been removed to their home country," said the report's author and CIS Policy Studies Director Jessica M. Vaughan.

Her report reviewed USCIS data provided to Republican Sen. Chuck Grassley.

While a tiny portion of the overall DACA population of nearly 700,000, the report and other portraying the illegals as more prone to crime and low-pay employment challenge that painted by liberals that most are high-achievers.

The fate of DACA is at the center of the current budget crisis. Democrats want a deal to preserve their amnesty as part of a budget deal, while Republicans want them included in a larger immigration bill that would grant a path to citizenship in exchange for President Trump's key demands, including funding to build a southern border wall.

Her numbers:

Removed from the United States: 562
In ICE Custody: 90
Released from ICE Custody: 535
No Record of Removal, Detention or Release by ICE: 940
Total: 2,127

Trump has put a focus on deporting gang members and Vaughan highlighted what USCIS had to say about those criminal organizations. She wrote:

USCIS also provided a list of more than 45 gang affiliations of the ex-DACA criminals. It includes some of the most violent and dangerous gangs in the United States, such as MS-13, 18th Street, the Latin Kings, and the Trinitarios. It includes some lesser-known gangs as well, with names like Last Generation Korean Killers and Maniac Latin Disciples.

USCIS has not released information on where these gang members were living, but the gang names sometimes identify their location: Oakland 30 Nortenos, Orange County, Angelino Heights Surenos, East San Diego, Inland Empire, Pacoima Van Nuys Boys, and West Merced Nortenos, all of which are presumably in California.
*** Dreamers versus DACA
photo
Development, Relief, and Education for Alien Minors Act or the Dream Act was originally introduced in 2001 by Dick Durbin and Orin Hatch. The proposed bill failed several times. Members of Congress have introduced several forms of this bill in both the House of Representatives and the Senate. Members in the House passed one such bill on December 8, 2010 by a vote of 216–198;[13] Senators debated a version of the DREAM Act on September 21, 2010. A previous version of the bill, S. 2205, which required 60 votes to gain cloture, failed on a 52–44 vote in 2007, eight votes short of overcoming a filibuster by senators opposed to the bill.
In 2011, California passed their own version of the Dream Act. Continued edits and iterations of the Dream Act have been introduced in both houses of Congress, yet no version has advanced. So, Barack Obama used his executive authority to declare the Deferred Action on Childhood Arrivals, DACA.
Both issues must be debated in together and they have been for at least 17 years. What is rarely discussed is those under DACA protections do drop off monthly for various reasons. So we are still challenged with what the real numbers include.
Trump has urged Congress to pass legislation by March 2018 that would give legal status to unauthorized immigrants enrolled in DACA, and some members of Congress have said they plan to propose legislation along those lines. (DACA enrollees whose benefits expire after March 5, 2018, will be the first to be dropped from the program.)

Although roughly 800,000 unauthorized immigrants have ever received benefits through DACA, about 110,000 of this group are no longer enrolled in the program. About 70,000 former DACA participants did not renew their benefits or had their renewal applications denied. Another 40,000 have adjusted their legal status and obtained green cards, which grant lawful permanent residence. (Some unauthorized immigrants in the U.S. can obtain legal status by marrying an American citizen or lawful permanent resident, obtaining asylum, or receiving certain types of visas such as those given to victims of a crime, among other ways.)

To qualify for DACA, enrollees must meet certain conditions, such as being enrolled in high school or having a high school diploma or GED equivalent, and not being convicted of a felony, significant misdemeanor, or three or more other misdemeanors. For more key facts and details, go here.
There are some real unanswered questions which include monthly costs to the taxpayer, enforcement of those conditions, reporting of crimes versus those protected under DACA and most of all, how long does 'deferred' last?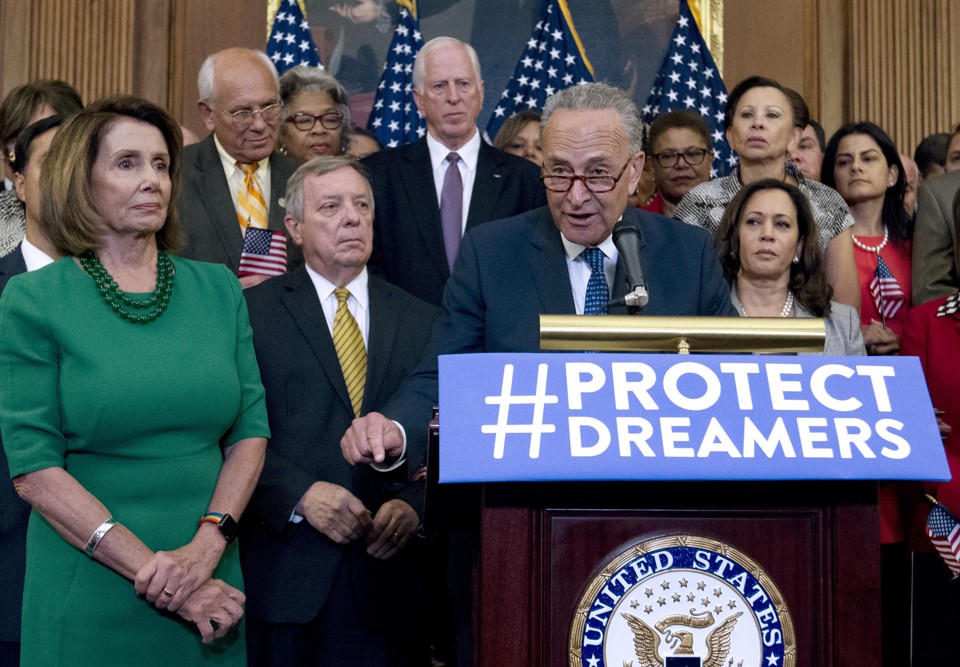 photo
The Obama White House stated:
Today, the U.S. Citizenship and Immigration Services will begin accepting requests for consideration of deferred action for childhood arrivals. Deferred action is a discretionary determination to defer removal action of an individual as an act of prosecutorial discretion. Under this process, USCIS will consider requests on a case-by-case basis. While this process does not provide lawful status or a pathway to permanent residence or citizenship, individuals whose cases are deferred will not be removed from the United States for a two year period, subject to renewal, and may also receive employment authorization. 
There are key words in that text. They include: accept, requests, consideration, discretionary, defer, case by case, subject to renewal. None of the actions under DACA is rubber-stamped with approval something all the Democrats and many Republicans have overlooked as well as the media.