A number of militants have been killed in Islamic State's very first battle with U.S. ground troops after the extremists attempted to overrun an Iraqi military base.
The militants attacked Ein al-Asad military base on Sunday where more than 100 U.S. military support troops are based.
Despite launching the surprise attack just after midnight, ISIS's offensive was swiftly repelled when U.S. troops and F18 jets joined in the skirmish in support of the Iraqi Army.
Facing both Iraqi and US troops supported by F18 jets, an unknown number of ISIS attackers were killed during the two hour firefight before being forced to retreat.
Ein al-Asad came under repeated attack by ISIS troops in October, however, now bolstered by the U.S. assistance, it poses a much more formidable target.
A fighter from the Kurdish People's Protection Unit, or YPG, told CNN's Arwa Damon that the battle in Kobani concerned the main border crossing into Turkey. If ISIS took control, he said, "it's over."
The fighter said the Kurdish fighters had pushed back an attempted advance by ISIS on Monday morning but that it would be "impossible" for them to hold their ground if current conditions continued.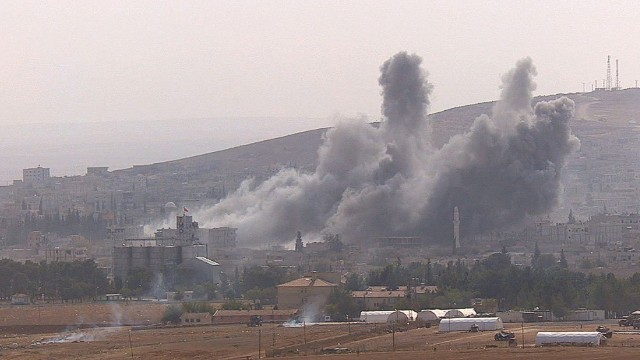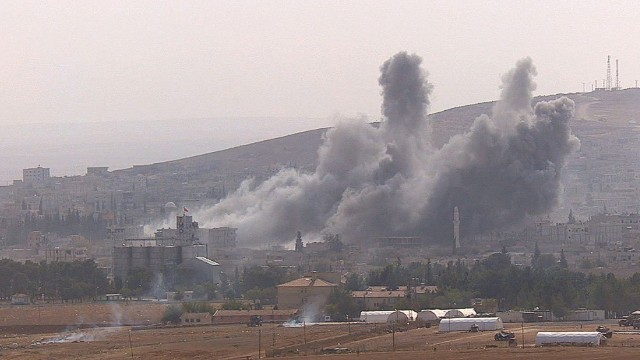 Kurds prepare for final battle with ISIS
Should they take Kobani, the militants would control three official border crossings between Turkey and Syria and a stretch of the border about 60 miles (97 kilometers) long.
Monday has been one of the most violent days in Kobani since ISIS launched its assault on the Syrian city, with sounds of fierce fighting, including gunfire and explosions, CNN staff on the Syria-Turkey border said.
CNN's Nick Paton Walsh described seeing a mushroom cloud rising about 100 meters (nearly 330 feet) above the city in an area targeted by at least four blasts, generally after the sound of jets overhead.
"However, it remains unclear who is gaining the upper hand," Walsh said. "Distribution of the airstrikes does not immediately suggest the Kurds are retaking the center so far."
Three Key Islamic State Figures Were Killed in Recent Weeks, Chairman of Joint Chiefs Says
WASHINGTON—U.S. airstrikes have killed several very senior military leaders of Islamic State forces in Iraq, the Pentagon's top uniformed officer disclosed Thursday.
Gen. Martin Dempsey, the chairman of the Joint Chiefs of Staff, said in an interview with The Wall Street Journal that three key Islamic State military leaders in Iraq were killed there in recent weeks during operations that are part of an expanding coalition effort ahead of a planned offensive next year.
The strikes in which the Islamic State leaders were killed were designed to hamper the group's ability to conduct its own attacks, supply its fighters and finance its operations, Gen. Dempsey said.
"It is disruptive to their planning and command and control," Gen. Dempsey said. "These are high-value targets, senior leadership."
***
Some progress is being made. Certain intelligence gathering has proven to be productive.
One ISIS thug suspected of killing 150 girls, women
One Islamic State militant is alone responsible for killing 150 women, including pregnant women and young teenagers, because they refused to marry members of the barbaric militant army, according to Iraqi officials.
Abu Anas Al-Libi is suspected of mercilessly gunning down the women,most of whom were Yazidi, because they refused to enter into sham temporary marriages with Islamic State fighters simply to have sex in what the terrorists believe to be a Koranic loophole.
"Abu Anas Al-Libi killed more than 150 women and girls, some of whom were pregnant after refusing to accept Jihad marriage," the Iraqi Ministry of Human Rights said in a statement.
The forced relationships are being pushed on captives in cities like Fallujah and surrounding villages. The statement added that Islamic State militias carried out mass executions in the city, then buried the dead in two mass graves in Al-Zaghareed and Al-Saqlawiya areas. The terror group then turned a mosque in Fallujah into a big prison, holding hundreds of men and women, the statement said.
Al- Libi is not the terrorist with the same name who is alleged to have helped carry out East Africa's embassy bombings back in 1998 that killed 224 people in Kenya and Tanzania.
In a separate report released on Monday, the ministry said that Islamic State distributed an eight-page pamphlet to mosques in the Iraqi city of Mosul and nearby towns on the topic of female captives and slaves.
According to the Middle East Media Research Institute, the pamphlet titled "Questions & Answers on Taking Captives & Slaves" clarifies what the terror group believes permissible for its militants to do with their captives, including having sexual intercourse, beating and trading them.
"This is a cheap 'Fatwa' that is far from what Islam really stands for and is in violation of human rights," the Iraqi ministry said. "It is a portrayal of these murderers' devilish-like behavior and low moral standing."