Toplines from Trump at the NATO summit:
Trump accused Germany of being "totally controlled" by Russia in comments about their proposed Nord Stream 2 gas pipeline.
German Chancellor Angela Merkel replied that she'd already "experienced the Soviet occupation … it is good that we are independent today."
Trump called on NATO members to double their defense spending commitment to 4%. (The U.S. is at 3.5%). Only five nations (if you include Poland at 1.99%) currently meet the 2% target for 2024.
Axios' Jonathan Swan asked NATO Secretary General Jens Stoltenberg a pair of questions in Brussels.
Swan 1: Did President Trump assure you he wouldn't make any concessions in his meeting with Vladimir Putin — for example on Crimea?
Stoltenberg 1: "Action speaks louder than words. And I'm absolutely confident about the U.S. commitment to European security." Stoltenberg noted that all allies, including the U.S., signed a declaration today saying they don't recognize Russia's illegal annexation of Crimea. (But he dodged the question about what assurances he sought and received.)
Swan 2: Has President Trump, in any of his conversations with you, suggested he thinks the United States has too many troops in Europe?
Stoltenberg 2: "This is the unified position of all allies… The illegal annexation of Crimea is one of the main reasons why NATO has implemented the biggest reinforcement of collective defense since the end of the Cold War." (Again, separating Trump's words from the Trump administration's deeds.)
Swan's thought bubble: Stoltenberg has a point about Trump's words versus his administration's deeds (so far). Trump has not done anything to reduce U.S. military support for NATO and has actually increased military investments in Europe.
But at the same time Trump has done what no recent U.S. president has done — publicly questioned the value of NATO for the U.S. and in the process made some of America's closest allies privately question whether they can still rely on American protection.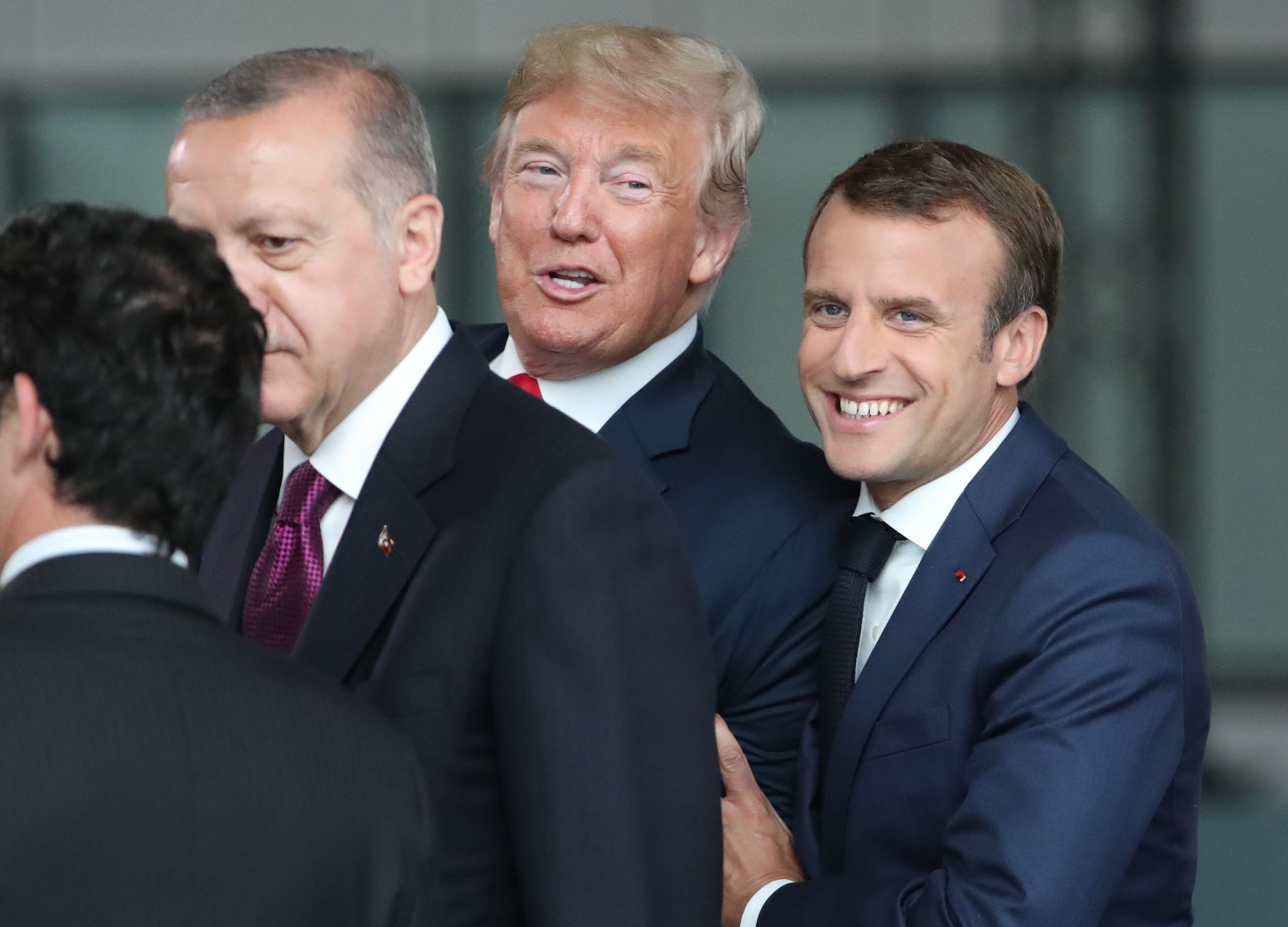 France's President Emmanuel Macron jokes with President Trump. Photo by Tatyana Zenkovich/AFP/Getty Images.
So, what about NATO?
Former defense minister of Georgia stands to ask if NATO regrets not giving full them membership, because "it was seen as an invitation for Russia" to invade. And asks when will there be appetite for NATO expansion. Germany's Defense Minister Ursula von der Leyen: "I have been to a lot of NATO meetings… this summit has the most substance that I have seen"
President Trump asserts that Germany is 'captive to Russia' over pipeline project in testy exchange with NATO chief. That was at the breakfast meeting.
Then is Europe threatened by Russia, hence the reason for NATO? Yes, an example –>
A group of Russian special operations forces parachuted onto the island of Gogland in a Russian-controlled portion of the Gulf of Finland. They hid their parachutes, journeyed deep into the interior, and destroyed a series of mock communications stations, radars and ASM batteries. They then prepped a landing site for a helicopter escape — despite the fact that the island already has a helipad.

The troops jumped from a Mi-8AMTSH helicopter at an altitude of 2,500 meters, and used satellite navigation equipment to guide them to their landing site, notes a July 10 press release on the drill from the Russian Ministry of Defense. The soldiers that took part in the exercise had "not less than a hundred jumps with parachutes of various types," it said.

Aki Heikkinen, who curates Russianmilitarywatch.com, pointed out that Gogland, seized by Russia in 1944, is just 24 miles from the Finnish city of Kotka. More here.
So, as these encounters went on today at the NATO Summit, Trump went so far as to suggest 4% of GDP payments to NATO members.
Meanwhile: NATO existed below the creation of the European Union, and…
President Trump has consistently railed against other members of the NATO security alliance for freeloading off the United States and not doing enough to manage their own defense.

"NATO has not treated us fairly," he told reporters before leaving for a NATO summit meeting this week in Brussels. "We pay far too much and they pay far too little."

As with many Trump crusades, there's truth to his claims—but more to the story. Trump will press for more European defense spending at this week's meeting, which is likely to be contentious. Other NATO members are already pushing back, arguing that their commitment to defense is rising and they back US priorities in other important ways. But the basic numbers support Trump.

The United States has been the biggest contributor to NATO since Western nations founded the alliance in 1949 to help prevent any more world wars and shield Europe from the Soviet Union. Underpayments by European nations have been contentious since long before Trump started complaining about the problem–especially following the fall of the Berlin Wall in 1989, when many nations began to slash defense spending.

In 2014, NATO agreed that each member country should spend a minimum of 2% of GDP on defense within a decade. So far, only five countries meet that threshold: the United States, the United Kingdom, Greece, Estonia and Latvia. The United States spends 3.5% of GDP on defense, the most of any NATO member. Among other big NATO members, France spends 1.8% of GDP on defense, Germany 1.2%, Italy 1.2%, and Spain 0.9%.

NATO has 29 member countries. Here's how they measure up:

NATO said earlier this year that eight members will meet the 2% threshold in 2018, with Poland, Romania, and Lithuania joining the club. The alliance also said 15 nations would hit the target by 2024, though it hasn't identified the other seven. That would still leave 14 members falling short of NATO's own spending target. And that's if there's no recession by then, which could force governments to cut spending, not raise it, as tax revenue declines.

European leaders seem to realize they have a weak argument when Trump blasts them for subpar defense spending. Donald Tusk, president of the European Council, argued in a statement prior to Trump's visit that Europe spends more on defense than China and Russia, and he urged Trump to "appreciate your allies." But he also acknowledged that Trump is right on spending, saying "dear Europe, spend more on your defence, because everyone respects an ally that is well-prepared and equipped."

While Trump is right about the spending numbers, some analysts worry he's overly fixated on one metric that doesn't fully capture the way various NATO members contribute to real-world security operations. Also important, for instance, are troop and equipment contributions to NATO missions. By those metrics, some of the deadbeat members look much more involved.

NATO members other than the United States have taken on steadily more of the NATO mission in Afghanistan since the US first invaded in 2001, for instance. Seven nations—the Czech Republic, Romania, Montenegro, Albania, Denmark, Croatia and Germany—contributed more troops to Afghanistan operations, as a percentage of their total military force, than the United States did between 2015 and 2017, according to analysis by the Center for Strategic and International Studies.

By the same metric, nine NATO members, led by Canada, Norway and Denmark, contributed a larger portion of their military force to operations against ISIS than the US did in 2016. And the US ranks 18th in refugees taken in due to Mideast instability as a percentage of total population, with Turkey, Sweden and Norway accepting the most.