When U.S. Secretary of State Rex Tillerson met with Lavrov and Putin a few weeks ago, evidence was presented of chemical weapons use by the Assad regime. As was expected, the Kremlin denied the evidence, they always deny. Further, the Russians demanded their own investigation, which of course wont happen. What is interesting, the report Tillerson presented was not performed by American officials.
But let us go deeper. It is important to introduce the Cyprus branch of Tanzania's FBME Bank Ltd. and Balec Ventures Limited.
The Cyprus branch of Tanzania's FBME Bank Ltd may have assisted the Syrian regime in financing and developing its chemical weapons programme by facilitating transactions between a number of shell companies worth hundreds of million dollars which should have raised red flags, a report suggests.

Balec Ventures Limited, a company registered in the British Virgin Islands (BVI) and its owner Issa al-Zeydi, a Syrian national, appear to have played a central role in by-passing US sanctions against Syria, according to a report produced by the London-based accounting firm Ernst & Young (EY) and obtained by the Cyprus Business Mail. EY identified Balec's link to the Syrian Scientific Studies Research Centre (SSRC), responsible for the development of chemical weapons for Bashar al-Assad's regime, after the US placed al-Zeydi on its sanctions list.

Balec, registered at P.O. Box 3321, Drake Chambers, Road Town, Tortola, shared the same BVI address with five other companies with mainly Russian or Belorussian ultimate beneficial owners (UBO), and Tredwell Marketing Ltd, the EY report said. The Central Bank of Cyprus (CBC) appears to have suspected Tredwell -which was transacting with Balec and the other five companies- of being linked to SSRC, according to the EY report.

EY did not immediately respond to a request to confirm the authenticity of the report. The Central Bank of Cyprus was not immediately available for comment. The anti-money laundering squad Mokas said that it was unaware of the existence of the report.

The other companies, EY identified for sharing the same address with Balec and Tredwell, were Maribo Group Ltd, Paramia Ltd, GloBalance Group, Osborn Holdings Inc (all operating from Russia with Russian UBOs) and Sunhouse Consulting (operating from Belarus with a Byelorussian UBO).

According to the US Federal Financial Institutions Examination Council directives, uniform standards for federal examinations of financial institutions in the US, "transacting businesses (that) share the same address, or have other address inconsistencies," are reason for raising a "red flag" for compliance officers in banking.

"Issa Al-Zeydi is the sole ultimate beneficiary of the account, holds a Russian passport, was born in Syria and maintains a Russian address," EY said in their report. A review revealed that Al-Zeydi's passport listed Moscow, as his address. Balec's operating address was Office 31, House 14, Gubkina Street, Moscow, Russia, according to the EY report.

Law firm Hogan Lovells US LLP commissioned the EY report on behalf of FBME. EY looked into 11 notices of finding by the Finance Crime Enforcement Network (FinCEN), a branch of the US Treasury which in July 2014 described FBME as a financial institution of primary laundering concern. FinCEN barred US banks from opening and maintaining correspondent accounts with FBME. The "confidential" EY report is dated December 5, 2014.

FBME challenged at US courts FinCEN's findings and decision by imposing the fifth measure under the US Patriot Act, to shut it out from the US financial system.

In October 2014, the US included al-Zeydi, together with Ioannis Ioannou, a Cypriot national, and two Cyprus-based companies, Piruseti Enterprises Ltd and Frumineti Investments Ltd, in the list of specially designated nationals of the US Department of Treasury, citing support, including "financial, material, or technological" to the Assad regime on behalf of which they acted. Piruseti and Frumineti were not FBME customers.

"FBME facilitates U.S. sanctions evasion through its extensive customer base of shell companies," said FinCEN in July 2014 in its notice of finding in relation to the Syrian regime's SSRC. "For example, at least one FBME customer is a front company for a U.S.-sanctioned Syrian entity, the SSRC, which has been designated as a proliferator of weapons of mass destruction. The SSRC front company used its FBME account to process transactions through the U.S. financial system".

The FinCEN report prompted the Central Bank of Cyprus to place the FBME Cyprus branch under administration and subsequently resolution. In 2015, the CBC fined FBME €1.2m for failing to adhere to the provisions of anti-money laundering legislation and revoked its licence.

According to FinCEN, the SSRC front company -which in July 2014 it did not name-, "also shared a Tortola, British Virgin Islands address with at least 111 other shell companies, including at least one other additional FBME customer that is subject to international sanctions".

The EY report was shared with FinCEN, the US Department of Justice, the Bank of Tanzania, which supervised FBME Bank Ltd, the Central Bank of Cyprus, supervisor of FBME Bank (Cyprus) Ltd, the European Central Bank, the International Monetary Fund (IMF) and the European Commission. The last three bodies were overseeing Cyprus's bailout programme at the time, which included provisions for tougher measures against money laundering.

As a result of the stricter anti-money laundering rules put in place, Cyprus scored best among a list of 12 analysed countries -including the US, UK, Germany and Australia- in a February 2017 report prepared by the anti-corruption watchdog Transparency International.

"The Bank (FBME) identified Tredwell from a list of 9 FBME customers for which the CBC requested past files from FBME on 08/07/2014 (August 7, 2014)," EY said in their report. "FBME noted that on the list received from the CBC, the comment "SSRC?" was written next to Tredwell".

On March 19, 2014, five months before the central bank inquired about Tredwell at FBME, Tredwell closed its account and transferred its funds to Armas Marketing Ltd. The UBO of Armas was Ruben Nadra, a Syrian with a Russian Passport, who happened to be Tredwell's former UBO, while its address was in Seychelles.

On April 10, 2014, the FBME compliance department closed Maribo's account. It also froze Balec's account on October 17, and did the same with that of Osborn on May 29, 2014. GloBalance closed its account on May 10, 2011, while by the time of the completion of the report, the Paramia and Sunhouse accounts were open when the report was completed.

The US and other western countries blamed Assad, an ally of Russia's President Vladimir Putin, for the August 2013 attacks with chemical weapons in Ghouta, an area east of Damascus, in which hundreds of civilians lost their lives. The Russian government disputed that Assad, involved for more than six years in a civil war that killed hundreds of thousands and displaced millions, was responsible for the attack.

"The business operates in the dealings of securities and shares and has reflected an expected turnover on the account of approximately $10m annually since account inception," EY said in reference to Balec which included in its business profile other activities such as the wholesale sale of textiles, steel, construction equipment supplies and other goods.

After Balec opened an account at FBME on December 4, 2006, it carried out from that date until July 18, 2014 transactions with other 50 FBME customers, entities and individuals, worth $255.4m (€232.5m), the report said. The firm also carried out additional transactions with other 342 non-FBME customers in the same period totalling $252.6m. The sum of all transactions carried out through FBME totalled $508m.
*** Now enter Michael Weiss with his summary published by CNN.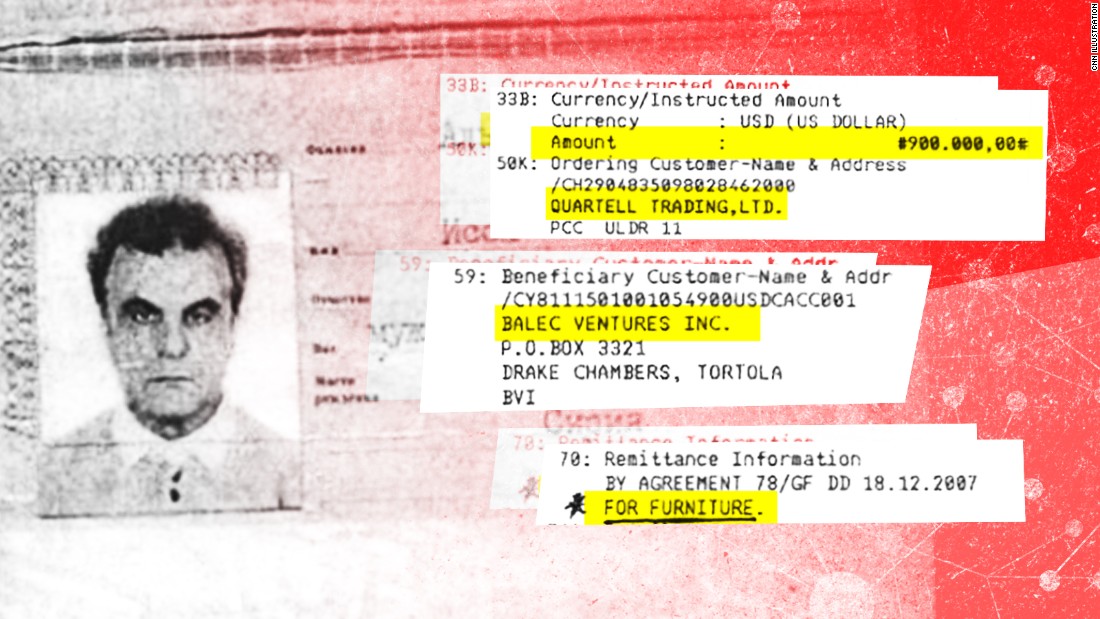 Money stolen by Russian mob linked to man sanctioned for supporting Syria's chemical weapons program
An investment group that U.S. authorities say is run by Russian mobsters and linked to the Russian government sent at least $900,000 to a company owned by a businessman tied to Syria's chemical weapons program, according to financial documents obtained by CNN.

According to a contract and bank records from late 2007 and early 2008, a company tied to a state-backed Russian mafia group, according to U.S. officials, agreed to pay more than $3 million to a company called Balec Trading Ventures, Ltd — supposedly for high-end "furniture."

Wire transaction records seen by CNN confirm that at least $900,000 was transferred.

Both businesses are registered in the British Virgin Islands.

The company allegedly tied to Russian mafia was called Quartell Trading Ltd., and the U.S. Department of Justice claims it is one of the many vehicles into which millions of dollars of stolen Russian taxpayer money was laundered a decade ago in connection with the so-called "Magnitsky affair," perhaps the most notorious corruption case in Vladimir Putin's Russia.

Balec Ventures is owned by Issa al-Zeydi, a Russian whom the U.S. Treasury Department

sanctioned in 2014

for his connection to the Scientific Studies and Research Center, the hub of Syria's nonconventional weapons program, including its manufacture of Sarin and VX nerve agents and mustard gas.

The $230 million tax fraud

According to U.S. Congress and the U.S. Department of Justice, a band of Russian mafia called the Klyuev Group consists of past and present officials in the Russian Interior Ministry, two Moscow tax bureaus and the Federal Security Service, or FSB, the domestic intelligence service and successor body to the Soviet KGB.

In 2007, authorities say, the Klyuev Group, colluded to fraudulently seize the ownership of three subsidiary companies connected to a Moscow-based Hermitage Capital Management, then the largest hedge fund in Russia.

The Klyuev Group then fabricated hundreds of millions of dollars in losses for these companies that they had taken over. That enabled them to apply for a tax refund of $230 million.

The entire amount was processed in a single day, Christmas Eve 2007, by Russian tax officials on the Klyuev payroll.

Sergei Magnitsky, the lawyer hired by Hermitage Capital to investigate the theft, uncovered this vast criminal conspiracy and the players behind it. He was arrested in 2008, denied urgent medical care for over a year in pretrial detention and physically tortured before his death in Moscow prison in 2009 at age 37.

In 2012, Congress passed the Sergei Magnitsky Rule of Law Accountability Act, under which some three dozen Russian officials have been sanctioned.

The Kremlin rejects the U.S. version of events. Moscow insists that the lawyer died of "heart failure" and that he was the real tax cheat. A Russian court even put him on trial posthumously and found him guilty in 2013. It marked the first time in Russian history that a corpse was successfully prosecuted.

Follow the money — and dead bodies

Much of the $230 million from the Klyuev Group heist has since been located and frozen in jurisdictions all over the world. "Magnitsky stumbled into more than he realized, and more than we realized even after the passage of the Magnitsky Act," Daniel Fried, the former U.S. Coordinator for Sanctions Policy, told CNN.

The U.S. Attorney in New York charged Prevezon Holdings, a Cyprus-registered company owned by the son of an influential Russian official, with having purchased Manhattan real estate and opened U.S. bank accounts using some of the pilfered funds. That case was

settled

in May. In the settlement, Prevezon did not acknowledge any wrongdoing and the U.S. government agreed not to pursue the company in any further litigation tied to this case.

Another related asset forfeiture case is still ongoing in Switzerland where authorities have relied on evidence turned over by Alexander Perepilichny, a Russian expatriate who confessed to having been the principal money launderer for the Klyuev Group before he broke ties with it.

The evidence showed Credit Suisse bank accounts in Switzerland where some of the stolen money had been deposited. One of those Swiss accounts belonged to Quartell Trading, which is Perepilichny's company — or was before he dropped dead suddenly while jogging near his home in Surrey in November 2012.

At only 44 years-old and not known to have been in ill health, Perepilichny's death was initially declared "unexplained" by British police until traces of gelsemium, a poisonous flower, were discovered in his stomach.

A state coroner's inquest into the case began in Britain on June 5 and was upended when

BuzzFeed

reported a week later that the U.S. Office of the Director of National Intelligence, the body that oversees all U.S. spy agencies, concluded with "high confidence" that Perepilichnyy was killed on orders by Vladimir Putin.

Citing more than a dozen past and present intelligence officials in the U.S., UK and France, BuzzFeed alleged that the British government was suppressing crucial evidence. BuzzFeed said that the British government refused to comment on the report.

A dubious transaction

A signed contract dated December 18, 2007 — just days before the Klyuev Group's fraudulent $230 million refund was processed — show that Perepilichny's Quartell Trading agreed to buy $3,172,000 worth of high-end "furniture" from Balec Ventures, Issa al-Zeydi's company.

A copy of a SWIFT transaction also obtained by CNN show that $900,000 of that amount was wired from Quartell Trading to Balec a few weeks later, on January 25, 2008.

It is unclear whether any of the vaguely described items was ever delivered to the listed address, a warehouse in Kharkiv, Ukraine.

Balec's bank, the Federal Bank of the Middle East (FBME), approved the transaction for filing five days later, on January 30, 2008. Notably, the bank also stamped the document "checked for money laundering purposes."

Less than a month later, according to the U.S. Justice Department, Quartell received nearly 2 million euro from a Latvian bank account that had received some of the stolen $230 million.

FBME, which was based in Tanzania, could not be reached for comment for this story. In May, the institution was shut down by Tanzania's central bank because of U.S. accusations that it was "used by its customers to facilitate money laundering, terrorist financing, transnational organized crime, fraud, sanctions evasions and other illicit activity internationally and through the US financial system," according to the US Treasury Department's Financial Crimes Enforcement Network.

There are oddities to Quartell-Balec transaction, according to financial analysts consulted by CNN who have examined the contract and supporting documents.

For one thing, Balec is described by FBME as being commercially engaged in the "buying/selling [of] promissory notes" and the import and export of building materials such as ceramic and marble tiles, timber, steel coils and "furnitures" [sic].

But it has no public profile or corporate website on which to showcase its inventory.

Ties to Assad's WMD?

The Syria-born Issa al-Zeydi does not have a conspicuous public profile in Russia, apart from a largely inactive social media page on VKontake, the Russian version of Facebook, which CNN has confirmed belongs to the man who owns Balec Ventures.

He graduated in 1964 from Bauman Moscow State Technical University, where he studied engineering.

According to corporate registration records in Russia, al-Zeydi is also the owner and/or CEO of several small companies with next to no capital.

One of these, Aldzhamal Interneshal, claims to work in "non-specialized wholesale trade," "the production of petroleum products" and the "manufacture of industrial gases."

He was also the director of Enterprises Ltd. and Fruminenti Investments Ltd., two companies that the

U.S. sanctioned in 2014

for their connection to the Scientific Studies and Research Center, Syria's government agency responsible for developing and producing non-conventional weapons and ballistic missiles," according to the US Treasury's Office of Foreign Assets Control (OFAC).

It is unclear if any of the $900,000 that Quartell wired to Balec went to support the Center.

Repeated attempts to contact Issa al-Zeydi in Moscow for this story, using the registered addresses of his Russian-based companies and phone numbers, proved unsuccessful.