ISIS cell behind Paris atrocity 'planned attacks on shopping centre and targets in Holland': Full scale of attack revealed as official warns operatives are trying to reach UK
ISIS fanatics killed 130 people in the French capital on November 13
But papers claim murderous team may have been plotting wider attack
Investigators believe shopping centres and targets in Holland identified
Official says ISIS has stepped up moves to infiltrate operatives in the UK
DailyMail: A network of ISIS extremists who targeted Paris in November last year had ambitious plans to carry out yet more atrocities, it has emerged.

Fanatics killed 130 people in the French capital on November 13 when they massacred music fans in the Bataclan theatre hall, set off suicide bombs at the Stade de France and gunned down revellers outside bars.

But the terror group's external operations wing, known as  Amn al-Kharji, may have been planning for the murderous team to hit other targets, including supermarkets and packed shopping centres, it has been reported.

A network of ISIS extremists who targeted Paris in November last year had made ambitious plans to carry out yet more atrocities, it has emerged. People are pictured fleeing from the Bataclan on November 13

There are also suggestions their hit list included targets in the Netherlands while one official said ISIS has stepped up moves to infiltrate its attackers into Britain.

Details of an apparent wider plot emerged after CNN examined tens of thousands of pages of documents from investigations into the Paris massacre.

The papers revealed that the ISIS network may have been planning to follow up the slaughter in Paris with attacks in several other locations.

CNN says the documents show a suspected terrorist called Abid Tabaouni, believed to have been linked to the Paris terror cell, was at large in Europe for months after the atrocity. He was only arrested in July this year.

A European counter-terror official told CNN that Paris was a 'slimmed-down' version of a far wider plot.

Sources told the broadcaster that, even now, operatives planted in Europe are waiting for instructions from key ISIS strategists based in the terror group's Syrian stronghold.

The terror group's external operations wing, known as Amn al-Kharji, may have been planning for the murderous team to hit other targets, including supermarkets and packed shopping centres. The exterior of the Bataclan, where 90 people died, is pictured above

According to the CNN reporters Scott Bronstein, Nicole Gaouette, Laura Koran and Clarissa Ward, documents revealed that two terror suspects who were delayed in reaching France ahead of the November 13 killings may have been plotting to return to the French capital for a further attack at a later date.

Adel Haddadi and Muhammad Usman had reportedly been looking at train times to Paris and made a number of overseas calls in the days before they were arrested – and investigators believe they were waiting for a third man to join them.

The attack on Paris was one of a series of jihadist strikes on French soil.

In January last year, terrorists shot 12 people dead at the office of Charlie Hebdo in Paris. Days later a Jewish supermarket was targeted with four shot dead.

In June this year Police officer Jean-Baptiste Salvaing and his wife were knifed to death inside their home near Paris by a man who said he had pledged allegiance to ISIS.

And on July 14, Mohamed Lahouaiej Bouhlel, thought to have links with ISIS, murdered 84 when he drove a lorry into a crowd celebrating Bastille Day in Nice.
****
From CNN in part: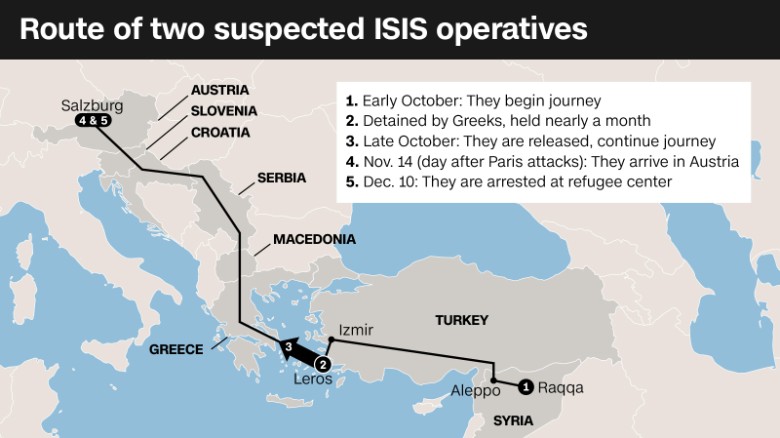 The documents show:
a fuller portrait of the suspected terrorists' extensive use of social media platforms such as Viber, Telegram and WhatsApp, many encrypted for secure communication. One app let them pick their own phone number, allowing them to disguise who was calling them and from where.
how ISIS handlers protect their missions by: giving operatives only as much information and money as they need to reach the next phase; contacting them on each leg of their journey; and insisting on pseudonyms, even within teams.
how the suspected terrorists constantly exchanged logistical advice with others in their network, including whether or not to use real names at border crossings and how to sneak across those borders illegally. One tip was to hide in train restrooms.
A senior European counter-terrorism official who spoke to CNN said that according to investigations into the network that carried out the Paris attacks, they were a slimmed-down version of an even more ambitious plan to hit Europe.
After interrogating suspects and gathering intelligence, European investigators now believe that ISIS initially planned for the operatives it sent last year to also attack the Netherlands, as well as other targets in France including shopping areas and possibly a supermarket in Paris, the official said.
In addition, recently obtained intelligence indicates that ISIS has stepped up efforts to infiltrate operatives into the UK to launch attacks there, an official told CNN.
The senior European counter-terrorism official told CNN that security services were "uncovering more and more ISIS operatives" on continental European soil. ISIS operatives dispatched back to Europe have taken advantage of encryption, especially the Telegram messenger app, to communicate securely, the official told CNN, frustrating European security services.
"Encrypted messaging groups have the potential to revolutionize terror plot planning by allowing entire cells to coordinate in real time without compromising themselves," said CNN terrorism analyst Paul Cruickshank.
Europe's security agencies have had important successes, though. One major breakthrough was the capture of two men who authorities believe intended to travel to France alongside the two suicide bombers who eventually blew themselves up outside a Paris stadium.
Investigators: Two ISIS attackers who never reached France
Those two suspected ISIS operatives are identified in the documents as Algerian-born Adel Haddadi and his Pakistani travel partner, Muhammad Usman.
Documents that detail their capture and extensive interrogations, particularly with Haddadi, show how ISIS supported the attackers throughout their journey from Syria through Europe — and how future attacks might be organized. The following account of their journey to Europe is based on those documents, which include evidence gathered by investigators, and their conclusions.
Haddadi and Usman, who was identified by investigators as a suspected bombmaker for the Pakistani terror group  Lashkar-e-Taiba, set out from the capital of the self-declared ISIS caliphate in Raqqa, Syria, six weeks before the Paris attacks.
They were part of a team, investigators concluded. The two others, Ahmad al-Mohammad and Mohamad al-Mahmod, would later blow themselves up outside the national stadium in Paris. The team crossed the border from Syria into Turkey in early October and headed for the Turkish coast.
The four men didn't seem to know each other's real names, or what their final mission would be. All Haddadi knew, he later told interrogators, was that they were being sent to France to do "something for the good of God."
The documents show that their journey was directed by a shadowy ISIS leader in Syria, known only as Abu Ahmad. Operating like a puppet-master from afar, Abu Ahmad handled their logistics: connecting them with smugglers and cars for transport, providing pre-programmed cell phones and getting them fake Syrian passports.
He wired them money as they moved, using intermediaries who couldn't be traced, and communicated using encrypted apps.
"Abu Ahmad … is key in sending those individuals, at least the foreigners, into the Paris attacks," said Jean-Charles Brisard, president and chairman of the French Center for the Analysis of Terrorism, who reviewed the documents for CNN.
"He is the one who recruited them, who funds them, who trained them," said Brisard. "He was always in contact with them."
Throughout their journey, Abu Ahmad gave the men only enough money and information to get to the next stop, rarely if ever telling them what would happen next, the documents show.
Posing as Syrian refugees
The documents reveal fresh details about their journey and the way they posed as Syrian refugees, blending in with thousands fleeing the war-torn country.
They made the treacherous crossing from Izmir, Turkey, into Greece in a boat filled with dozens of refugees. But they were then intercepted by the Greek Navy.
The two who would go on to strike the Paris stadium passed through Greece and started moving across Europe toward their target in France. Greek officials declined to explain how the two got through.
But Greek authorities discovered Haddadi and Usman's fake Syrian passports. The pair were arrested, their money was taken, and they were held for nearly a month.
Sources told CNN that investigators believe that delay was significant; as a result, they would not have a chance to become part of the Paris attacks.
The Greeks released Haddadi and Usman in late October. They immediately contacted their ISIS handler, Abu Ahmad, who arranged for someone to wire them 2,000 euros. Flush with cash, the pair continued along the refugee route.
It was likely a quiet journey.
The documents show that Usman spoke only Urdu, while Haddadi spoke mostly Arabic. And as they travelled north, Usman was preoccupied with a strikingly un-Islamic hobby — using his phone to peruse almost two dozen X-rated sites, including "sexxx lahur" and "Pakistani Lahore college girls … ImakeSex."
Both men's phones have given European officials rich investigative veins to mine, revealing dozens of contacts across Europe and the Middle East.
One of the people Haddadi reached out to for help was a technician at one of the most important nuclear research centers in Europe. That man was placed under immediate observation by French authorities, the documents show.
Data pulled from the phones also revealed how the operatives functioned both with extreme care and sometimes, seemingly, by the seat of their pants. In one exchange, Haddadi asks a contact for advice about what to do at a border crossing and whether a friend should use his real name. The friend is so worried about this, Haddadi gripes that he's "driving me crazy."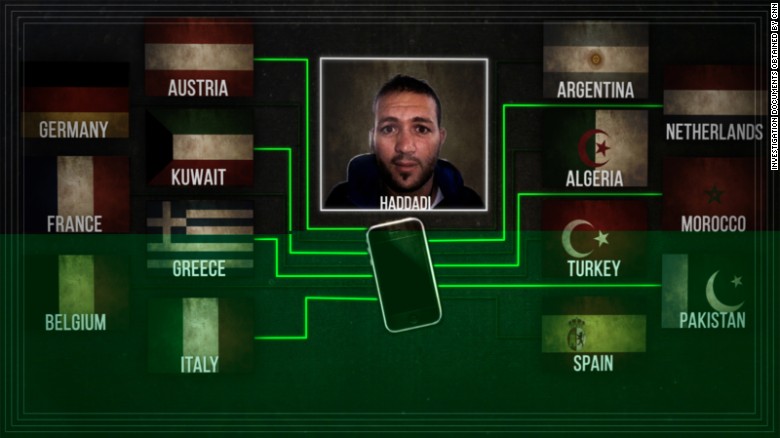 This graphic, featuring suspected ISIS operative Adel Haddadi, shows Haddadi's global network.
Other online conversations, notably with Abu Ahmad, are clearly in code. One message investigators pulled from Haddadi's phone shows the ISIS handler counseling patience, though the exact meaning of his message isn't clear. "Yes, but not yet," it reads, "the drugs are not good."
On November 14, the day after the Paris attacks, Haddadi and Usman arrived in Salzburg, Austria, applied for asylum and settled into one of the city's refugee centers, where they waited for weeks.
Investigators: Planning for another strike
They were waiting with a purpose, according to the documents.
European investigators concluded that Haddadi and Usman were part of the same terror cell as the Paris bombers and, having failed to participate in that bloody day, were planning another strike.
Investigators found that in the days before their arrest, Haddadi and Usman were researching trains to Paris and making a flurry of phone calls overseas , including to contacts in Belgium and France.
The documents also reveal that investigators believe that Haddadi and Usman were waiting for a third man to join them — Abid Tabaouni.
Keep reading here from CNN
, this was remarkable work by these journalists.
****
Related reading: