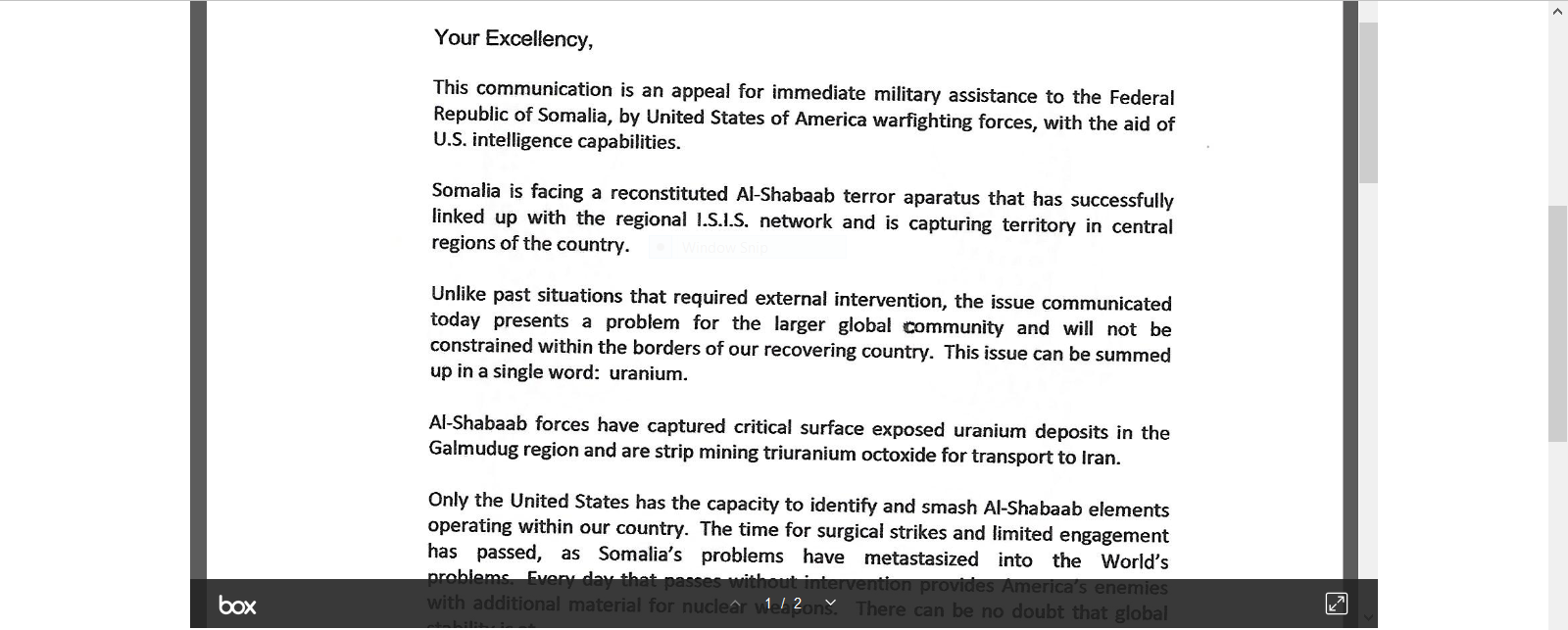 In 2015:
Somali Minister of Petroleum and Mineral Resources, Mohamed Muktar Ibrahim has talked about the Somalia's Mineral Resources saying that they have made contacts with International Atomic Energy Agency (IAEA) on the controlling of minerals that can be use chemical weapons.
He noted they are taking measures to prevent raw materials like Uranium to fall into the hands wrong people.
In an exclusive interview he gave to Universal TV, the minister highlighted that they also held talks with UNDP which had information on mining depots in the country as it has surveyed on the country's mineral deposits in the years between 1965 and 1975.
In a UN report released in 1968 shows that Somalia is a hotspot for uranium.
Somali government is busy amending some provision in the Mineral Law 1984 and compliance with the current conditions in the country now.
To read the full letter, go here.
An Al Qaeda affiliate has seized control of uranium mines in Africa with the intent of supplying the material to Iran, according to a diplomatic letter from a top Somali official appealing to the U.S. for "immediate military assistance."

The letter, reviewed by Fox News, was addressed to U.S. Ambassador to Somalia Stephen Schwartz. Somalia's Ambassador to the U.S. Ahmed Awad confirmed to Fox News on Thursday that the letter "has indeed been issued" by Minister of Foreign Affairs Yusuf Garaad Omar, whose signature is on the document.

The Aug. 11-dated letter delivered an urgent warning to the U.S. that the al-Shabaab terror network has linked up with the regional ISIS faction and is "capturing territory" in the central part of the country.

"Only the United States has the capacity to identify and smash Al-Shabaab elements operating within our country. The time for surgical strikes and limited engagement has passed, as Somalia's problems have metastasized into the World's problems," the letter said. "Every day that passes without intervention provides America's enemies with additional material for nuclear weapons. There can be no doubt that global stability is at stake."

The State Department would not comment on the diplomatic letter, but did not dispute its authenticity and referred Fox News to the government of Somalia. Iran was supposed to pull back on its nuclear program under the terms of the agreement struck with the Obama administration. More here from FNC.
***
Background:
Is Somalia a safe haven for terrorists?

On one hand, Somalia is a chaotic, poor, battle-weary Muslim country with no central government and a long, unguarded coastline. Its porous borders mean that individuals can enter without visas, and once inside the country, enjoy an almost complete lack of law enforcement. Somalia has long served as a passageway from Africa to the Middle East based on its coastal location on the Horn of Africa, just a boat ride away from Yemen. These aspects make Somalia a desirable haven for transnational terrorists, something al-Qaeda has tried to capitalize on before, and is trying again now.

On the other hand, Somalia is different from other failed states in several ways. While it is roughly the size of Afghanistan, its landscape lacks Afghanistan's many natural hiding places and does not offer the topographical haven of other states like Yemen. It is also a fiercely clan-oriented culture with an aversion to foreign presence of any kind, including Arab jihadi organizations. "When you get these extremist ideologies, the Somalis look at them and they are immediately perceived as foreign," says Bruton, "They're perceived as Arab. It's an Arab ideology. And just as the Somalis are hostile to American ideology, they're hostile to Arab ideology as well." Finally, the Somalis–Sufi Muslims since the birth of Islam in the seventh century–have moderate religious views; until recently, Taliban-style fundamentalism was unfamiliar in the country.

These factors were responsible for al-Qaeda's failure in the 1990s, when it tried working closely with al-Ittihad al-Islami (AIAI). Al-Qaeda was unable to root itself in Somalia's clan system, and, according to former ambassador to Ethiopia David Shinn, "overestimated the degree to which Somalis would become jihadists." The experience of the al-Qaeda operatives was so treacherous that Bruton says: "U.S. intelligence officials came up with a verdict that Somalia was actually inoculated from foreign terrorist groups, that it's just fundamentally inhospitable, that the clan system is so closed to foreigners that there's just no way that these groups can operate."

Since the Ethiopian invasion, al-Qaeda has seen a resurgent connection to the country, and HI and al-Shabaab control most of the territory. However, experts disagree over whether Somalia could be the base for an international attack or whether the group will continue its domestic focus. "Personally, my view is that they don't have much to gain by [partnering with al-Qaeda to conduct an international attack]," Bruton says. "And they probably don't have the capacity to do it. But it's worrisome that they're making the threats, so I think it's something to be watched and assessed very carefully. But right now, I would say the odds of a transnational attack are very, very low."  More here.