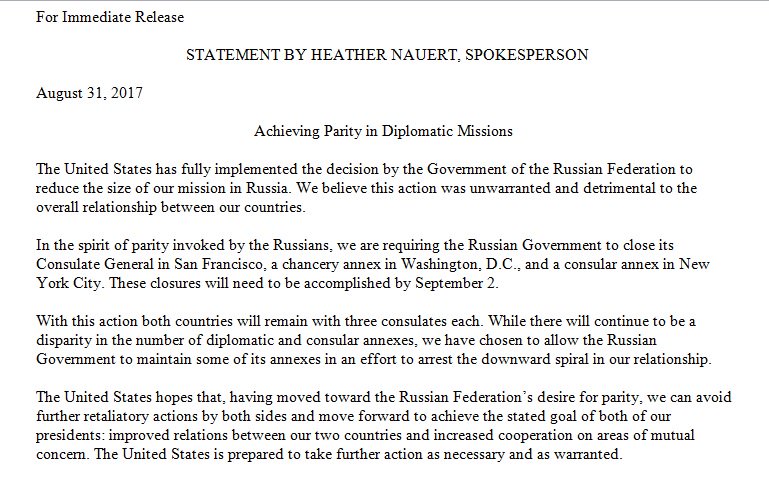 Russian President Vladimir Putin plans to retaliate against the State Department's latest rebuke of his policies, his spokesman warned.

"We regret the unconstructive stance taken by our counterparts in the United States and, of course, we cannot afford to leave unfriendly, and sometimes hostile steps towards us without retaliation," Kremlin spokesman Dmitry Peskov said Thursday, according to state-run media.

That statement suggests that the diplomatic feud will escalate following the State Department's decision to close three Russian facilities in the United States. Secretary of State Rex Tillerson's team justified that move as a response to Putin's requirement that the United States cut hundreds of personnel operating in Russia. But the State Department called for an end to the tit-for-tat, saying that the two sides had reached "parity" in the fight.

Tillerson ordered the closure of Russia's consulate general in San Francisco, as well as two other facilities in New York and Washington, D.C., respectively.

"While there will continue to be a disparity in the number of diplomatic and consular annexes, we have chosen to allow the Russian government to maintain some of its annexes in an effort to arrest the downward spiral of our relationship," State Department spokeswoman Heather Nauert said Thursday.

The State Department said it had implemented the Putin team's order to remove hundreds of U.S. personnel from Russia. Putin issued that requirement in response to Congress passing legislation that sanctions Russia on three fronts: the cyberattacks against the Democratic party and state election systems in 2016; the invasion of Ukraine; and Russia's support for Syrian President Bashar Assad.

"The United States hopes that, having moved toward the Russian Federation's desire for parity, we can avoid further retaliatory actions by both sides and move forward to achieve the stated down of both of our presidents: improved relations between our two countries and increased cooperation on areas of mutual concern," Nauert said.

Russian diplomats maintain that the United States is to blame for the strained ties between the former Cold War rivals. "By tradition we are for good-natured relations with the United States," Peskov said. "Moreover, we believe that these relations must be advanced in the interests of peace and global stability and in the interests of settling crucial world and regional problems."
*** Meanwhile, this Dmitry Peskov cat is well know to the Trump orbit and described below.
Peskov was responding to a question from CNN on a conference call with reporters.

Cohen — who was executive vice president of the Trump Organization at the time he sent the email — said Monday that he had contacted the Kremlin for assistance in mid-January 2016 about building a Trump Tower in Moscow when the mogul was running for president, but denied that the project was related to Trump's campaign. But the revelation appears to contradict Trump's vehement denials of any such business connections to Russia in the past.

Cohen told CNN on Monday his message to Peskov was "an email that went unanswered that was solely regarding a real estate deal and nothing more."

Peskov confirmed that his office had located a copy of the email, which said the development deal wasn't moving forward and requested support.