The Shulaya Enterprise was an organized criminal group operating under the direction and protection of Razhden Shulaya, a/k/a "Brother," a/k/a "Roma," a "vor v zakone" or "vor," which are Russian phrases translated roughly as "Thief-in-Law" or "Thief," and which refer to an order of elite criminals from the former Soviet Union who receive tribute from other criminals, offer protection, and use their recognized status as vor to adjudicate disputes among lower-level criminals.  As a vor, Shulaya had substantial influence in the criminal underworld and offered assistance to and protection of the members and associates of the Shulaya Enterprise.  Those members and associates, and Shulaya himself, engaged in widespread criminal activities, including acts of violence, extortion, the operation of illegal gambling businesses, fraud on various casinos, identity theft, credit card frauds, trafficking in large quantities of stolen goods, money laundering through a fraudulently established vodka import-export company, payment of bribes to local law enforcement officers, and the operation of a Brooklyn-based brothel.

The Shulaya Enterprise operated through groups of individuals, often with overlapping members or associates, dedicated to particular criminal tasks.  While many of these crews were based in New York City, the Shulaya Enterprise had operations in various locations throughout the United States (including in New Jersey, Pennsylvania, Florida, and Nevada) and abroad.  Most members and associates of the Shulaya Enterprise were born in the former Soviet Union and many maintained substantial ties to Georgia, Ukraine, and the Russian Federation, including regular travel to those countries, communication with associates in those countries, and the transfer of criminal proceeds to individuals in those countries.

Not too sure he was not a spy either frankly.
Georgian former boxing champion Avtandil Khurtsidze has been sentenced to 10 years in prison for working as the "chief enforcer" for an "elite" criminal enterprise.
He was convicted in June in New York of racketeering and wire fraud conspiracy.
Prosecutors said the 38-year-old boxer had "substantial influence" in the criminal underworld as part of a Soviet Union crime gang.
They said Khurtsidze used violence in service of the group's activities.
He and his associates, known as the Shulaya Enterprise, were blamed for crimes across the US including extortion, wire fraud, illegal gambling and operating a brothel in Brooklyn.
Many of the crew's activities were based in New York but they also operated in other major cities as well as abroad, a justice department statement said.
Officials say most of its members were born in the former Soviet Union, with strong ties to Georgia, where the boxer was born.
Khurtsidze was caught on film twice carrying out assaults, with prosecutors describing him as a "heavyweight enforcer" for the group's members and leadership.
He was also accused of participating in a complex fraud scheme to predict casino slot machines algorithms, which involved kidnapping a software engineer in Las Vegas in 2014.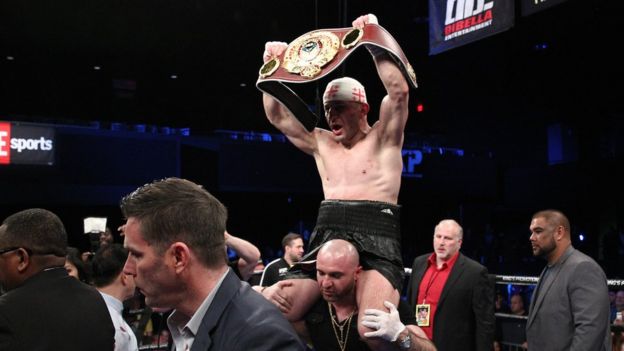 On top of his decade federal jail sentence, the Georgian boxer was given two further years supervision on release.
"Thanks to our dedicated law enforcement partners around the globe, Khurtsidze's reign of extortion and violence has been halted," US attorney Geoffrey Berman said in a statement.
'Just a waste'
Khurtsidze held the interim WBO middleweight title in 2017.
His last professional fight was against British boxer Tommy Langford in April 2017, which he won.
A later bout against Billy Joe Sanders was cancelled after Khurtsidze was arrested along with more than 30 others in a swoop against the organised crime syndicate.
Following his conviction, his former promoter Lou DiBella criticised the boxer for squandering his career.
"He let many people down who believed in him, but no one more than himself. Just a waste, and it's all on him for choosing the dark side," Mr DiBella told ESPN.