Los Angeles Mayor, Eric Garcetti has been working to trim the budgets of LAPD since 2017 and now in 2020 the proposed cuts are in the range of $150 million and passed the city council vote by 12-2.  He got major support from progressive groups for certain including CAIR-LA. He also had the support of Senator Kamala Harris (CA-D). The money is not a savings to local taxpayers but rather is being routed instead to helping communities of color. Tuesday's unanimous city council vote to replace police officers with unarmed crisis response teams for nonviolent emergency calls. A portion of the money will be used to limit the furlough of municipal employees. In April, Mayor Eric Garcetti proposed furloughing 15,000 civilian employees due to the revenue shortfalls brought on by the coronavirus pandemic. This comes after the L.A. Unified School District Board of Education voted Tuesday night to slash the school police budget by $25 million, or 35%. According to city documents, the city's revenue for 2019-2020 is estimated to be $6.32 billion, about $253.5 million below the 2019-2020 proposed budget.
Fault line is the consequence to public safety and leaving schools vulnerable to chaos instigated by gangs and unruly students, even more of a soft target.
In 2018, Minneapolis already cut the police budget by $1 million. Reclaim the Block, a grassroots organization that has been trying to divest the police department's budget into crime and violence prevention programs. More cuts still to come to law enforcement while the reprogramming to prevention programs since 2018 have failed.
San Francisco Mayor London Breed announced a plan to reduce the city's police budget and reallocate those funds to social programs that benefit black communities. The plan does not specify how much it plans on cutting, but comes amid a $1.7 billion budget shortfall for the city.
In Philadelphia, the Mayor Jim Kenney is proposing cutting the city's main civilian police oversight board while adding $23 million in new funds to law enforcement, according to WHYY.
In Phoenix, activists are requesting a 25 percent reduction in the police department's budget but the city council has refused to consider the motion, according to the Arizona Republic.
Mayor Jenny Durkan proposed cutting the Seattle Police Department's budget by about 5% through the rest of the year, but some elected officials and protesters say that falls far short of what they are demanding. Durkan said the city needs to "rethink and reimagine policing." Seattle Police Chief Carmen Best similarly said more needs to be done to "maintain the trust of the community."
Then there is the big one, New York. The New York City Council voted to pass an $88 billion budget just after midnight on Wednesday morning, in which funding for the NYPD was cut by roughly $1 billion.
The city faces a roughly $9 billion budget shortfall because of business closures stemming from the coronavirus pandemic. Mayor Bill de Blasio has insisted that cuts to the NYPD will not be detrimental to public safety, even as shootings have risen in the city since the beginning of 2020.
The mayor had two goals for this budget: maintain safety and invest in youth and our hardest-hit communities.
Not one mayor or city council has defined these social programs that will be funded by the re-routing of police department operating funds reductions. Yet, as we have civil society breakdown across the country and peace in cities and neighborhoods across the nation being replaced with gun fire, riots and looting, those unknown social programs don't address public safety or incarceration of criminals arrested and found guilty of hundreds of unlawful acts.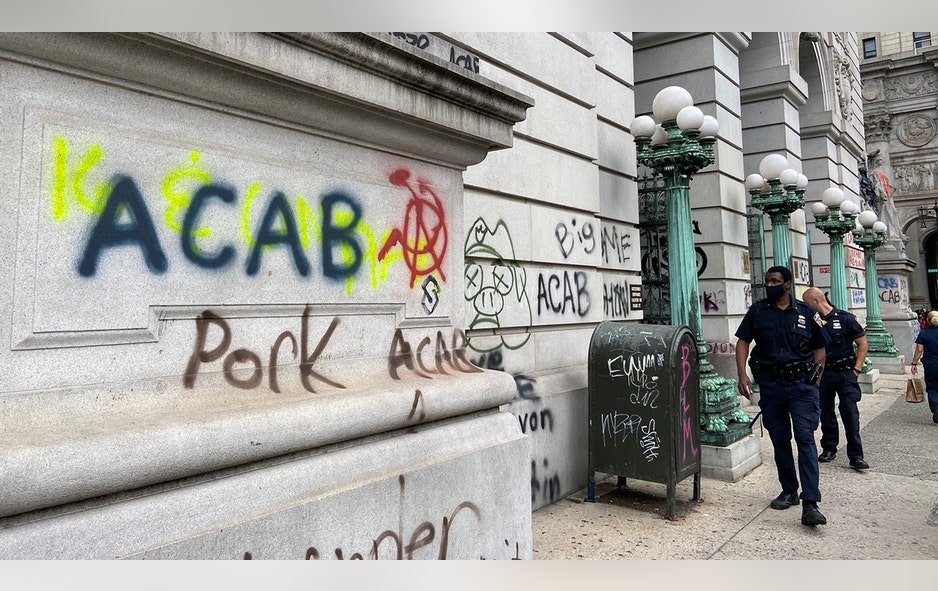 source
Defunding law enforcement is not going to stop protest road blocks causing major jams in traffic and the ability to move freely. Defunding law enforcement is not going to stop defacing private business or government property and the threats to private citizens at their own homes.
Fear is the fault line and the threat matrix builds when it comes to college campuses, small business, community events and even inside the work place. The burden of restoring law and order is not that of the Federal government but rather at the state and city level. The Federal government can make arrests when it comes to inter-state crimes or racketeering and can stop grants to states in violations to local and federal law. Citizens must challenge local leaders to protect and defend.