After her last little press conference trying to undo her political rhetoric in a real feeble attempt, seems she is running silent now.
Senator Chuck Schumer came out with a huge critical response to Maxine and rightly so. Then Nancy Pelosi issued a comment as well, although it was much more thin on substance.
But in between all of this two interesting things happened.
Judicial Watch came out with a hand delivered letter to the Chairman and Co-Chairman of the House Office of Congressional Ethics demanding that Waters be investigated and disciplined for her violation of House rules.
Congressman Andy Biggs, R-AZ introduced a measure calling for Waters to apologize and to resign her position.
What we have going on is building chaos that cannot be denied. The Department of Homeland Security issued an internal memo advising agency employees to take all measures for increase individual security and to be prudent in all work and life activities.
Meanwhile, this rhetoric, the protests and confrontations is only growing and far beyond that of government employees.
Check out Chicago as a bar called Replay Lincoln Park has refused to allow or serve customers wearing MAGA hats, stating it wants to keep the establishment classy.
There are some interesting but nasty tactics being used across the country but this tells a bigger story. You see, protestors in DC are virtually stalking administration personnel and surrounding their homes. How about this wanted poster being handed out and taped to walls and elevators?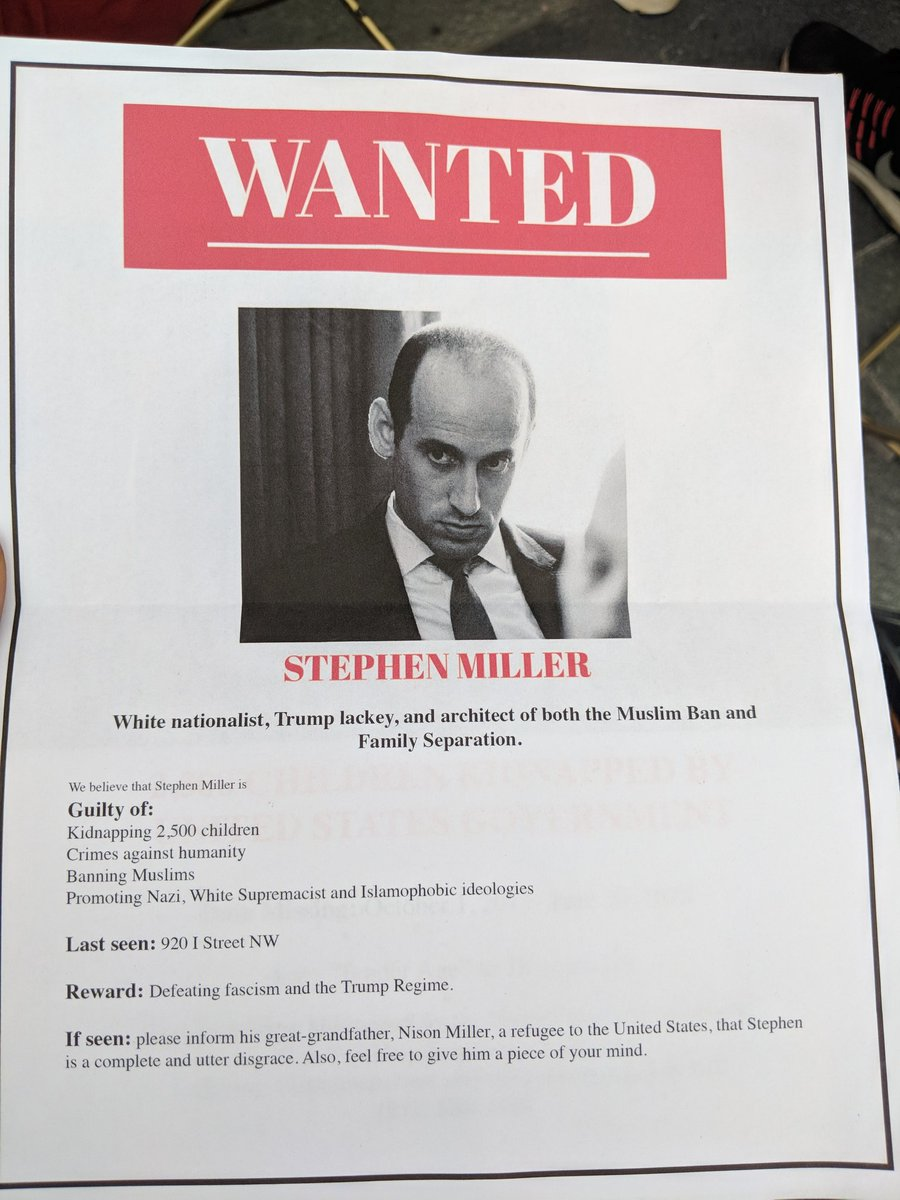 So meanwhile, check out the plans for example in New Jersey set of June 30.
"On June 30, politicians across the country will hear the outrage of the American people towards these policies," said Anna Galland, executive director of MoveOn Civic Action, one of the groups organizing the protests.
More than 400,000 people have RSVPed on social media that they plan to attend the events around the country, organizers said.
Other groups participating in the rallies and protests include American Civil Liberties Union, Greenpeace, NARAL Pro-Choice America, National Education Association, YWCA and the Women's March organization, which held a similar large national march and sister rallies around the country in January.
The Washington, D.C., rally will be held at 11 a.m. at Lafayette Square near the White House. Some New Jersey activists are organizing buses to attend the event.
Then it seems breastfeeding moms have been invited to be a part of the anti-Trump immigration policy.
Due to the Supreme Court decision, 5-4 on the Trump third version of the travel suspension, expect more protests. The Supreme Court decision is here. Of note: "[T]he government has set forth a sufficient national security justification to survive rational basis review. We express no view on the soundness of the policy. We simply hold today that plaintiffs have not demonstrated a likelihood of success on the merits of their constitutional claim," Chief Justice John Roberts Jr. wrote for the majority.
Roberts also dismissed arguments that the Supreme Court's Japanese internment rulings had any bearing on the outcome of the lawfulness of the travel ban.
"Whatever rhetorical advantage the dissent may see in doing so, Korematsu has nothing to do with this case," Roberts wrote. "The forcible relocation of U.S. citizens to concentration camps, solely and explicitly on the basis of race, is objectively unlawful and outside the scope of Presidential authority. But it is wholly inapt to liken that morally repugnant order to a facially neutral policy denying certain foreign nationals the privilege of admission."
Days of Rage could still be upon the country. So, where is Maxine now? Has she deferred to Corey Booker or The Open Society Institute or Kamala Harris?