The FBI agent who was kicked off of Special Counsel Robert Mueller's Russia team over the summer for sending pro-Clinton and anti-Trump text messages took part in the Jan. 24 interview with then-national security adviser Michael Flynn, it was reported on Monday.

Peter Strzok, a former FBI section chief in the bureau's counterintelligence division, conducted the interview of Flynn at the White House, according to Circa reporter Sara Carter.

Flynn pleaded guilty on Friday to lying to the FBI during that interview. He acknowledged giving false statements about conversations he had with Russia's ambassador Sergey Kislyak during the presidential transition period. More here.

*** photo
Peter Stzrok reviewed and cleared the Anthony Weiner-Huma Abedin emails in RECORD TIME before the election and said he FOUND NOTHING. A source familiar with FBI supervisory agent Peter Stzrok's involvement in the Hillary Clinton server investigation confirmed CNN's report that he changed 'grossly negligent' to 'extremely careless.
FBI Agent Strzok was also involved part of review over Abedin/Weiners emails found with classified information and data. He was also connected with the dossier.
It is important to understand there is a high probability that he and Andrew McCabe coordinated all the investigations and made recommendations of which Director Comey accepted without challenge. Can it be that the Clinton operation actually coordinated all the associated investigations due to the fact that Deputy Director Andrew McCabe's wife, Jill,  was very close to Terry McAuliffe including an estimated $700,000 in campaign funds for the wife to run for a local political run in Virginia?
McAuliffe, who chaired Clinton's 2008 presidential bid, said that despite the loss, he is ready to work with president-elect Donald Trump. He said he sent Trump a congratulatory letter the day after the election, and looks forward to Trump's plans to improve the nation's infrastructure.

Clinton and McAuliffe have had long and closely entwined careers. McAuliffe put up $1.35 million as collateral on Clinton's mortgage to buy their home in Chappaqua, N.Y. The Clintons, in turn, have provided McAuliffe a large network for his business and political enterprises.
***
All kinds of Hillary bundlers donated to Jill McCabe's campaign, people inside the Hillary campaign itself including power positions. Check out the names and amounts here.
Now an Inspector General is reviewing the whole matter of Peter Stzrok and that report is estimated for release in March of 2018.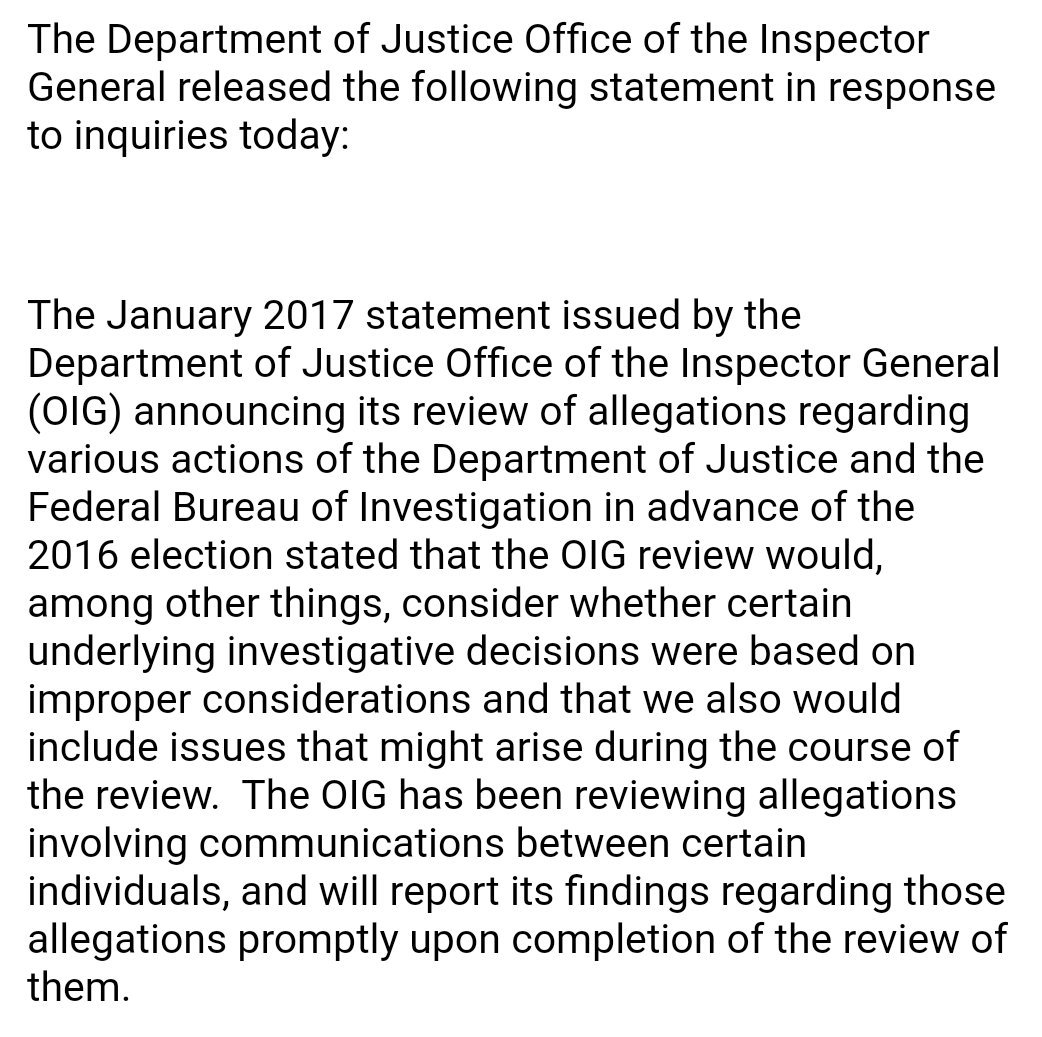 TheHill: A government watchdog confirmed Saturday that it is reviewing allegations involving agency officials amid reports that special counsel Robert Mueller's team removed an FBI agent after an investigation into the agent potentially sending anti-Trump text messages.

The Justice Department's Office of the Inspector General (OIG) indicated that its probe into the communications of agency officials is part of the watchdog's larger review of the FBI's actions before and after the 2016 presidential election.

"The OIG has been reviewing allegations involving communications between certain individuals, and will report its findings regarding those allegations promptly upon completion of the review of them," the OIG said in a statement.

The OIG said its review comes as a result of its January 2017 statement that it would look into actions by the Justice Department and FBI in its handling of the investigations during the 2016 election.

In the statement, the watchdog said it had set out to "consider whether certain underlying investigative decisions were based on improper considerations and that we also would include issues that might arise during the course of the review."

Mueller's investigation saw its most dramatic turn yet on Friday, when Trump's former national security adviser Michael Flynn pleaded guilty to lying to the FBI about his communications with Russian officials that took place during the presidential transition.