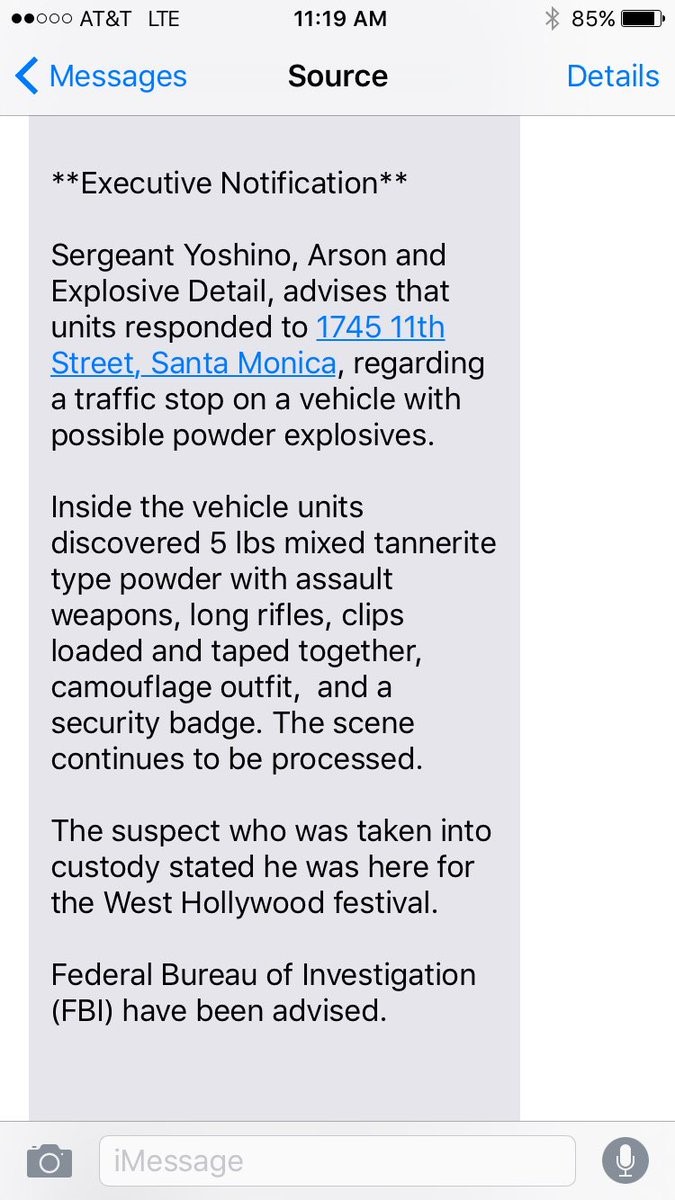 Arrest just made in Los Angeles. Why? ****
The shooter worked for G4S, a corrupt company this site wrote about last week.
Caliphate kill list was distributed via the app called Telegram and that is an encrypted platform. More data is here.
The ex-wife said she met Omar Mateen online about eight years ago and decided to move to Florida and marry him.

At first, the marriage was normal, she said, but then he became abusive. He has a 3 year old son.

"He was not a stable person," said the ex-wife, who spoke on the condition of anonymity because she feared for her safety in the wake of the mass shooting. "He beat me. He would just come home and start beating me up because the laundry wasn't finished or something like that." More here from WaPo.

TCPalm: Mateen has multiple ties to the Treasure Coast. Here are the local connections:

 Mateen, born in New York, lived in an apartment complex in the 2500 block of South 19th Street in Fort Pierce. Law enforcement was at the complex Sunday.
 He also received mail at his parents' home in the 900 block of Southwest Bayshore Boulevard in Port St. Lucie. Law enforcement remained at the home Sunday with his family.
 He received degrees in science in 2006 and 2007 from Indian River State College. However, further details about how long he attended the school were unavailable.
He attended his freshman year of high school at Martin County High School. It's unclear whether he attended MCHS after that.
 Mateen married Sitora Yusufiy of Port St. Lucie in 2009, according to court documents. They divorced two years later in 2011, St. Lucie County court records show.
 Mateen has no state criminal record, according to Florida Department of Law Enforcement records.

Omar Mateen's freshman year high school yearbook photo at Martin County High School.

Omar Mateen's father was an activist for the Taliban. Note the radio network that gave him airtime, Payem e Afghan, a radio show in California called Durand Jirga. (video link) Much more on the father being a full supporter of the Taliban here.

Omar worked security at a juvenile facility.

Islamic State (ISIS) has put out an official statement;
Omar was investigated twice. He was a state licensed security guard and owned the weapon legally. Born in New York of Afghan parents. He was married to a woman from Uzbekistan.
Governor Scott declared a state of emergency.

Rep Schiff, top Dem on House Intel, says on CNN he was told shooter made pledge of allegiance to ISIL,cautions still early in investigation.
Omar Mateen Terrorist was 29-Year-Old Islamic Radical (PHOTO)
The killer in the Orlando nightclub slaughter is 29-year-old Omar Mateen.  TMZ has done a records search and found he held a Florida security officer license and a state firearms license.

He's an American citizen and he has family that are not — his parents are Afghan.  Authorities say he was a terrorist and was targeting gays.  They say in addition to terrorism this is a hate crime.

Authorities also believe he is part of the radical Islam movement, although they do not know if it was an organized attack or if he was a lone wolf.   Authorities also believe Mateen specifically targeted a gay club.

Mateen's father told NBC News, "This has nothing to do with religion."  He says his son became angry after seeing 2 men kissing a few months ago in Miami, and he speculates that could have triggered his decision to kill.

Law enforcement says Mateen was well prepared, with an assault weapon, a handgun and 2 suspicious devices.

The NYPD tells TMZ, Mateen has no association with the department, and that the shirts he was photographed in were unofficial garments that could be purchased at any store.

50 people were murdered and another 53 injured inside Pulse nightclub in Orlando.  It's the biggest slaughter at the hands of a gunman in American history.

Take a look at the pic below … it's a police helmet with a bullet hole.  The helmet saved the officer's life, although he suffered facial injuries.

Police descended on Mateen's home to search shortly after the massacre. More here from TMZ

The gunman entered the crowded Pulse nightclub, a popular gay club, on Sunday night and opened fire before dying in a gunfight with SWAT officers. Orlando Police Chief John Mina said the suspect took hostages before law enforcement officials took out the shooter.

******

We were warned but who heard those warnings?

ISIS 'kill list' targets Palm Beach, Treasure Coast residents: Ex-FBI agent

WWMT: A pro-Isis group has released a hit list with the names of more than 8,000 peoplemostly Americans.

More than 600-people live in Florida, and one security expert believes that many of those targeted live in Palm Beach County and on the Treasure Coast.

The "United Cyber Caliphate" that hacked U.S. Central Command, 54,000 Twitter accounts and threatened President Barack Obama is the same pro-Isis group that's reportedly created a "kill list" with the names, addresses and emails of thousands of civilian Americans.

Reports of the list came to light online when Vocativ reported the list was shared via the encrypted app, Telegram, and called on supporters to kill.

Former FBI agent-turned lawyer Stuart Kaplan says the threat is especially alarming, because the people on this list are civilians who don't have the security necessary to protect themselves.

"It's going to create some hysteria," he said.

Kaplan believes civilians from our community are on the list.

"I would suspect a head of a hospital or, perhaps, a local community leader. Those are the individuals that may appear on the list–or just a local banker or local school teacher–someone who, for some reason, was in the public eye."

Kaplan is concerned the list will inspire "lone wolf" style attacks.

"If in fact a sympathizer gets ahold of this list and is readily able to identify you as being his neighbor and, then, decides (because they're a sympathizer) to go out and do something horrific to you, there is no way to calculate the potential or to prevent that."

The list has not yet been made public.

We reached out to the FBI, the Palm Beach County Sheriff's Office and Martin County Sheriff's Office to see how credible they view the threat and what action they might be taking.

We are awaiting their response.

According to the Martin County Sheriffs office,the FBI is aware of this and the agency will work closely with the Joint-Terrorism Task Force to keep citizens safe.