It was thought that declassifying and releasing those 28 pages of the 9/11 Commission report would produce the smoking gun that Saudi Arabia was exclusively behind the attacks. While there were some interesting facts and connections, the real proof was not there. In the first order of business since the return from summer break, the House voted along with the Senate approving legislation where victims' families could sue Saudi Arabia. This puts, Barack Obama in a precarious position with regard to his veto pen. Does he stand with the families or with Saudi Arabia?
We have the answer according to Josh Earnest, the White House spokesperson: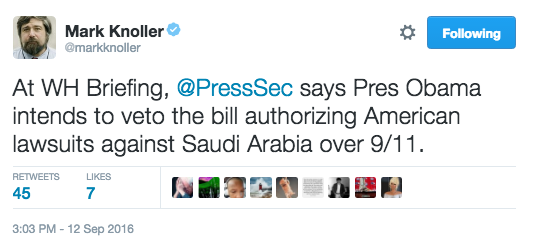 "That is still the plan. The president does plan to veto this legislation," press secretary Josh Earnest told reporters. "I do anticipate the president will veto the legislation when it is presented to him. It hasn't been presented to him yet."

The Press Secretary reiterated the White House's concerns with passing the bill saying, "It's not hard to imagine other countries using this law as an excuse to haul U.S. diplomats or U.S. service members or even U.S. companies into courts all around the world."

"The president believes that it's important to look out for our country, to look out for our service members, to look out for these diplomats and allowing this bill to come into law would increase the risk that it would face," he continued. More here.
It was al Qaeda that struck America 15 years ago for sure, but Iran and Saudi Arabia had is some measure a hand in training, financial support and harboring key al Qaeda operatives. Meanwhile, the al Qaeda operation is still quite functional and not to be dismissed or under-estimated.
In part from the LWJ: Some US officials argue that al Qaeda has been "decimated" because of the drone campaign and counterterrorism raids. They narrowly focus on the leadership layer of al Qaeda, while ignoring the bigger picture. But even their analysis of al Qaeda's managers is misleading.

Al Qaeda has lost dozens of key men, but there is no telling how many veterans remain active to this day. Experienced operatives continue to serve in key positions, often returning to the fight after being detained or only revealing their hidden hand when it becomes necessary. Moreover, al Qaeda knew it was going to lose personnel and took steps to groom a new generation of jihadists capable of filling in.

From left to right: Saif al Adel, Abu Mohammed al Masri and Abu Khayr al Masri. These photos, first published by the FBI and US intelligence officials, show the al Qaeda leaders when they were younger.

Last year, several veterans were reportedly released from Iran, where they were held under murky circumstances. One of them was Abu Khayr al Masri, who paved the way for Al Nusrah's rebranding in July. Another is Saif al Adel, who has long been wanted for his role in the 1998 US Embassy bombings in Kenya and Tanzania. At least two others freed by Iran, Abu Mohammed al Masri and Khalid al Aruri, returned to al Qaeda as well.

Masri, Al Adel, and Aruri may all be based inside Syria, or move back and forth to the country from Turkey, where other senior members are based. Mohammed Islambouli is an important leader within al Qaeda. After leaving Iran several years ago, Islambouli returned to Egypt and eventually made his way to Turkey, where he lives today.

Sitting to Julani's right during his much ballyhooed announcement was one of Islambouli's longtime compatriots, Ahmed Salama Mabrouk. The diminutive Mabrouk is another Zawahiri subordinate. He was freed from an Egyptian prison in the wake of the 2011 uprisings.

Al Qaeda moved some of its senior leadership to Syria and several others from this cadre are easy to identify. But al Qaeda has also relied on personnel in Yemen to guide its global network. One of Zawahiri's lieutenants, Hossam Abdul Raouf, confirmed this in an audio message last October. Raouf explained that the "weight" of al Qaeda has been shifted to Syria and Yemen, because that is where its efforts are most needed.

The American drone campaign took out several key AQAP leaders in 2015, but they were quickly replaced. Qasim al Raymi, who was trained by al Qaeda in Afghanistan in the 1990s, succeeded Nasir al Wuhayshi as AQAP's emir last summer. Raymi quickly renewed his allegiance to Zawahiri, whom Raymi described as the "the eminent sheikh" and "the beloved father." Another al Qaeda lifer, Ibrahim Abu Salih, emerged from the shadows last year. Salih was not a public figure beforehand, but he has been working towards al Qaeda's goals in Yemen since the early 1990s. Ibrahim al Qosi (an ex-Guantanamo detainee) and Khalid al Batarfi have stepped forward to lead AQAP and are probably also part of al Qaeda's management team.

This old school talent has helped buttress al Qaeda's leadership cadre. They've been joined by men who signed up for al Qaeda's cause after the 9/11 attacks as well. In July, the US Treasury Department designated three jihadists who are based in Iran. One of them, known as Abu Hamza al Khalidi, was listed in bin Laden's files as part of a "new generation" of al Qaeda leaders. Today, he plays a crucial role as the head of al Qaeda's military commission, meaning he is the equivalent of al Qaeda's defense minister. Treasury has repeatedly identified other al Qaeda members based in Iran, Afghanistan and elsewhere.

Some members of the "new generation" are more famous than others. Such is the case with Osama's son, Hamzah bin Laden, who is now regularly featured in propaganda.

This brief survey of al Qaeda is not intended to be exhaustive, yet it is still sufficient to demonstrate that the organization's bench is far from empty. Moreover, many of the men who lead al Qaeda today are probably unknown to the public.

The threat to the West

Testifying before the Senate Armed Services Committee in February, Director of National Intelligence James Clapper warned that al Qaeda "nodes in Syria, Pakistan, Afghanistan, and Turkey" are "dedicating resources to planning attacks." His statement underscored how the threats have become more geographically dispersed over time. With great success, the US worked for years to limit al Qaeda's ability to strike the West from northern Pakistan. But today, al Qaeda's "external operations" work is carried out across several countries.

During the past fifteen years, Al Qaeda has failed to execute another mass casualty attack in the US on the scale of the 9/11 hijackings. Its most recent attack in Europe came in January 2015, when a pair of brothers backed by AQAP conducted a military-style assault on the Charlie Hebdo office in Paris. AQAP made it clear that the Charlie Hebdo massacre was carried out according to Zawahiri's orders.

Thanks to vigilance and luck, al Qaeda hasn't been able to replicate a 9/11-style assault inside the US. Part of the reason is that America's defenses, as well as those of its partner nations, have improved. Operations such as the 9/11 hijackings are also difficult to carry out in the first place. Even the 9/11 plan experienced interruptions despite a relatively lax security environment. (Most famously, for example, the would-be 20th hijacker was denied entry into the US at an Orlando airport in the summer of 2001.)

But there is another aspect to evaluating the al Qaeda threat that is seldom appreciated. It is widely assumed that al Qaeda is only interested in attacking the West. This is flat false. Most of the organization's resources are devoted to waging insurgencies in Muslim majority countries.

The story in Syria has been telling. Although al Qaeda may have more resources in Syria than anywhere else, Zawahiri did not order his men to carry out a strike in the West. Al Qaeda's so-called "Khorasan Group" laid the groundwork for such operations, but Zawahiri did not give this cadre the green light to actually carry them out. Zawahiri's stand down order is well known. In an interview that aired in May 2015, for instance, Julani explained that the "directives that come to us from Dr. Ayman [al Zawahiri], may Allah protect him, are that Al Nusrah Front's mission in Syria is to topple [Bashar al Assad's] regime" and defeat its allies. "We have received guidance to not use Syria as a base for attacks against the West or Europe so that the real battle is not confused," Julani said. However, he conceded that "maybe" the mother al Qaeda organization is plotting against the West, just "not from Syria." Julani emphasized that this "directive" came from Zawahiri himself.

To date, al Qaeda has not lashed out at the West from inside Syria, even though it is certainly capable of doing so. Al Qaeda's calculation has been that such an attack would be too costly for its strategic interests. It might get in the way of al Qaeda's top priority in Syria, which is toppling the Assad regime. This calculation could easily change overnight and al Qaeda could use Syria as a launching pad against the West soon. But they haven't thus far. It helps explain why there hasn't been another 9/11-style plot by al Qaeda against the US in recent years. It also partially explains why al Qaeda hasn't launched another large-scale operation in Europe for some time. Al Qaeda has more resources at its disposal today than ever, so the group doesn't lack the capability. If Zawahiri and his advisors decided to make anti-Western attack planning more of a priority, then the probability of another 9/11-style event would go up. Even in that scenario, al Qaeda would have to successfully evade the West's defenses. But the point is that al Qaeda hasn't been attempting to hit the West nearly as much as some in the West assume.

In the meantime, it is easy to see how the al Qaeda threat has become more diverse, just as Clapper testified. AQAP has launched several thwarted plots aimed at the US, including the failed Christmas Day 2009 bombing. In 2009, al Qaeda also plotted to strike trains in the New York City area. In 2010, a Mumbai-style assault in Europe was unraveled by security services. It is not hard to imagine al Qaeda trying something along those lines once again. Other organizations tied to al Qaeda, such as the Pakistani Taliban, have plotted against the US as well.

Fifteen years after the 9/11 attacks, al Qaeda lives. Fortunately, Zawahiri's men have not replicated the hijackings that killed nearly 3,000 Americans. But the al Qaeda threat looms. It would be a mistake to assume that al Qaeda won't try a large-scale operation again. Comprehensive story here.