Primer: On September 12, 2018, President Trump signed an Executive Order imposing sanctions in the event of Foreign Interference in a United States election.
Gotta wonder based on the text of the Executive Order if John Ratcliffe at ODNI is working the case as introduced by Sidney Powell regarding SmartMatic.
Anyway…
Many have said the United States needs election reform. The last time there was real reform was in 2002 and with the launch of the U.S. Election Assistance Commission. This commission operates in cadence with the Help America Vote Act. Did you know about that Federal law and it is under the authority of the Department of Justice? Nor did I until I found myself in a rabbit hole yesterday.There is a LOT here so it may get confusing but it will put much of what the press conference was about yesterday and in context by Rudy Giuliani and Sidney Powell.
The Election Assistance Commission (EAC) supports state and local election officials in their efforts to ensure accessible, accurate. and secure elections. EAC develops guidance to meet the Help America Vote Act requirements, adopts voluntary voting system guidelines, and serves as a national clearinghouse of information on election administration. EAC also accredits testing laboratories and certifies voting systems, as well as audits the use of Help America Vote Act funds.
Note the above text from their website that reads 'accredits testing laboratories and certifies voting systems. Did the EAC give approval for Dominion? YES, that is found here also on the website.
Further, at least 2 former members of the EAC went on later to join the Board of Directors for SmartMatic, the software in question hosted on Dominion machines.
Gracia Hillman, who served as a commissioner and chairman of the U.S. Election Assistance Commission (2003-2010); and
Paul DeGregorio, an elections expert who also served as commissioner and chairman of the U.S. Election Assistance Commission (2003-2007). Further details from a 2018 Associated Press article includes:
Gracia Hillman served as commissioner on the U.S. Election Assistance Commission (EAC) from 2003 to 2010, and as chairman. During her career, she also served as Vice President for External Affairs at Howard University, Senior Coordinator for International Women's Issues at the U.S. Department of State, President and CEO of WorldSpace Foundation, and Executive Director of the League of Women Voters of the U.S., the Congressional Black Caucus Foundation and the National Coalition on Black Voter Participation.
Ms. Hillman has provided leadership as an officer and director of numerous nonprofit boards of directors and government commissions. She has represented the United States government before the United Nations, Organization of American States and Organization for Security and Cooperation in Europe.
Paul DeGregorio served as commissioner of the U.S. Election Assistance Commission (EAC) from 2003 to 2007, and during his tenure at the EAC served as chairman. At the EAC, Mr. DeGregorio oversaw federal election reform, such as the implementation of the Help America Vote Act and the establishment of the first federal certification of voting systems.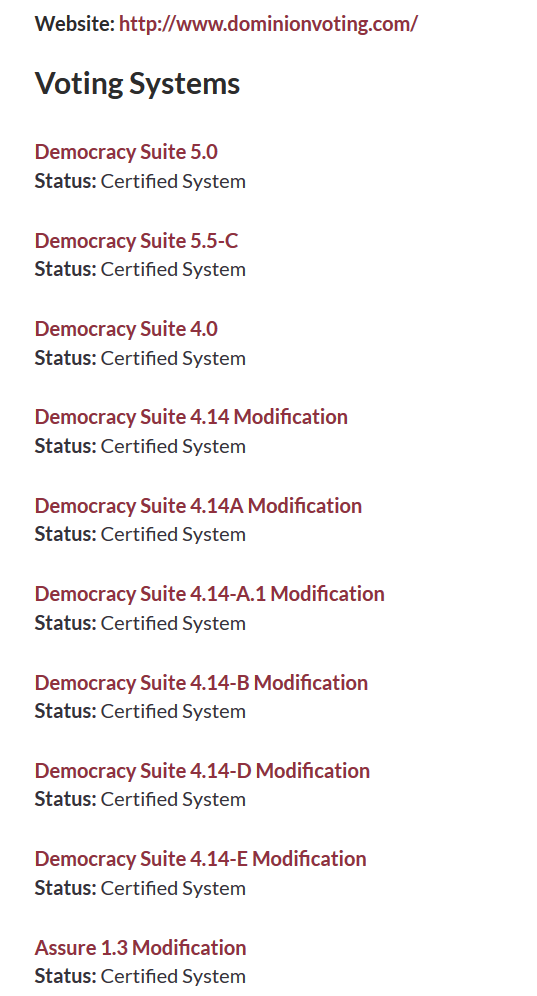 So, this HAVA law is funded and appears to operate with an estimated $500 million for 2020. That being the case, it is also then assigned an Inspector General to investigate compliance at the State and Federal level. (I have not found any IG reports however)
State by state funding for 2020 is: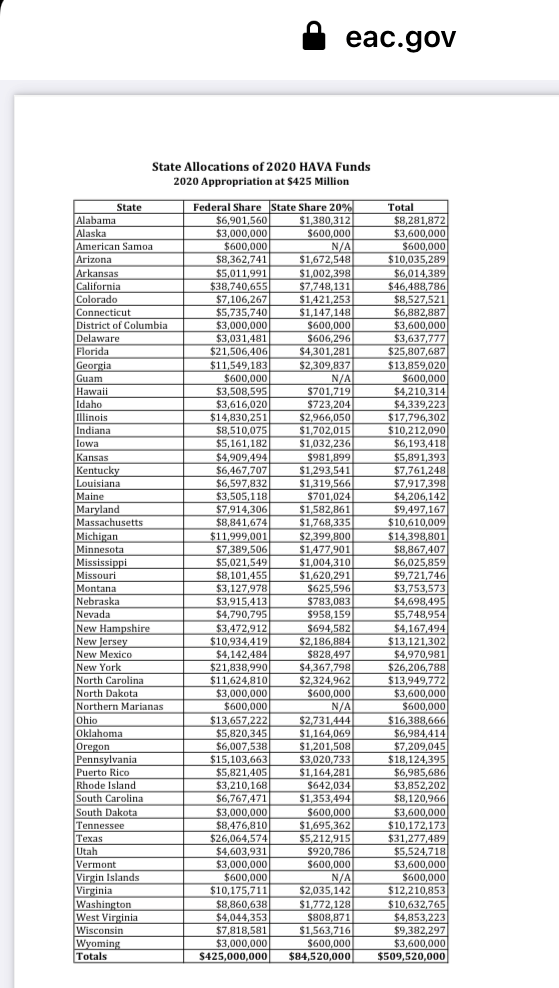 Okay, got it. Now exactly how are those funds allocated, spent and who approves that at the Federal and State level? Help figure that out.
So, remember that Cares Act that was passed by Congress and signed into law with President Trump's signature? Well, if the HAVA law was already there, why was there a supplemental annex to the Cares Act? Was it just due to the pandemic? Go here and click around to see what you can fully determine.
The HAVA Election Security Funds were appropriated in 2018 and 2020.  The two HAVA Election Security Fund appropriations, authorized under Title I Section 101 of the Help America Vote Act (HAVA) of 2002, mark the first new appropriations for HAVA grants since FY2010. This funding provides states with additional resources to secure and improve election systems.
The Consolidated Appropriations Act of 2018 included $380 million in grants, made available to states to improve the administration of elections for Federal office, including to enhance technology and make certain election security improvements.
Then the Consolidated Appropriations Act of 2020 authorized an additional $425 million in new Help America Vote Act (HAVA) funds.
Guidance on Managing Funds
It should also be noted that SmartMatic has several U.S. patents and there have been several lawsuits regarding the use of the patent(s) where the system can or cannot be sold across the world. ES&S and Dominion have essentially the whole voting market in the United States. ProPublica, a left leaning government accountability organization did a large summary in 2019 on voting irregularities across the US and it is an interesting read.
Patent History
https://law.justia.com/cases/delaware/court-of-chancery/2013/ca-7844-vcp.html
https://patents.justia.com/patent/9092922
https://www.propublica.org/article/the-market-for-voting-machines-is-broken-this-company-has-thrived-in-it