WASHINGTON — A newly drafted United States nuclear strategy that has been sent to President Trump for approval would permit the use of nuclear weapons to respond to a wide range of devastating but non-nuclear attacks on American infrastructure, including what current and former government officials described as the most crippling kind of cyberattacks.

For decades, American presidents have threatened "first use" of nuclear weapons against enemies in only very narrow and limited circumstances, such as in response to the use of biological weapons against the United States. But the new document is the first to expand that to include attempts to destroy wide-reaching infrastructure, like a country's power grid or communications, that would be most vulnerable to cyberweapons.

The draft document, called the Nuclear Posture Review, was written at the Pentagon and is being reviewed by the White House. Its final release is expected in the coming weeks and represents a new look at the United States' nuclear strategy. The draft was first published last week by HuffPost.

It called the strategic picture facing the United States quite bleak, citing not only Russian and Chinese nuclear advances but advances made by North Korea and, potentially, Iran.
As an aside, Reuters is reporting that President Donald Trump complained on Wednesday that Russia was helping North Korea to evade international sanctions, signaling frustration with a country he had hoped to forge friendly relations with after his 2016 election win.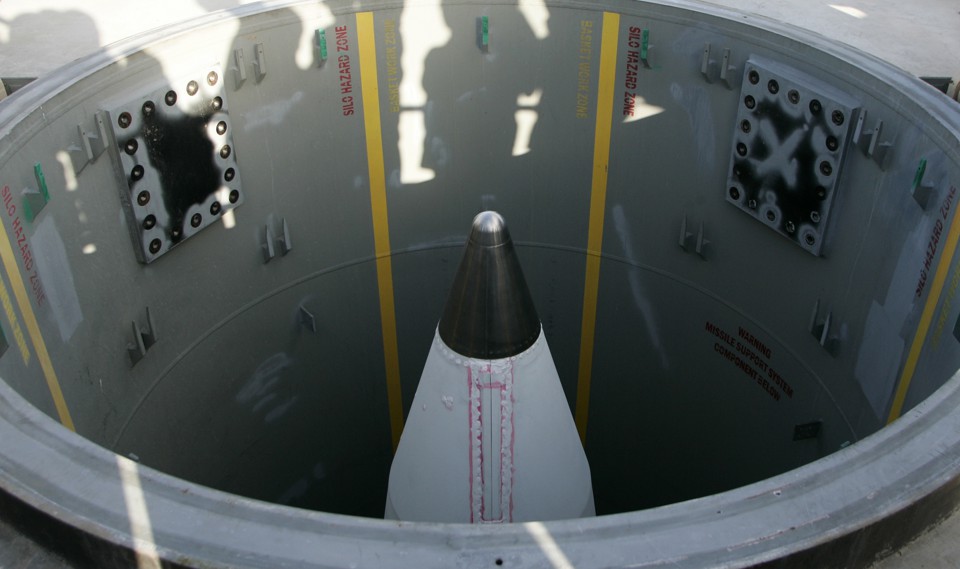 photo
But back to the nuclear posture review and first strike options.
Russia and China are reportedly working on fourth-generation nuclear weapons, nuclear weapons in which certain nuclear effects are enhanced and others diminished, for example, nuclear weapons with enhanced radiation or electromagnetic-pulse effects.18
According to General Paul Selva, Vice Chairman of the Joint Chiefs of Staff, Russia is "developing new nonstrategic nuclear weapons."19
U.S. House Armed Services Committee, "Statement of General Paul Selva, USAF, Vice Chairman of the Joint Chiefs of Staff Before the 115th Congress, House Armed Services Committee, Military Assessement of Nuclear Weapons Requirements," March 8, 2017, p. 4, http://docs.house.gov/meetings/AS/AS00/20170308/ 105640/HHRG-115-AS00-Wstate-SelvaUSAFP-20170308.pdf (accessed May 10, 2017).
It is very hard to harden the infrastructure, whether civilian or military, when one does not properly understand how these effects might impact current systems. Yield-producing experiments would help the U.S. better understand what kind of shielding and hardening its systems might need in order to remain survivable in the case of a nuclear attack. There are also countries, such as North Korea, India, and Pakistan, that have (recently, in the case of North Korea) conducted relatively large underground nuclear weapon tests.
History teaches that unless regularly exercised, skills to conduct a meaningful nuclear warhead experiment atrophy quickly. The United States agreed to a nuclear-test moratorium between 1958 and 1961. In just three years, the skills needed to conduct a meaningful experiment had deteriorated, and lessons learned had to be painfully re-learned. The United States conducted its last yield-producing nuclear weapon test in 1992. It seems likely that the nation would not be able to perform a meaningful nuclear weapons test even if it needed to, for instance, if an error in the stockpile were discovered that required an experiment to ensure that this error was corrected.20
The concern does not have to do with the U.S. ability to detonate a nuclear weapon as much as it does with the U.S. ability to prepare the grounds, people, and necessary technical equipment to collect data from the test itself. There are fewer and fewer people in the United States who have hands-on experience with such equipment and its instrumentation. As with many hard skills, these can be only properly learned by doing.
There is no demonstrated link between the number of U.S. nuclear weapons and the number of nuclear-armed states. Countries have their own reasons for pursuing nuclear weapons.
U.S. experts with nuclear-testing experience are worried about "the steady degradation of U.S. nuclear test readiness" and question whether the Department of Energy has "any realistic appreciation for what nuclear testing involves or how to stay prepared to do it again within 24–36 months, as legally required by Presidential Decision Directive 15 (1993)."21
The United States lacks specialized skills and equipment to conduct a meaningful nuclear weapons test. Even more seriously, it lacks the skills that would allow such a test to be conducted. Reconstitution of this important capability is not a viable option as the whole process would have to be reinvented. Read the summary argument for why this review is required.