Sanctions kinda work and kinda don't work…seems in the case of North Korea..they have failed.
In 2017, North Korea tested several missiles demonstrating what seemed to be rapid advances in its military technology.
The Hwasong-12 was thought to be able to reach as far as 4,500km (2,800 miles), putting US military bases on the Pacific island of Guam well within striking distance.  source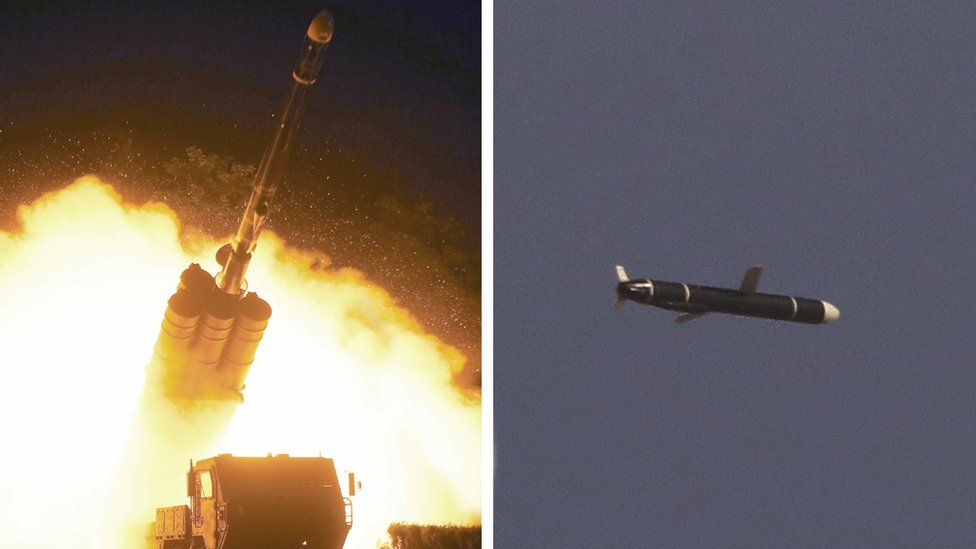 Later, the Hwasong-14 demonstrated even greater potential, with a range of 8,000km although some studies suggested it could travel as far as 10,000km if fired on a maximum trajectory.
This would have given Pyongyang its first truly intercontinental ballistic missile, capable of reaching New York.
Eventually, the Hwasong-15 was tested, peaking at an estimated altitude of 4,500km – 10 times higher than the International Space Station.
If fired on a more conventional "flatter" trajectory, the missile could have a maximum range of some 13,000km, putting all of the continental US in range.
North Korea continued to develop its nuclear and ballistic missile programs during the past year and cyberattacks on cryptocurrency exchanges were an important revenue source for Pyongyang, according to an excerpt of a confidential United Nations report seen on Saturday by Reuters.

The annual report by independent sanctions monitors was submitted on Friday evening to the U.N. Security Council North Korea sanctions committee.

"Although no nuclear tests or launches of ICBMs (intercontinental ballistic missiles) were reported, DPRK continued to develop its capability for production of nuclear fissile materials," the experts wrote.

North Korea is formally known as the Democratic People's Republic of Korea (DPRK). It has long-been banned from conducting nuclear tests and ballistic missile launches by the U.N. Security Council. Since 2006, North Korea has been subject to U.N. sanctions, which the Security Council has strengthened over the years in an effort to target funding for Pyongyang's nuclear and ballistic missile programs.

The sanctions monitors noted that there had been a "marked acceleration" of missile testing by Pyongyang.

The United States and others said on Friday that North Korea had carried out nine ballistic missile launches in January, adding it was the largest number in a single month in the history of the country's weapons of mass destruction and missile programs.

CYBERATTACKS, ILLICIT TRADE

The monitors said "cyberattacks, particularly on cryptocurrency assets, remain an important revenue source" for North Korea and that they had received information that North Korean hackers continued to target financial institutions, cryptocurrency firms and exchanges.

"According to a member state, DPRK cyberactors stole more than $50 million between 2020 and mid-2021 from at least three cryptocurrency exchanges in North America, Europe and Asia," the report said.

The monitors also cited a report last month by cybersecurity firm Chainalysis that said North Korea launched at least seven attacks on cryptocurrency platforms that extracted nearly $400 million worth of digital assets last year.

In 2019, the U.N. sanctions monitors reported that North Korea had generated an estimated $2 billion for its weapons of mass destruction programs using widespread and increasingly sophisticated cyberattacks.

The latest report said North Korea's strict blockade in response to the COVID-19 pandemic meant "illicit trade, including in luxury goods, has largely ceased."

Over the years the U.N. Security Council has banned North Korean exports including coal, iron, lead, textiles and seafood, and capped imports of crude oil and refined petroleum products.

"Although maritime exports from DPRK of coal increased in the second half of 2021, they were still at relatively low levels," the monitors said.

"The quantity of illicit imports of refined petroleum increased sharply in the same period, but at a much lower level than in previous years," the report said. "Direct delivery by non-DPRK tankers to DPRK has ceased, probably in response to COVID-19 measures: instead, only DPRK tankers delivered oil."

North Korea's humanitarian situation "continues to worsen," the report said. The monitors said that was probably due to the COVID-19 blockade, but that a lack of information from North Korea meant it was difficult to determine how much U.N. sanctions were unintentionally harming civilians.

***

  Missiles on display at a January 2021 military parade

"From 2020 to 2021, the number of North Korean-linked hacks jumped from four to seven, and the value extracted from these hacks grew by 40%," Chainalysis said in a report.

The hackers used a number of techniques, including phishing lures, code exploits and malware to siphon funds from the organisations' "hot" wallets and then moved them into North Korea-controlled addresses, the company said.

Chainalysis said it is likely that many of last year's attacks were conducted by the so-called Lazarus Group, a hacking group which the US has applied sanctions against.

The group is believed to be controlled by North Korea's primary intelligence bureau, the Reconnaissance General Bureau.

The Lazarus Group has previously been accused of involvement in the "WannaCry" ransomware attacks, the hacking of international banks and customer accounts and cyber-attacks on Sony Pictures in 2014.

"Once North Korea gained custody of the funds, they began a careful laundering process to cover up and cash out," the report on last year's cyber attacks added.

A United Nations panel that monitors sanctions on North Korea has accused Pyongyang of using stolen funds to support its nuclear and ballistic missile programmes as a way to avoid international sanctions.

Separately, in February last year, the US charged three North Korean computer programmers with a massive hacking spree aimed at stealing more than $1.3bn in money and cryptocurrency. BBC