John Kerry announces the bi-lateral talks are over.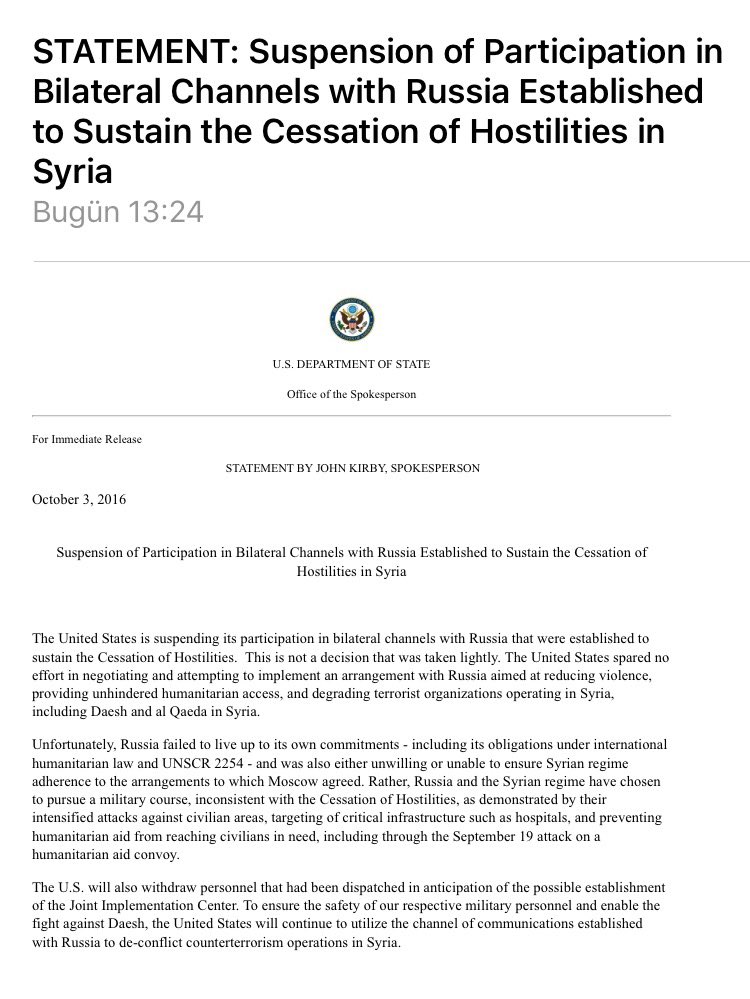 Russia's response:
Указ Президента Российской Федерации от 03.10.2016 № 511 "О приостановлении Российской Федерацией действия Соглашения между Правительством Российской Федерации и Правительством Соединенных Штатов Америки об утилизации плутония, заявленного как плутоний, не являющийся более необходимым для целей обороны, обращению с ним и сотрудничеству в этой области и протоколов к этому Соглашению"
Translation: Decree of the President of the Russian Federation from 03.10.2016 # 511 "on the suspension by the Russian Federation Agreement between the Government of the Russian Federation and the Government of the United States of America on the disposition of plutonium designated as no longer required for defence purposes, and cooperation in this area and the protocols to this agreement"
If you can read Russian, the document is here.
This was signed in 2010 between Hillary Clinton and Sergei Lavrov.
MOSCOW (Reuters) – Russian President Vladimir Putin on Monday suspended an agreement with the United States for disposal of weapons-grade plutonium because of "unfriendly" acts by Washington, the Kremlin said.

A Kremlin spokesman said Putin had signed a decree suspending the 2010 agreement under which each side committed to destroy tonnes of weapons-grade material because Washington had not been implementing it and because of current tensions in relations.

The two former Cold War adversaries are at loggerheads over a raft of issues including Ukraine, where Russia annexed Crimea in 2014 and supports pro-Moscow separatists, and the conflict in Syria.

The deal, signed in 2000 but which did not come into force until 2010, was being suspended due to "the emergence of a threat to strategic stability and as a result of unfriendly actions by the United States of America towards the Russian Federation", the preamble to the decree said.

It also said that Washington had failed "to ensure the implementation of its obligations to utilize surplus weapons-grade plutonium".

The 2010 agreement, signed by Russian Foreign Minister Sergei Lavrov and then-U.S. Secretary of State Hillary Clinton, called on each side to dispose of 34 tonnes of plutonium by burning in nuclear reactors.

Clinton said at the time that that was enough material to make almost 17,000 nuclear weapons. Both sides then viewed the deal as a sign of increased cooperation between the two former adversaries toward a joint goal of nuclear non-proliferation.

"For quite a long time, Russia had been implementing it (the agreement) unilaterally," Kremlin spokesman Dmitry Peskov told a conference call with journalists on Monday.

"Now, taking into account this tension (in relations) in general … the Russian side considers it impossible for the current state of things to last any longer."

Ties between Moscow and Washington plunged to freezing point over Crimea and Russian support for separatists in eastern Ukraine after protests in Kiev toppled pro-Russian President Viktor Yanukovich.

Washington led a campaign to impose Western economic sanctions on Russia for its role in the Ukraine crisis.

Relations soured further last year when Russia deployed its warplanes to an air base in Syria to provide support for Syrian President Bashar al-Assad's troops fighting rebels.

The rift has widened in recent weeks, with Moscow accusing Washington of not delivering on its promise to separate units of moderate Syrian opposition from "terrorists".

Huge cost overruns have also long been another threat to the project originally estimated at a total of $5.7 billion.
Meanwhile what Russia is doing to Aleppo is beyond the definition of war crimes.
NBCNews: Russian-made cluster bombs — weapons that kill indiscriminately and inflict long-lasting damage — were used in an attack on at least one hospital in the ravaged Syrian city of Aleppo last week, a video obtained by NBC News appears to show.

The video shows two unexploded submunitions amid the rubble at the M10 hospital in rebel-held eastern Aleppo following a morning airstrike on Sept. 28. Several experts and sources independently identified the devices as Russian-made ShOAB 0.5 cluster submunitions, bomblets delivered by an air-delivered scattering device called the RBK-500. Both are known to be used by both the Russian and Syrian air forces.


However, it is difficult, even for specialists in unexploded ordnance disposal, to definitively identify such munitions in the field. The ShOAB 0.5 is visually similar to a U.S.-made series of bomblets.

ABDALRHMAN ISMAIL / Reuters

The use of cluster bombs on the hospital — part of a larger series of strikes that also hit a second hospital and a nearby bakery — underscores the relentless brutality of Syria's civil war, which lurched back into violence last month after the disintegration of a brief cease-fire. The casualties include hundreds of children killed or injured in Aleppo by a myriad of weapons falling on the city.

The hospitals were among the few facilities that remained to treat the hundreds of thousands of civilians caught up in the brutal new government offensive on eastern Aleppo. It is not clear whether the second hospital, called M2, was hit with cluster bombs.

NBC News visited both hospitals and spoke to medical staff there. Among the patients at M2 was a prematurely born infant struggling to survive: Miriam, born on Sept. 10 when her mother, seven months pregnant, went into labor during the airstrike.

"These kids are innocent, and they came into this world under very difficult circumstances, they came into this world during a war," said Um Mohammad, the nurse who had been tending the children and infants in the hospital. Um Mohammad is a pseudonym, meaning "mother of Mohammad."

At M2, the attack started at about 4:00 a.m., according to Dr. Mohammad Abu Rajab, a physician at the hospital who uses a pseudonym to avoid reprisals for his work in opposition-controlled areas.

"This has resulted in the hospital being taken out of service completely and indefinitely," Abu Rajab said. "This was systematic and direct targeting of this hospital, which was home to pediatric and women's health specialists." A must read of the rest of the article here.