The General Accounting Office published a 2017 report on waste, fraud and abuse. Swell, right? Are there ever any corrections? Nah…but there are what is known as 'high-risks' areas….what?
GAO is adding 3 areas to the High-Risk List, bringing the total to 34:

Management of Federal Programs That Serve Tribes and Their Members. GAO has reported that federal agencies, including the Department of the Interior's Bureaus of Indian Education and Indian Affairs and the Department of Health and Human Services' Indian Health Service, have ineffectively administered Indian education and health care programs and inefficiently developed Indian energy resources. Thirty-nine of 41 GAO recommendations on this issue remain unimplemented.
U.S. Government's Environmental Liabilities. In fiscal year 2016 this liability was estimated at $447 billion (up from $212 billion in 1997). The Department of Energy is responsible for 83 percent of these liabilities and DOD for 14 percent. Agencies spend billions each year on environmental cleanup efforts but the estimated environmental liability continues to rise. Since 1994, GAO has made at least 28 recommendations related to this area; 13 are unimplemented.
The 2020 Decennial Census. The cost of the census has been escalating over the last several decennials; the 2010 Census was the costliest U.S. Census in history at about $12.3 billion, about 31 percent more than the 2000 Census (in 2020 dollars). The U.S. Census Bureau (Bureau) plans to implement several innovations—including IT systems—for the 2020 Census. Successfully implementing these innovations, along with other challenges, risk the Bureau's ability to conduct a cost-effective census. Since 2014, GAO has made 30 recommendations related to this area; however, only 6 have been fully implemented.
OKLAHOMA CITY, OK – Senator James Lankford (R-OK) will release his annual federal government waste and solutions report during a press conference on Monday, November 27, 2017. This is the third volume of Lankford's report entitled "Federal Fumbles: 100 ways the government dropped the ball." The first report identified $105 billion in wasteful federal spending and about $800 billion in negative regulatory impact to the economy, and the second report listed $247 billion in wasteful spending and regulations. This year's report will identify new examples of waste, inefficiency, and duplication in government, along with solutions to resolve each fumble.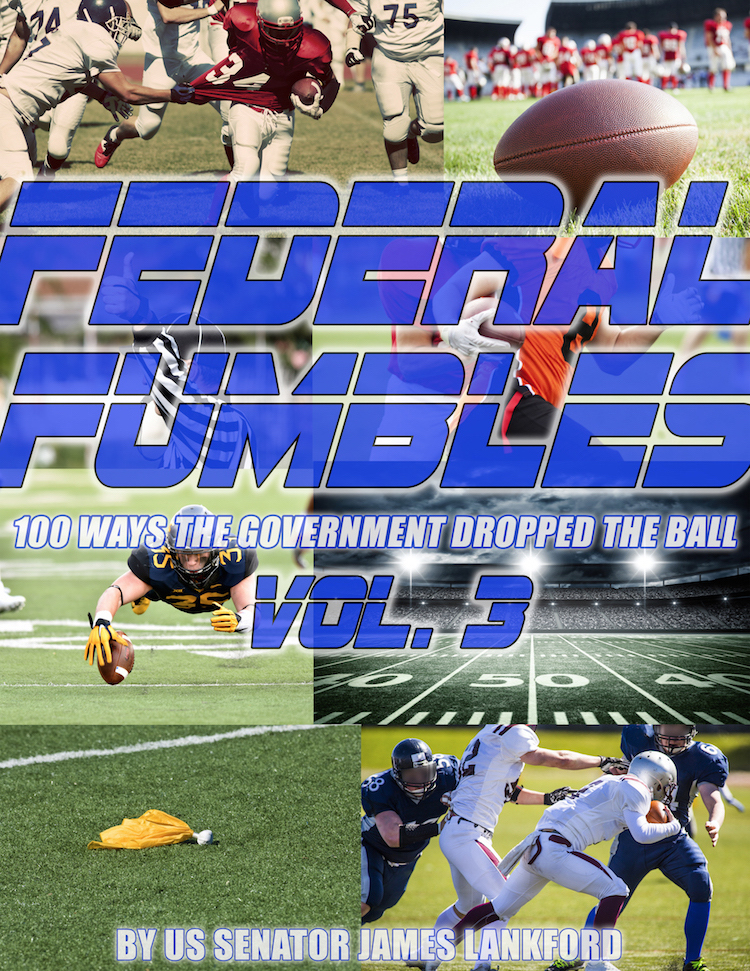 "Every American should have access to how their tax dollars are spent," said Lankford. "I hope every member of Congress, the Administration, and staff will utilize Federal Fumbles as they consider budget requests, hold hearings, and discuss reform legislation. In the first 11 months of the new Administration, we've worked to roll back wasteful spending and a number of harmful and burdensome regulations from previous Federal Fumbles reports. There is a lot of work to still be done. Our $20 trillion national debt will continue to grow until we stop it with spending cuts, government reforms, and a growing economy. Federal Fumbles volume three is my to-do list for 2018."
Click here for the last three years.
There was a Senate hearing in April on Waste, Fraud and Abuse.
Citizens Against Government Waste publishes a Pig Book each year as well.
Pork-barrel spending is alive and well in Washington, D.C., despite claims to the contrary. For the fifth time since Congress enacted an earmark moratorium that began in fiscal year (FY) 2011, Citizens Against Government Waste (CAGW) has unearthed earmarks in the appropriations bills.

In fact, members of Congress have steadily ramped up the use of earmarks in each year since the initiation of the earmark moratorium. The 2017 Congressional Pig Book exposes 163 earmarks in FY 2017, an increase of 32.5 percent from the 123 in FY 2016. The cost of earmarks in FY 2017 is $6.8 billion, an increase of 33.3 percent from the $5.1 billion in FY 2016. While the increase in cost over one year is disconcerting, the 106.1 percent increase over the $3.3 billion in FY 2012, the first year after the moratorium, is downright disturbing.

Publication of the 2017 Pig Book also marks 11 years since the record earmark amount of $29 billion in FY 2006. In order for earmarks to reach that level over the next decade, legislators would need to increase the cost of the items by just $2.3 billion annually. Unfortunately, this is not out of the question given the growth over the past five years.
You can actually type in a keyword and see what is in the 2017 data by clicking here. The Pig Book is published by government agency and you can review the results here.