He entered on a non-immigrant visa and became a pilot? Nonimmigrant visas are issued to foreign nationals seeking to enter the United States on a temporary basis for tourism, business, medical treatment and certain types of temporary work. The type of nonimmigrant visa needed is defined by immigration law, and related to the purpose of the travel.
A video still of Al Farooq, Al Qaeda's most notorious training camp, in June 2001. It was destroyed in the American bombing campaign in Afghanistan in the weeks after the Sept. 11 attacks. A Saudi man living in Oklahoma has been arrested after his fingerprints were found on an application to join the camp that he filled out in 2000. via Agence France-Presse — Getty Images
***
The Al Farouq training camp, also known as "the airport camp",[1] and Jihad Wel al-Farouq, was an alleged Al-Qaeda training camp near Kandahar, Afghanistan. Camp attendees received small-arms training, map-reading, orientation, explosives training, and other training.
The United States attacked the area with cruise missiles on August 20, 1998, in retaliation for the 1998 embassy bombings.[2][3] It continued to operate until August 2001, when it was shut down by its trainers.[4] The camp was bombed again on October 10, 2001.[5]
According to American intelligence analysts, the director of the Al Farouq camp was a Saudi named Abdul Quduz, who was later one of the commanders at the battle of Tora Bora.[6][7][8]
***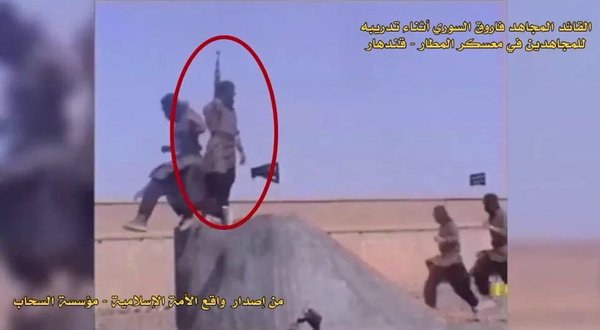 Abu Hammam training at al-Farouq camp n Afghanistan. Usama Bin Laden appointed him responsible for the Syrians then. Abu Hammam al-Suri, aka Farouq, fought in Afghanistan; was Emir of Kandahar Airport; trained Jihadists for Zarqawi and joined Nusra
WASHINGTON — A Saudi immigrant suspected of once applying to join Al Qaeda's most notorious training camp was arrested on a charge of visa fraud in Oklahoma, where he had been living for years with his family, federal law enforcement officials said on Tuesday.

The F.B.I. discovered the man, Naif Abdulaziz Alfallaj, only recently, when the authorities matched his fingerprints to those taken from a document captured in Afghanistan, the officials said. The document was an application for the Farooq camp, where four of the Sept. 11 hijackers trained.

He apparently filled out the application in 2000, when he was about 17, the officials said, well after Al Qaeda had made its intentions of attacking the United States and its allies known to the world. Anyone who tried to join the camp would have known that Al Qaeda was a terrorist organization, the law enforcement officials said.

Typically people who applied to the camp filled out what was known as a "mujahedeen data form." They needed an invitation to join the camp and a reference from someone known and trusted by Al Qaeda. Trainees learned how to use weapons and explosives at the camp. After training, camp attendees fought with Al Qaeda or the Taliban in Afghanistan.

Mr. Alfallaj, 35, obtained his pilot's license in 2016, according to public records and American officials. Noncitizens are required to submit fingerprints as part of the licensing process.

Mr. Alfallaj came to the United States in about 2011 on a nonimmigrant visa and had been living in Weatherford, Okla, about 70 miles west of Oklahoma City, American officials said. The F.B.I. had been watching hi m for about five months and had been trying determine whether Mr. Alfallaj was involved in terrorist activity in the United States. The F.B.I. declined to comment, and little else was known about him.

The case highlights the difficulty facing the government in processing the large amounts of fingerprints, photographs, messages, email addresses, phone numbers and DNA samples that have been collected in nearly two decades of war.

Many documents and electronic media collected in Afghanistan land on the shelves of a unit in the F.B.I.'s counterterrorism division. The materials, which are stored in federal facilities in Northern Virginia and at F.B.I. Headquarters in Washington, have been a vexing problem for the agency. A merican officials have long wanted to exploit the materials but lacked the resources as the F.B.I. has focused on other pressing terrorism investigations over the years.

The number of documents was staggering, perhaps in the hundreds of thousands, said a former F.B.I. official who worked in the unit. Much of the information is in other languages, such as Arabic. To inspect the materials, the F.B.I. would need to reassign linguists from other cases.

The case of Mr. Alfallaj is similar to one brought in 2011 against two Iraqi men who were arrested in Bowling Green, Ky., after they had entered the United States. The F.B.I. discovered the men after finding fingerprints on explosive devices that had been used to attack American soldiers in Iraq. The two men were later convicted of terrorism charges and sentenced to life in prison.

After the men were discovered, the F.B.I. deployed hundreds of people to pull fingerprints off of improvised explosive devices stored at the Terrorist Explosive Device Analytical Center, known around the bureau as the Bomb Library of America. Officials said a similar effort is underway to make sure other materials similar to the training camp application are examined.

At some point, the F.B.I. decided to go through the terrorist camp applications to determine whether any fingerprints could be identified as part of a renewed ef fort to identify possible terrorism suspects, law enforcement officials said.

Mr. Alfallaj should never had been able to enter the country, said James W. McJunkin, the former head of counterterrorism at the F.B.I.

"I'd say there was a number of breakdowns going back to where the original intelligence was maintained and stored," Mr. McJunkin said. "He should have been on a watch list."