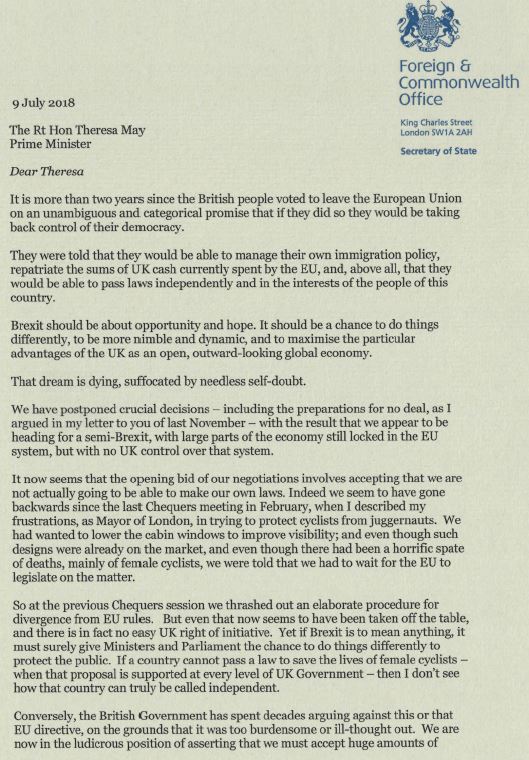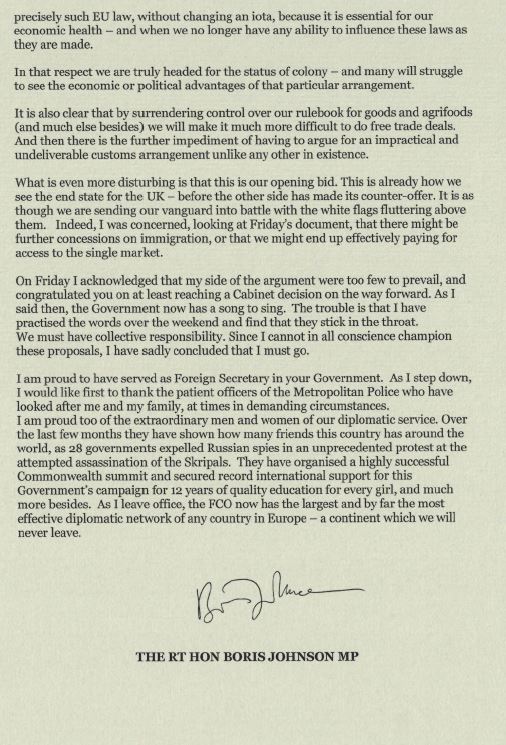 Taking bets on whether there is a coup underway to force PM Theresa May to resign.
BORIS JOHNSON HAS
resigned
as Foreign Secretary, dealing another blow to Prime Minister Theresa May in the wake of the resignation of Brexit Secretary David Davis last night.
It was reported yesterday that Johnson had described May's latest Brexit proposals as "polishing a turd" in the course of the day-long meeting of ministers at the Prime Minister's country retreat on Friday.
"This afternoon, the Prime Minister accepted the resignation of Boris Johnson as Foreign Secretary," a statement from Downing Street said.
His replacement will be announced shortly. The Prime Minister thanks Boris for his work.
Davis's resignation, meanwhile, was announced late last night with the departing minister saying he no longer believed in the plan for the UK's future relations with the EU, which was backed by the Cabinet at that Friday Chequers meeting.
Junior minister Steve Baker confirmed he had also quit, alongside Davis. Dominic Raab was named as new Secretary of State for Brexit earlier.
The question of whether Johnson would follow Davis out the door had been unresolved all morning – his decision, publicly announced just half an hour before a scheduled Commons address by May, only adds to the growing uncertainty around the Prime Minister's position.
The dream is dying, suffocated by needleless self-doubt.
He said that crucial decisions had been postponed and that the current policy from May would deliver a "semi-Brexit" that would leave the UK forced to accept EU laws on a range of issues, rather than making its own.
Johnson said: "In that respect, we are truly headed for the status of colony – and many will struggle to see the economic or political advantages of that particular arrangement."
He also likened Theresa May's negotiating strategy to "sending our vanguard into battle with the white flags fluttering above them".
Commons statement
Delivering her statement on Brexit, May began by paying tribute to Davis for his efforts setting up the Brexit department. She said Johnson had brought "passion" to his promotion of Britain abroad and welcomed Raab to the Cabinet.
"We do not agree about the best way of delivering our shared commitment to honouring the result of the referendum," she said of her departing ministers.
Amid heckling from the opposition, she continued by summarising the plan signed off by ministers last Friday and insisting a 'no deal' Brexit could have profound consequences for the UK and EU.
The 12 key principles for Brexit negotiations set out by Downing Street on Friday included a new "UK-EU free trade area with a common rulebook for industrial goods and agricultural products".
The proposed plan (which can be read in full here) would avoid checks on the border while fulfilling domestic promises to end the jurisdiction of the European Court of Justice, control migration and allow Britain to establish its own trade policy.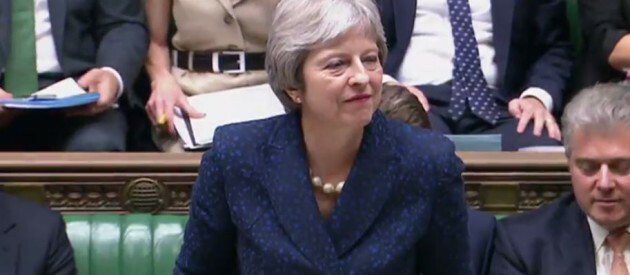 Theresa May addresses the Commons this afternoon. Source: Parliament.uk/screengrab
'Challenging for the EU'
There was laughter and more heckling when she said the Brexit plan would be "challenging for the EU". The rumbles from across the aisle continued as she spoke of a "Brexit dividend" that could be used to help fund the NHS.
Labour leader Jeremy Corbyn went on the attack right away, telling the chamber that the Chequers deal had taken two years to reach and had lasted only two days.
How can anyone have faith in May reaching a deal with the EU when she can't reach an agreement with members of her Cabinet, he asked.
Davis and Johnson, he suggested tongue-in-cheek, would have quit on the spot during the behind-closed-doors country house meeting on Friday had it not meant "a very long walk, no phone, and, due to government cuts, no bus service either".
Speaker of the Commons John Bercow called for calm as members continued to shout and heckle in a packed chamber, telling MPs there was no need for them to "chunter from their seats".