The White House has taken Pride month to the extreme. During a White House lawn celebration, President Biden declared that the LGBTQ is the 'bravest and inspiring people' he has ever known. Really Joe, does that include those awarded the Congressional Medal of Honor you yourself have awarded, or police officers risking their own lives to save others just to mention a few?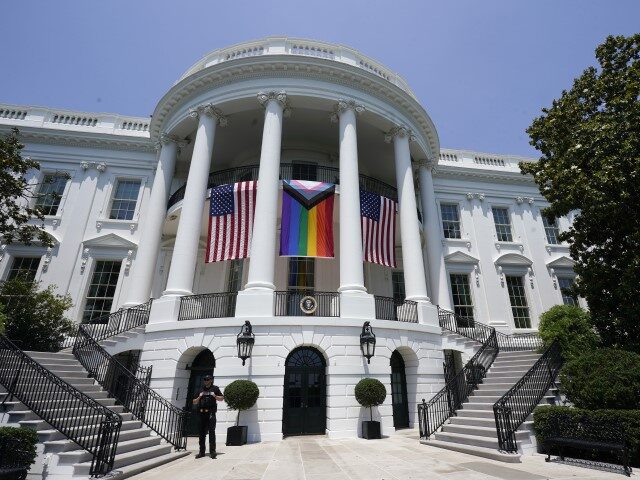 (AP Photo/Manuel Balce Ceneta) Source
Then it was noticed by thousands how the White House broke the American flag protocol by arranging the rainbow flag in conflict with the Stars and Stripes.
The disgrace continued on the south lawn of the White House. A transgender influencer invited to the event went off the rails defacing the once standard of reverence of the White House.
This event and charade went global as the Daily Mail reported the following–>
A transgender actress and model raised eyebrows on Saturday by baring her breasts on the lawn of the White House at an event to celebrate Pride.

Rose Montoya, 27, was among hundreds invited to the White House for the festivities where she met the president and first lady – before unhooking her dress and cupping her bare breasts on the South Lawn.

'Are we topless at the White House?!' the person recording the clip says, as Montoya moves her hands up and down while grinning.
The Daily Mail also included Jill Biden noting –> In another part of the clip, Jill Biden tell the crowd: 'You are loved, you are beautiful, you are heard, you belong.'
***
So back to Carlos Elizondo….who is he and why should he be fired?
Per Wikipedia in part:
From 2009 to 2017, Elizondo served as a special assistant to President Barack Obama and as Social Secretary to Vice President Joe Biden and Second Lady Jill Biden.[3][4] In this role, he planned and managed all events which were hosted by Biden and his family, including visits by world leaders, members of Congress, and other high-profile visitors. Outside of government, Elizondo worked as the director of events at Georgetown University and the manager of activities and protocol at Walt Disney World.[2][4]

(Disney eh?)

On November 20, 2020, after winning the presidential election, Biden named Elizondo to be his White House social secretary.[5] He is the first Hispanic individual and second openly gay person to hold the position.[6]
***
As a White House social secretary, it is the closet thing to once was a Protocol officer at the White House and they are not only assigned to ensure all events and appearances follow all standards of etiquette but they also coordinate with the State Department to do the same with foreign dignitaries.
Going back a little, the Associated Press published:
Elizondo, who oversaw holiday decorating by 150 volunteers after Thanksgiving followed by a visit by France's president that included a state dinner for more than 330 guests. There also was a White House reception for the Kennedy Center honorees and a three-day summit with nearly 50 African leaders — including a group dinner in the East Room and a performance by Gladys Knight.
Elizondo also lent his expertise to preparations for the 250-guest South Lawn wedding of Biden's granddaughter Naomi in November, and he is working his way through more than 20 holiday parties and receptions, sometimes two per day, ending later this week.
So how is he managing? "Lots of caffeine," said Elizondo, the first Latino to become White House social secretary. He began working for Biden and his wife back when Biden was Barack Obama's vice president.
"For over a decade the President and I have relied on Carlos for his creativity, heart, and dedication to bring our traditions and warm welcome to the American people," first lady Jill Biden said in a written statement to The Associated Press. "Now at the White House, Carlos is helping us celebrate the richness of our country's culture and diversity, and together, we are opening the doors of 'the People's House' wider and wider."
A native of Harlingen, Texas, Elizondo is among a group of openly LGBTQ aides serving Biden in prominent roles, including Transportation Secretary Pete Buttigieg, White House press secretary Karine Jean-Pierre and State Department spokesperson Ned Price.
Katherine Vargas, who worked in the Obama White House, and Henry R. Munoz III, a longtime friend of Elizondo, said the family focus of Elizondo's Mexican American upbringing likely endeared him to the Bidens, who are a close-knit family themselves.