This website wrote about the Russian KGB propaganda model almost a year ago. Even with some sunlight on the topic and exposure to the Kremlim troll operations, it continues and it reaches to some of the most popular websites in America. What is worse, the postings and comments often found on Facebook (Fakebook) come from readers thinking they 'get-it' when in fact, those trolls check a box designed as effective propaganda as truth.
C'mon America, not everything you read on websites across the internet is true or well researched. Even that ever popular news aggregator Drudge has fallen victim to advancing falsehoods and baseless opinions.
Documents Show How Russia's Troll Army Hit America
The adventures of Russian agents like The Ghost of Marius the Giraffe, Gay Turtle, and Ass — exposed for the first time.
Russia's campaign to shape international opinion around its invasion of Ukraine has extended to recruiting and training a new cadre of online trolls that have been deployed to spread the Kremlin's message on the comments section of top American websites.
Plans attached to emails leaked by a mysterious Russian hacker collective show IT managers reporting on a new ideological front against the West in the comments sections of Fox News, Huffington Post, The Blaze, Politico, and WorldNetDaily.
The bizarre hive of social media activity appears to be part of a two-pronged Kremlin campaign to claim control over the internet, launching a million-dollar army of trolls to mold American public opinion as it cracks down on internet freedom at home.
"Foreign media are currently actively forming a negative image of the Russian Federation in the eyes of the global community," one of the project's team members, Svetlana Boiko, wrote in a strategy document. "Additionally, the discussions formed by comments to those articles are also negative in tone.
"Like any brand formed by popular opinion, Russia has its supporters ('brand advocates') and its opponents. The main problem is that in the foreign internet community, the ratio of supporters and opponents of Russia is about 20/80 respectively."
The documents show instructions provided to the commenters that detail the workload expected of them. On an average working day, the Russians are to post on news articles 50 times. Each blogger is to maintain six Facebook accounts publishing at least three posts a day and discussing the news in groups at least twice a day. By the end of the first month, they are expected to have won 500 subscribers and get at least five posts on each item a day. On Twitter, the bloggers are expected to manage 10 accounts with up to 2,000 followers and tweet 50 times a day.
They are to post messages along themes called "American Dream" and "I Love Russia." The archetypes for the accounts are called Handkerchief, Gay Turtle, The Ghost of Marius the Giraffe, Left Breast, Black Breast, and Ass, for reasons that are not immediately clear.
According to the documents, which are attached to several hundred emails sent to the project's leader, Igor Osadchy, the effort was launched in April and is led by a firm called the Internet Research Agency. It's based in a Saint Petersburg suburb, and the documents say it employs hundreds of people across Russia who promote Putin in comments on Russian blogs.
Osadchy told BuzzFeed he had never worked for the Internet Research Agency and that the extensive documents — including apparent budgeting for his $35,000 salary — were an "unsuccessful provocation." He declined to comment on the content of the leaks. The Kremlin declined to comment. The Internet Research Agency has not commented on the leak.
Definitively proving the authenticity of the documents and their authors' ties to the Kremlin is, by the nature of the subject, not easy. The project's cost, scale, and awkward implementation have led many observers in Russia to doubt, however, that it could have come about in any other way.
"What, you think crazy Russians all learned English en masse and went off to comment on articles?" said Leonid Bershidsky, a media executive and Bloomberg View columnist. "If it looks like Kremlin shit, smells like Kremlin shit, and tastes like Kremlin shit too — then it's Kremlin shit."
Despite efforts to hire English teachers for the trolls, most of the comments are written in barely coherent English. "I think the whole world is realizing what will be with Ukraine, and only U.S. keep on fuck around because of their great plans are doomed to failure," reads one post from an unnamed forum, used as an example in the leaked documents.
The trolls appear to have taken pains to learn the sites' different commenting systems. A report on initial efforts to post comments discusses the types of profanity and abuse that are allowed on some sites, but not others. "Direct offense of Americans as a race are not published ('Your nation is a nation of complete idiots')," the author wrote of fringe conspiracy site WorldNetDaily, "nor are vulgar reactions to the political work of Barack Obama ('Obama did shit his pants while talking about foreign affairs, how you can feel yourself psychologically comfortable with pants full of shit?')." Another suggested creating "up to 100" fake accounts on the Huffington Post to master the site's complicated commenting system.
WorldNetDaily told BuzzFeed it had no ability to monitor whether it had been besieged by an army of Russian trolls in recent weeks. The other outlets did not respond to BuzzFeed's queries.
Some of the leaked documents also detail what appear to be extensive efforts led by hundreds of freelance bloggers to comment on Russian-language sites. The bloggers hail from cities throughout Russia; their managers give them ratings based on the efficiency and "authenticity," as well as the number of domains they post from. Novaya Gazeta, Russia's only independent investigative newspaper, infiltrated its "troll farm" of commenters on Russian blogs last September.
Russia's "troll army" is just one part of a massive propaganda campaign the Kremlin has unleashed since the Ukrainian crisis exploded in February. Russian state TV endlessly asserts that Kiev's interim government is under the thumb of "fascists" and "neo-Nazis" intent on oppressing Russian-speaking Ukrainians and exerts a mesmerizing hold on many in the country's southeast, where the channels are popular. Ukraine has responded by banning all Russian state channels, barring entry to most Russian journalists, and treats some of the more obviously pro-rebel Russian reporters as enemy combatants.
The trolling project's finances are appropriately lavish for its considerable scale. A budget for April 2014, its first month, lists costs for 25 employees and expenses that together total over $75,000. The Internet Research Agency itself, founded last summer, now employs over 600 people and, if spending levels from December 2013 to April continue, is set to budget for over $10 million in 2014, according to the documents. Half of its budget is earmarked to be paid in cash.
Two Russian media reports partly based on other selections from the documents attest that the campaign is directly orchestrated by the Kremlin. Business newspaper Vedomosti, citing sources close to Putin's presidential administration, said last week that the campaign was directly orchestrated by the government and included expatriate Russian bloggers in Germany, India, and Thailand. Novaya Gazeta claimed this week that the campaign is run by Evgeny Prigozhin, a restaurateur who catered Putin's re-inauguration in 2012. Prigozhin has reportedly orchestrated several other elaborate Kremlin-funded campaigns against opposition members and the independent media. Emails from the hacked trove show an accountant for the Internet Research Agency approving numerous payments with an accountant from Prigozhin's catering holding, Concord.
Several people who follow the Russian internet closely told BuzzFeed the Internet Research Energy is only one of several firms believed to be employing pro-Kremlin comment trolls. That has long been suspected based on the comments under articles about Russia on many other sites, such as Kremlin propaganda network RT's wildly successful YouTube channel. The editor of The Guardian's opinion page recently claimed that the site was the victim of an "orchestrated campaign."
Russian-language social networks are awash with accounts that lack the signs of real users, such as pictures, regular posting, or personal statements. These "dead souls," as Vasily Gatov, a prominent Russian media analyst who blogs at Postjournalist, calls them, often surface to attack opposition figures or journalists who write articles critical of Putin's government.
The puerility of many of the comments recalls the pioneering trolling of now-defunct Kremlin youth group Nashi, whose leaders extensively discussed commenting on Russian opposition websites in emails leaked by hackers in 2012. Analysts say Timur Prokopenko, former head of rival pro-Putin youth group Young Guard, now runs internet projects in the presidential administration.
"These docs are written in the same style and keep the same quality level," said Alexei Sidorenko, a Poland-based Russian developer and net freedom activist. "They're sketchy, incomplete, done really fast, have tables, copy-pastes — it's the standard of a regular student's work from Russian university."
The group that hacked the emails, which were shared with BuzzFeed last week and later uploaded online, is a new collective that calls itself the Anonymous International, apparently unrelated to the global Anonymous hacker movement. In the last few months, the group has shot to notoriety after posting internal Kremlin files such as plans for the Crimean independence referendum, the list of pro-Kremlin journalists whom Putin gave awards for their Crimea coverage, and the personal email of eastern Ukrainian rebel commander Igor Strelkov. None of the group's leaks have been proven false.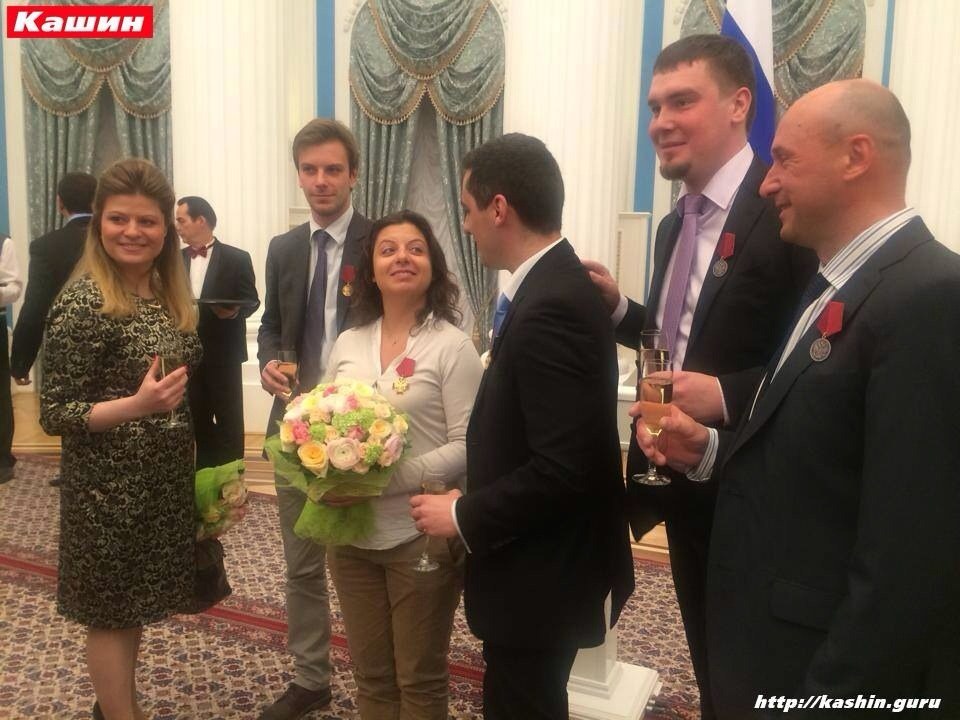 Russia Today editor Margarita Simonyan was among the journalists whom Putin gave awards for their favorable coverage of the Crimean crisis.

ID: 3053393
In email correspondence with BuzzFeed, a representative of the group claimed they were "not hackers in the classical sense."
"We are trying to change reality. Reality has indeed begun to change as a result of the appearance of our information in public," wrote the representative, whose email account is named Shaltai Boltai, which is the Russian for tragic nursery rhyme hero Humpty Dumpty.
The leak from the Internet Research Agency is the first time specific comments under news articles can be directly traced to a Russian campaign.
Kremlin supporters' increased activity online over the Ukraine crisis suggests Russia wants to encourage dissent in America at the same time as stifling it at home. The online offensive comes on the heels of a series of official laws and signals clearly suggesting Russia wants to tighten the screws on its vibrant independent web. In the last 30 days alone, Putin claimed the internet was and always had been a "CIA project" and then signed a law that imposes such cumbersome restrictions on blogs and social media as to make free speech impossible.
"There's no paradox here. It's two sides of the same coin," Igor Ashmanov, a Russian internet entrepreneur known for his pro-government views, told BuzzFeed. "The Kremlin is weeding out the informational field and sowing it with cultured plants. You can see what will happen if they don't clear it out from the gruesome example of Ukraine."
Gatov, who is the former head of Russia's state newswire's media analytics laboratory, told BuzzFeed the documents were part of long-term Kremlin plans to swamp the internet with comments. "Armies of bots were ready to participate in media wars, and the question was only how to think their work through," he said. "Someone sold the thought that Western media, which specifically have to align their interests with their audience, won't be able to ignore saturated pro-Russian campaigns and will have to change the tone of their Russia coverage to placate their angry readers."
Pro-Russian accounts have been increasingly visible on social networks since Ukraine's political crisis hit fever pitch in late February. One campaign, "Polite People," promoted the invasion of Crimea with pictures of Russian troops posing alongside girls, the elderly, and cats. Russia's famously internet-shy Foreign Ministry began to viciously mock the State Department's digital diplomacy efforts. "Joking's over," its Facebook page read on April 1.
Other accounts make clear attempts to influence Russian-speaking Ukrainians in the country's restive southeast. Western officials believe many of the Twitter accounts are operated by Russian secret services. One was removed after calling for and celebrating violent attacks on a bank owned by a virulently anti-Putin Ukrainian oligarch.
"This is similar to media dynamics we observed in the Syrian civil war," said Matt Kodama, an analyst at the web intelligence firm Recorded Future. "Russian news channels broke stories that seemed tailored-made to reinforce pro-Assad narratives, and then Syrian social media authors pushed them."
Other documents discuss the issues the Russian commenters run into when arguing with the regular audience on the American news sites, particularly the conservative ones. "Upon examining the tone of the comments on major articles on The Blaze that directly or indirectly cover Russia, we can take note of its negative direction," the author wrote. "It is notable that the audience of the Blaze responds to the article 'Hear Alan Grayson Actually Defend Russia's Invasion of Crimea as a Good Thing,' which generally gives a positive assessment of Russian actions in Ukraine, extremely negatively."
But praise can be as problematic as scorn. "While studying America's main media, comments that were pro-Russian in content were noticed," the author wrote. "After detailed study of the discussions they contained, it becomes obvious: the audience interprets those comments extremely negatively. Moreover, users of internet resources assume that the comments in questions were either written for ideological reasons, or paid for."
The documents align with the Kremlin's new attention to the internet. Putin, who swiftly monopolized control over television after coming to power in 1999 and marginalized dissent to a few low-circulation newspapers, largely left the "Runet" alone during his first two terms in power, allowing it to flourish as a parallel world free of censorship and skewed toward the educated urban middle class. Dmitry Medvedev, Putin's protégé who was president from 2008–12, made a show of embracing social media, but it never sat well with officials and Putin supporters. The gulf between Medvedev's transparency drive and Russia's Byzantine bureaucracy's reluctance to change only highlighted his impotence, earning him the nickname "Microblogger" for his small stature.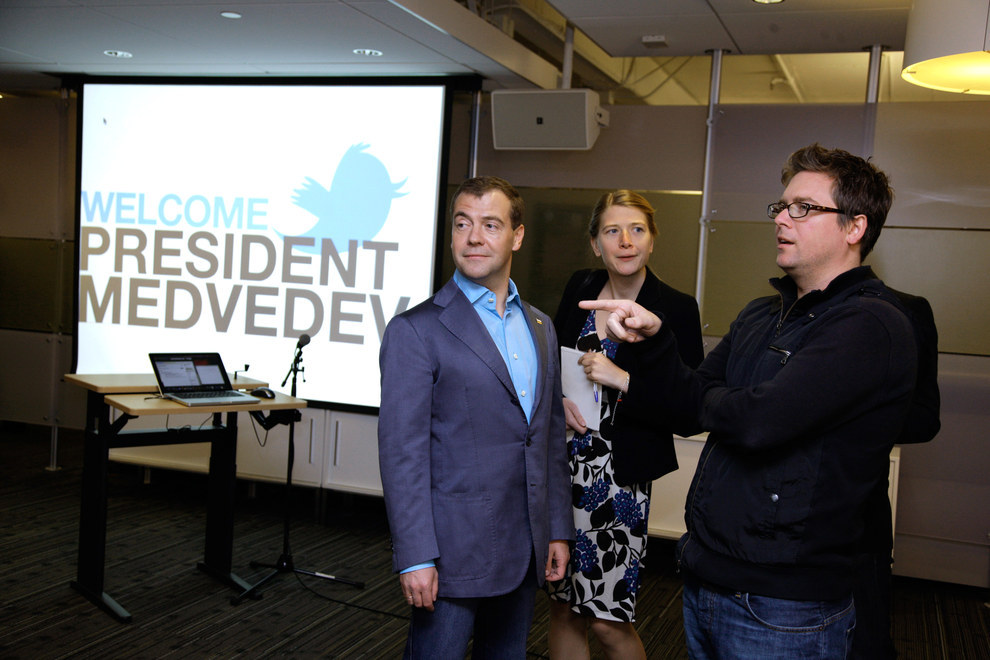 While president, Dmitry Medvedev visited Twitter's headquarters in Silicon Valley.

ID: 3053598
"In the best case they looked funny, in the worst, their actions exposed their real motives," said Katya Romanovskaya, co-author of KermlinRussia, a popular parody account mocking Medvedev's clumsy efforts. "Twitter is an environment where you can instantly connect with your audience, answer direct questions, and give explanations — which Russian officials are completely incapable of. It goes against their bureaucratic and corrupt nature."
The current internet crackdown comes after protests by middle-class Muscovites against Putin's return to the presidency in early 2012, which were largely organized on Facebook and Twitter. All but a few officials have since abandoned the medium and many did so en masse last fall, raising suspicions they did so on Kremlin orders.
"Putin was never very fond of the internet even in the early 2000s," said Andrei Soldatov, a Russian investigative journalist who specializes in security services and cyber issues. "When he was forced to think about the internet during the protests, he became very suspicious, especially about social networks. He thinks there's a plot, a Western conspiracy against him. He believes there is a very dangerous thing for him and he needs to put this thing under control."
Last month, the deputy head of the Kremlin's telecommunications watchdog said Twitter was a U.S. government tool and threatened to block it "in a few minutes" if the service did not block sites on Moscow's request. Though the official received a reprimand (as well as a tongue-lashing on Facebook from Medvedev), the statement was widely seen as a trial balloon for expanding censorship. Twitter complied with a Russian request for the first time the following Monday and took down a Ukrainian nationalist account.
A new law that comes into effect in August also forces bloggers with more than 3,000 followers to register with the government. The move entails significant and cumbersome restrictions for bloggers, who previously wrote free of Russia's complicated media law bureaucracy, while denying them anonymity and opening them up to political pressure.
"The internet has become the main threat — a sphere that isn't controlled by the Kremlin," said Pavel Chikov, a member of Russia's presidential human rights council. "That's why they're going after it. Its very existence as we know it is being undermined by these measures."