A Yahoo News reporter, Natasha Bertrand in August of 2017 posted in part the following –>
A website launched on Wednesday by a former FBI special agent-turned disinformation expert claims to track Russian propaganda in near-real time, as it spreads via Twitter accounts that have been linked to Russian influence operations.

Clint Watts, who garnered national media attention after testifying before the Senate Intelligence Committee about Russia's ongoing cyber and propaganda war against the West, spearheaded the project called Hamilton 68 — a hat tip to the founding father's Federalist Papers No. 68.

"In the Federalist Papers No. 68, Alexander Hamilton wrote of protecting America's electoral process from foreign meddling," the site reads, alluding to Russia's interference in the 2016 election. "Today, we face foreign interference of a type Hamilton could scarcely have imagined."

Watts worked on Hamilton 68 with JM Berger, a fellow with the International Centre for Counter-Terrorism who studies extremism and propaganda on social media; Andrew Weisburd, a fellow at the Center for Cyber & Homeland Security; and Jonathon Morgan, the CEO of New Knowledge AI and head of Data for Democracy, a volunteer collective of data scientists and technologists. More here
Now you would think that former Federal government officials would tell the truth or at least do retractions as required when something is proven false…not so much.
In full disclosure, years ago, I read JM Berger's book and interviewed him on my radio show. Furthermore, I followed Clint Watts on Twitter because as a former FBI agent, perhaps truth and context was important, it still is but not at the very least from those former 'intelligence' experts which now include even more former officials like Former Acting CIA Director Mike Morrell and former Ambassador to Russia Michael McFaul.
They among others created a fraud upon America as discovered by Matt Taibbi and the Twitter files.
1.THREAD: Twitter Files #15
MOVE OVER, JAYSON BLAIR: TWITTER FILES EXPOSE NEXT GREAT MEDIA FRAUD pic.twitter.com/bLRpDpuWql

— Matt Taibbi (@mtaibbi) January 27, 2023
Read in depth here to see just how scandalous media and the officials really were…perhaps still are actually. The New York Post in part has the following paragraph:
The Hamilton 68 "dashboard" was the brainchild of former FBI special agent and MSNBC contributor Clint Watts and operated under the Alliance for Securing Democracy, a think tank founded in 2017 — shortly after former President Trump took office.  (Alliance for Securing Democracy, REALLY?)

Further from the New York Post: Emails in the disclosure show that Twitter's own internal audits repeatedly showed that accounts flagged by Hamilton 68 were not Russian bots.
The Hamilton 68 website/screenshot as of the moment of this post: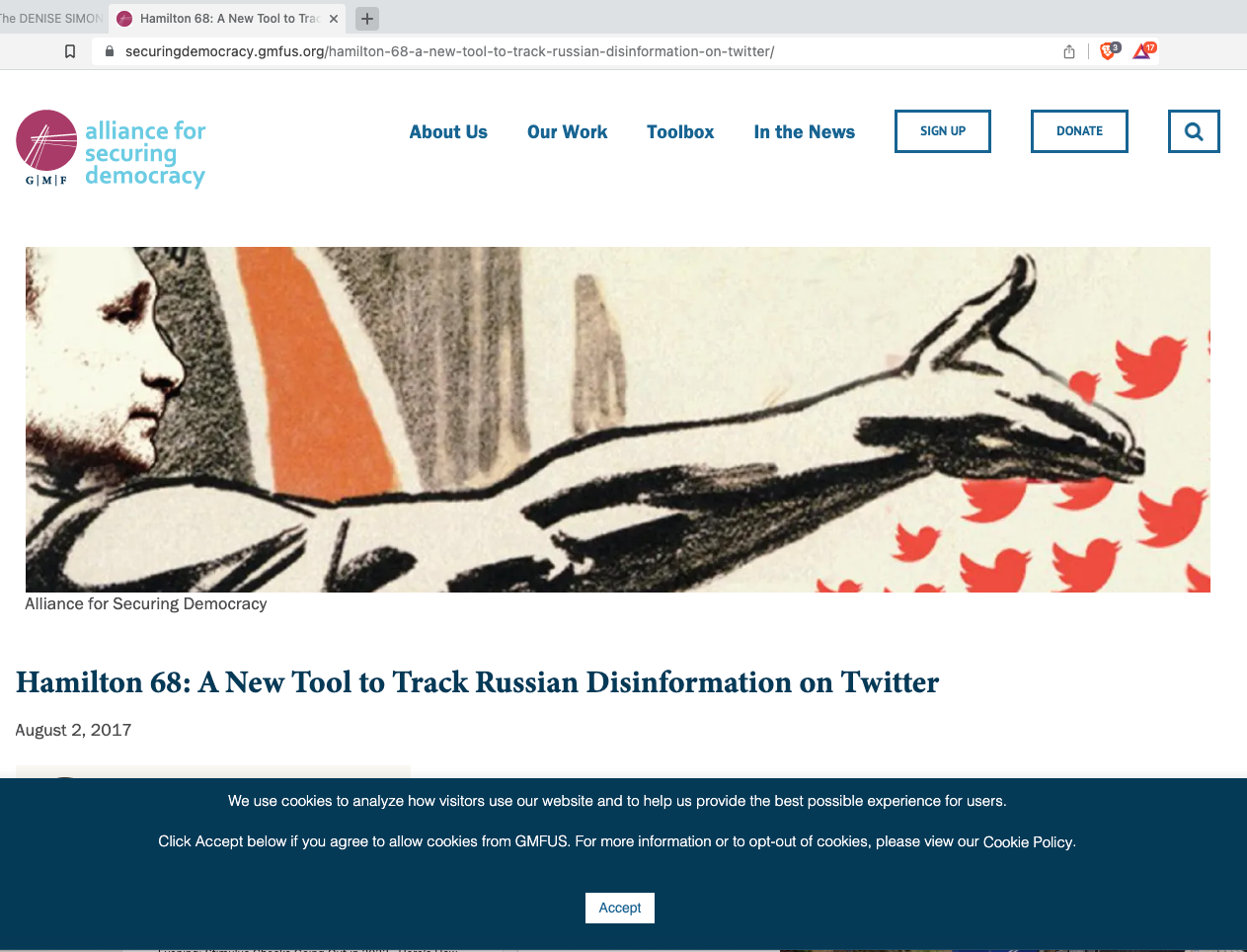 Other names also include Bill Kristol, editor of the now defunct Weekly Standard, John Podesta and of course Hillary Clinton. Now we have some more questions for sure including who funded all of this? Perhaps the Clinton Foundation? How nutty is all this going to be when a deeper dive happens by the House Republicans on the Oversight Committee look at the other tech/media outlets like Google, Reddit, YouTube and Facebook?
2."I think we need to just call this out on the bullshit it is." pic.twitter.com/q2n6pCZRzv

— Matt Taibbi (@mtaibbi) January 27, 2023
Bullshit is right…more like KGB/Stasi tactics brought into the American public square and news outlets like CNN and the Washington Post need to own this too. Gotta wonder if the White House under Biden much less Obama's White House team will get subpoenas….How much interaction was there between those former government officials and those in the House and Senate much like Adam Schiff?
This all brings a new definition to cyber wars and news media terrorism.