Enter the George Soros money and influence as well as other groups as noted in this DO NOT MISS LINK. It is confirmed that Bill Ayers was there and the commie call to action received 10,000 RSVP's.
MoveOn's statement on the cancellation of the Trump rally in Chicago. pic.twitter.com/eppJOy1O81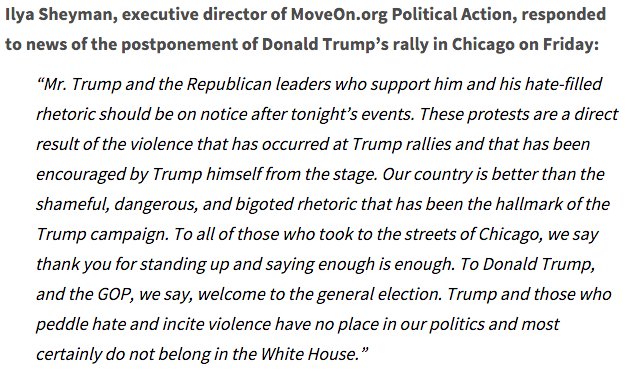 ****** There was a time when a financial relationship existing between Trump and Soros, but Soros later successfully concocted a plan of economic and social engineering warfare on America. March 11, 2016 in Chicago was a display of MoveOn's efforts to interject in the political process and free speech to great affect.
Sanders released three television commercials Friday in Illinois. One included Cook County Commissioner Jesus "Chuy" Garcia, who lost Chicago's mayoral race last year, but forced a runoff contest in Mayor Rahm Emanuel's re-election bid. Emanual, a former White House aide, endorsed Hillary Clinton.
Sanders blasted Emanuel for his controversial push to close dozens of Chicago schools in 2013 over poor performance. Sanders said, "I want to thank Rahm Emanuel for not endorsing me."
___
10 p.m.
Ted Cruz is responding to Donald Trump's cancellation of his Chicago rally, saying the billionaire has created "an environment that encourages this sort of nasty discourse."
Cruz spoke to reporters at a suburban Chicago Republican dinner about 30 miles away from where his GOP presidential rival was forced to cancel a rally due to safety concerns.
The Texas senator is calling it a "sad day."
He says, "Political discourse should occur in this country without the threat of violence, without anger and rage and hatred directed at each other."
Cruz says blame for the events in downtown Chicago rests with the protesters but "in any campaign responsibility starts at the top."
Cruz says, "When the candidate urges supporters to engage in physical violence, to punch people in the face, the predictable consequence of that is that is escalates. Today is unlikely to be the last such incidence."
___
9:25 p.m.
A spokesman for the Chicago Police Department says the agency never recommended that Republican presidential candidate Donald Trump cancel his campaign rally in the city.
CPD spokesman Anthony Guglielmi tells The Associated Press that the department never told the Trump campaign there was a security threat at the University of Illinois at Chicago venue. He said the department had sufficient manpower on the scene to handle any situation.
Guglielmi says the university's police department also did not recommend that Trump call off the event. He says the decision was made "independently" by the campaign.
Trump cancelled the rally in Chicago due to what organizers said were safety concerns after protesters packed into the arena where it was to take place.
Trump afterward told MSNBC in a telephone interview that he canceled the event because he didn't "want to see people hurt or worse." He said he thinks he "did the right thing."
Guglielmi says Trump never arrived at the Chicago venue.
___
8:25 p.m.
Republican presidential candidate Donald Trump says he didn't "want to see people hurt or worse" at his campaign rally in Chicago, so he decided to postpone the event.
Trump tells MSNBC in a telephone interview that, "I think we did the right thing."
The Friday night rally at the University of Illinois at Chicago was called off due to security concerns. Supporters and protesters alike had packed into a campus arena, and for the first time during the billionaire businessman's White House run they appeared to be of equal number.
Trump attributed the protests not to objections to his policies, but to general malaise in the United States — particularly among people upset they haven't been able to find jobs.
"It's anger in the country," he said. "I don't think it's directed at me. Just what's been going on for years."
But many of the protesters at the event said they were there to stop Trump from speaking. Among them was Jermaine Hodge, a 37-year-old lifelong Chicago resident who owns a trucking company.
He says: "Our country is not going to make it being divided by the views of Donald Trump. Our country is divided enough. Donald Trump, he's preaching hate. He's preaching division."
___
8:15 p.m.
Protesters at the rally for Republican presidential candidate Donald Trump rushed the arena floor in jubilant celebration after the announcement that he was calling off the event due to security concerns.
Many jumped up and down, with arms up in the air, shouting "F— Trump!" "Bernie! Bernie!" and "We stopped Trump!"
Kamran Siddiqui is a 20-year-old student at the University of Illinois at Chicago, where the event was to take place.
He says: "Trump represents everything America is not and everything Chicago is not. We came in here and we wanted to shut this down. Because this is a great city and we don't want to let that person in here."
Siddiqui says he's a supporter of Democratic presidential candidate Bernie Sanders. He says it "feels amazing" to have stopped Trump from speaking at his own rally.
He adds: "Everybody came together. That's what people can do. Now people got to go out and vote because we have the opportunity to stop Trump."
___
8:08 p.m.
Protesters whose presence at a Donald Trump campaign rally forced the Republican White House front-runner to call off the event are celebrating their success at keeping him from taking the stage.
As Trump supporters walk through the anti-Trump crowd outside the University of Illinois at Chicago Pavilion, many of the protesters are chanting: "We stopped Trump! We stopped Trump!"
Others are shouting: "Racists, go home! Racists, go home!"
There were no apparent physical confrontations between the two sides as police officers on foot and horseback worked to keep them apart.
___
7:56 p.m.
Donald Trump's campaign for president has issued a statement about the decision to cancel a rally in Chicago.
It says: "Mr. Trump just arrived in Chicago and after meeting with law enforcement has determined that for the safety of all of the tens of thousands of people that have gathered in and around the arena, tonight's rally will be postponed to another date. Thank you very much for your attendance and please go in peace."
___
7:36 p.m.
Republican presidential candidate Donald Trump has cancelled a rally in Chicago, calling off the event due to safety concerns after protesters packed into the arena where it was to take place.
The announcement that Trump would postpone the rally for another day led the crowd inside the University of Illinois at Chicago Pavilion to break out into raucous cheers.
Meanwhile, supporters of the candidate broke out into chants of "We want Trump! We want Trump!"
There was no sign of Trump inside the arena on the college campus, where dozens of UIC faculty and staff had petitioned university administrators to cancel the rally. They cited concerns it would create a "hostile and physically dangerous environment" for students.
___
6:55 p.m.
Donald Trump supporters and protesters alike have packed into an arena on the campus of the University of Illinois at Chicago for an evening rally with the Republican candidate for president.
Many of those who were waiting in line to get into the Friday night event identified themselves as protesters. UIC student G.J. Pryor said he wanted to disrupt Trump's speech, adding he would only do so if he felt safe.
Some Trump supporters walking toward the arena chanted, "USA! USA!" and "Illegal is illegal." One demonstrator shouted back, "Racist!"
There's a heavy police presence outside the rally, with barricades and mounted police keeping most protesters and Trump supporters apart.
Trump supporter Veronica Kowalkowsky says she has no ill will toward the protesters. But the 18-year-old says she has felt their ill will, adding: "I feel a lot of hate. I haven't said anything bad to anyone."
___
6:30 p.m.
President Barack Obama is laying into Republicans and their front-runner for the presidential nomination, saying they've allowed the race to devolve into "fantasy and schoolyard taunts and selling stuff like it's the Home Shopping Network."
At a Democratic fundraiser in Austin, Texas, Obama taunted Donald Trump as "the guy who was sure that I was born in Kenya!"
Obama hasn't endorsed a Democratic successor and isn't expected to campaign broadly until the summer. Still, he seemed ready. The president was unscripted and loose in front of the boisterous crowd of young Democratic contributors.
He revived a critique of the GOP he offered earlier in the week, only this time with more bite.
Obama dismissed the idea that he is to blame for the current political climate: "The notion is, Obama drove us crazy. What they really mean is their reaction to me was crazy and now it has gotten out of hand."
___
4:30 p.m.
Hillary Clinton apologized Friday after gay-rights and AIDS activists assailed her for saying Nancy Reagan helped start a "national conversation" about AIDS in the 1980s. At the time, protesters were struggling to get more federal help in fighting the disease.
Clinton, one of two contenders for the Democratic presidential nomination, made her initial comments in an interview with MSNBC during its coverage of Nancy Reagan's funeral. After the outcry, she apologized on her Twitter account, saying she "misspoke" about the Reagans' record on AIDS.
Many activists remain bitter at Ronald Reagan and his administration for what they view as a devastatingly slow response to AIDS. Though initial reports of the disease surfaced in 1981, President Reagan did not make his first public speech about it until 1987.
___
2:42 p.m.
Republican presidential front-runner Donald Trump says he "doesn't quite get" why some people preferred the more mellow performance he delivered in Thursday's debate.
The billionaire businessman left his usual barbs and personal insults behind at the debate in Miami. He says he told himself ahead of time he wasn't going to talk about "Lying Ted," his nickname for rival Ted Cruz.
But Trump told a rally in St. Louis on Friday that the other Trump is more exciting.
He says: "Last night on the debate — I don't quite get this — I got these phenomenal reviews, right? Because I was, like, nice. But isn't the other more like exciting? Don't we like the other better?"
Trump's rally was repeatedly interrupted by protesters.
___
2:15 p.m.
Protesters are roiling a Donald Trump rally in St. Louis, repeatedly interrupting the Republican candidate for president as he seeks to speak at a rally ahead of Tuesday's elections in Missouri and four other states.
Trump says, "these are not the people who made our country great."
He's complimenting the police and security officers who are escorting the protesters out of the rally at the city's Peabody Opera House.
Trump says the media is focusing too much on the protests that interrupt his rallies, and not enough on "the love that's in these rooms."
But he adds, "this is more exciting that having a speech." The billionaire says he'll still deliver his speech, but it will just take a little bit longer.
___
1:15 p.m.
A large crowd is turning out for a Donald Trump rally in St. Louis, the first public campaign event for the Republican presidential front-runner since one of the billionaire's supporters was charged with punching a protester at a Wednesday rally.
The line waiting to get into Friday's lunchtime rally at the city's Peabody Opera House circled several blocks. Most were turned away — the theater holds just 3,100 people.
Dozens of city police officers stood at various points in the line. Others watched from rooftops of neighboring buildings.
Several protesters marched outside, mostly in an area confined behind a makeshift fence. Some exchanged shouts with Trump supporters.
Trump is seeking support ahead of Missouri's presidential primary on Tuesday. Rival Ted Cruz is speaking at a rally Saturday in the St. Louis County town of Ballwin. Democratic candidate Hillary Clinton also is holding a St. Louis rally on Saturday.
___
1:00 p.m.
Donald Trump boasts that he can win the Hispanic vote in a general election and next week, he faces his first major test in the winner-take-all primary in Florida, a highly contentious swing state with a large and diverse population of Latino voters.
His tough stance on illegal immigration plays well among Florida's more conservative Latinos. Many Cuban-Americans, especially, view illegal immigration through the same lens as many of their white Republican peers who see immigration as an achievement, not as a right, that shouldn't be taken for granted by those who come to America illegally.
For that reason, Trump has surged in the polls ahead of this crucial contest, even as two Cuban-Americans — Florida's own Sen. Marco Rubio, and Texas Sen. Ted Cruz — look to use their heritage in their favor. For Rubio especially, who has collected only two wins so far — one of them in Puerto Rico — Florida's all-or-nothing contest could be his campaign's swan song if he doesn't win.
___
12:15 p.m.
Republican presidential candidate Ted Cruz hedged on a question about whether former-rival-turned-supporter Carly Fiorina would be on his vice presidential short list if he gets the nomination.
Cruz was joined onstage at a forum in Orlando Friday by Fiorina and Fox News television host Sean Hannity. Fiorina endorsed Cruz this week.
Cruz praised Fiorina but didn't directly answer a question from Hannity about whether Fiorina would be his pick for a running mate.
Meanwhile, Fiorina said front-runner Donald Trump needs to "man up" and not complain about the number of debates in the presidential primary race.
Trump said after Thursday's debate that there had been too many debates.
___
12:00 p.m.
Republican presidential candidate Marco Rubio says he hasn't thought much beyond what happens in Tuesday's crucial Florida primary.
He says he's focused on winning the March 15 winner-take-all primary, dismissing several polls in the last week showing him trailing GOP front-runner Donald Trump his home state.
Rubio is predicting "a close election" but says he's going to win.
Rubio also says he's not had any talks or meetings with rivals Ted Cruz or John Kasich to team up to defeat GOP front-runner Donald Trump.
He says he's "not open" to any such talks about joining forces.
___
11:50 a.m.
Republican presidential candidate Ted Cruz says he was happy the latest GOP debate was more civil than previous ones.
Cruz said Friday during a forum with Fox News talk show host Sean Hannity in Orlando that the past debates had gotten ugly.
Cruz also said he was happy GOP rival Donald Trump's anatomy wasn't a topic of discussion during Thursday night's debate in Miami.
Cruz answered questions at an Orlando megachurch filled with almost 1,000 supporters during a forum that will air on Hannity's show.
___
11:45 a.m.
Marco Rubio's campaign is urging people in Ohio to vote for his rival, Ohio Gov. John Kasich, to stop rival Donald Trump from clinching the prized contest.
Alex Conant told The Associated Press Friday that the only way to stop Trump from sweeping next week's basket of winner-take-all contests is to vote for Kasich in Ohio and Rubio in Florida.
Conant said that "If you want to stop Trump in Ohio, Kasich's the only guy who can beat him there."
Conant added: "Marco is the only guy who can beat him in Florida."
Kasich spokesman Rob Nichols says that his candidate is going to win in Ohio without Rubio's help "just as he's going to lose Florida without our help."
___
10:30 a.m.
Republican presidential candidate Ted Cruz has secured the endorsement of Missouri Rep. Ann Wagner.
In a statement on Friday, Wagner said that Republicans "must unite to win behind a strong, constitutional conservative like Ted Cruz."
The congresswoman has served as co-chair of the Republican National Committee during President George W. Bush's first term and was U.S. ambassador to Luxembourg.
Cruz has the backing of some half dozen House members, but only one endorsement from a fellow senator, Mike Lee of Utah.
___
9:50 a.m.
Republicans in the Virgin Islands caucused into the night Thursday, and when they finished counting the votes Friday morning, the winner was … no one.
Party chairman John Canegata says all nine delegates from the U.S. territory will go to the Republican National Convention as uncommitted delegates. That makes them free agents, free to support the candidate of their choice.
Canegata says more than 300 voters cast ballots.
The AP delegate count thus far:
— Donald Trump: 459.
— Ted Cruz: 360.
— Marco Rubio: 152.
— John Kasich: 54.
Needed to win the nomination: 1,237.
___
9:35 a.m.
Donald Trump says he felt the response of his supporters to an episode of violence at one of his rallies this week was "very, very appropriate."
Speaking at a Palm Beach press conference on Friday, Trump said the "audience swung back" at a white man who was caught on video hitting a black man as he was escorted out of a Trump rally by deputies.
Trump praised the police as "amazing," saying they were "very restrained" in response to the incident.
He said that the man — identified as John Franklin McGraw — began hitting people, and the audience hit back. "That's what we need a little bit more of," he said.
___
9:30 a.m.
Democrats and Republicans have painted a dark vision of America, a place where jobs are vanishing, leaders are corrupt and threats loom from across the globe.
Democratic candidate Bernie Sanders describes a nation in "real crisis," with a "rigged economy." Americans are "a bunch of suckers" who've "lost everything," Republican front-runner Donald Trump says.
Washington is "killing jobs," as Iranian leaders conspire to "murder us," warns Republican Texas Sen. Ted Cruz.
Gloomy assessments of the country's future have emerged as a constant refrain of the 2016 presidential contest, as candidates woo a frustrated and anxious electorate. That insecurity, which pollsters say pervades discussions about economic, domestic and foreign policy issues, is setting the stage for an emotionally-charged general election — no matter who wins the primary contests.
___
9:20 a.m.
Republican front-runner Donald Trump says he will defeat the Islamic State group if he is elected president, but he will let the generals "play their own game."
Speaking at a press conference in Palm Beach, Florida on Friday, Trump said he is going to "find the right generals" to do the job, but he will allow them to then call the shots on how the military should approach the war.
Trump has said he wants to loosen the laws that limit the use of torture if he's elected to the White House, but then appeared to reverse his stance on the use of torture after he was criticized by top Republican national security experts who called his policy views "wildly inconsistent and unmoored in principle."
___
9:10 a.m.
Former Republican presidential candidate Ben Carson says he and Donald Trump have "buried the hatchet" after months of political wrangling, and he is endorsing the GOP front-runner's White House bid.
At a press conference in Palm Beach, Florida on Friday, Carson, who left the race earlier this month, described "two Donald Trumps" — the persona reflected on stage, and a private, "very cerebral" person who "considers things carefully."
In his introduction to Carson Friday, Trump described the retired neurosurgeon as a "special, special person — special man," and a "friend" who is respected by everyone.
Carson warned that it is "extremely dangerous" when political parties attempt to "thwart the will of the people," and urged politicians to "strengthen the nation," rather than create divisions.