Primer:   Russian 'Gun-For-Hire' Lurks In Shadows Of Washington's Lobbying World
Rinat Akhmetshin, the man at the back of the room who for nearly 20 years has worked the shadowy corners of the Washington lobbying scene on behalf of businessman and politicians from around the former Soviet Union. In an e-mail response to RFE/RL, Akhmetshin denied that he ever worked for Soviet military intelligence, something he would have had to declare when he applied for U.S. citizenship.

Akhmetshin has paid at least one visit to Congress in connection with new human rights legislation that builds on the earlier Magnitsky Act. Along with Ron Dellums, a former U.S. congressman from California and longtime Washington lobbyist, Akhmetshin visited House member offices on May 17 to meet with Dana Rohrabacher, another California congressman viewed as one of the most sympathetic U.S. officials to Russian causes. Read the full story here for context and timeline.

According to The Daily Beast, the two told congressional officials said they were lobbying on behalf of Prevezon. But Dellums told RFE/RL that his involvement focused on resuming Russian adoptions by U.S. parents.
Senator Grassley was advised in 2016 on the moving parts of foreign agents, the mission to lift sanctions or scale back the Magnitsky Act and other connections.
Aras Agalarov

$1.92 B

Forbes:

Billionaire developer Aras Agalarov and his pop star son, Emin, have close ties to US president Donald Trump. In 2013, the Agalarovs brought Trump's Miss Universe pageant to Moscow, and, they say, later planned to construct a Trump Tower in Russia.

Those ambitions fell apart when The Donald ran for office. Aras began his career in the technology industry, but saw greater business potential in trade fairs. In 1989 he established development firm Crocus, which became one of the country's largest trade-fair operators. His holdings have since expanded into an array of luxe buildings and shopping malls, including the expansive Crocus City Mall in Moscow. Emin, who once featured Trump in a music video, was previously married to the daughter of Azerbaijan president Ilkham Aliyev. He retains close ties to the Trump family and brand. More here on Aras Agalarov and real estate.


Photographer: Victor Boyko/Getty Images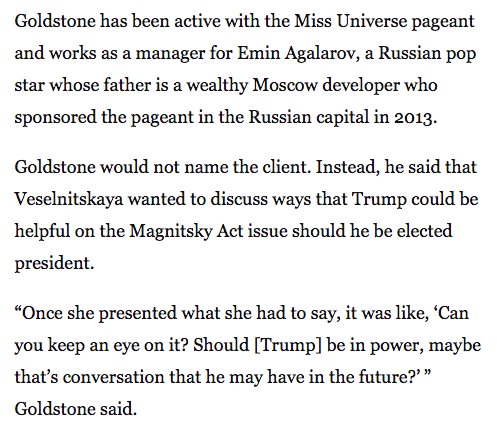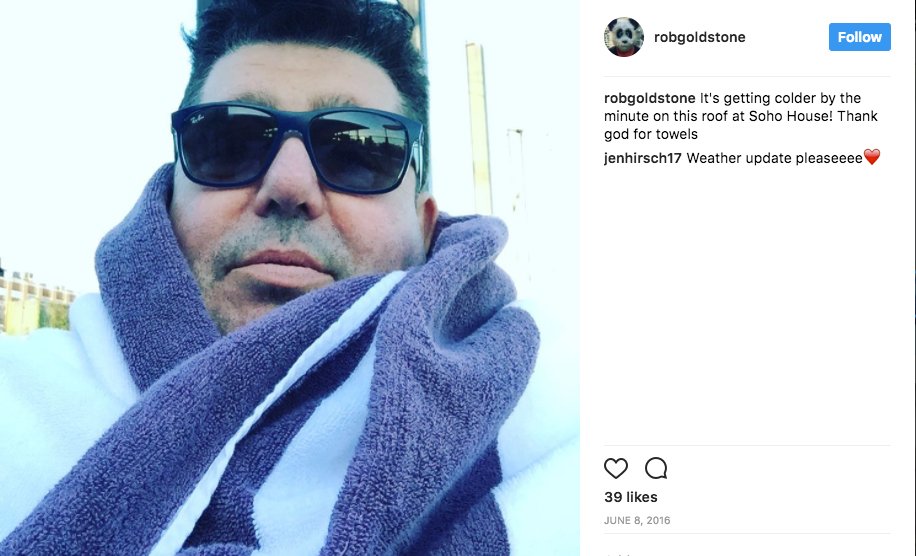 Facebook check-ins can be damming.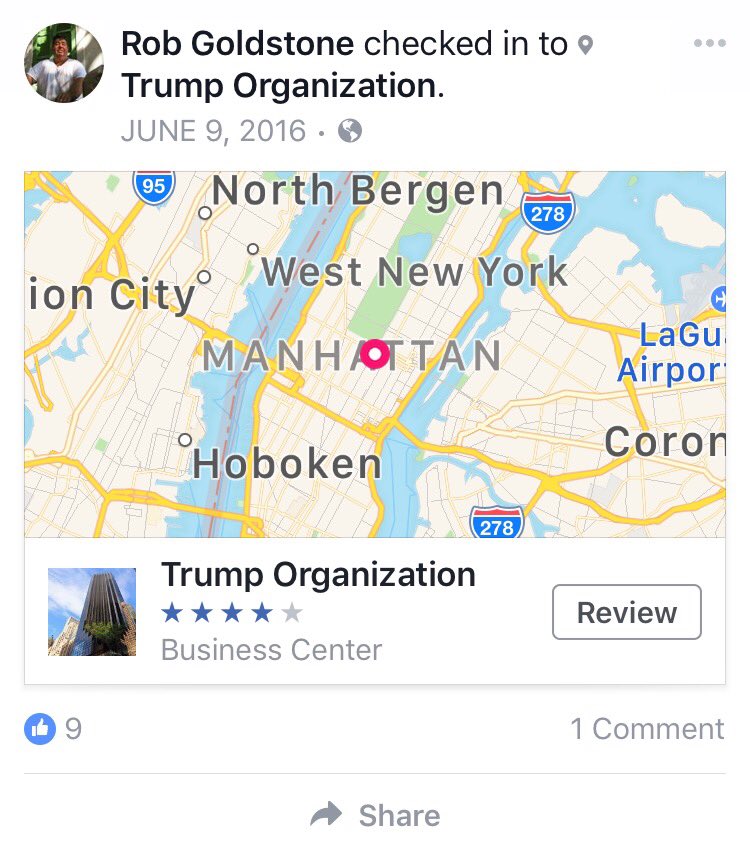 Rob Goldstone, the man
who says
he connected Donald Trump Jr. with a Russian lawyer who claimed to have damaging information about Hillary Clinton, is a British-born music producer with ties to a Russian billionaire through his pop star son.Trump Jr. confirmed in a statement that he and other Trump campaign officials met with
Natalia Veselnitskaya in June 2016. 
The person
who asked
Trump Jr. to attend the meeting was Goldstone, a music producer with ties to a Russian pop star named Emin Agalarov,
according to The Washington Post.
The New York Times broke the story that Trump Jr., Trump's son-in-law Jared Kushner, and former Trump campaign chair Paul Manafort had attended the meeting, although Trump Jr. says Veselnitskaya never produced information negative to Clinton.
A special prosecutor is investigating whether members of the Trump campaign colluded with Russian interference into the 2016 presidential election. Goldstone is a colorful addition to the cast of characters in the Trump/Russia controversies. More here from Heavy.
US President Donald Trump was "not aware of and did not attend" a 2016 meeting between his son Donald Trump Jr and a Kremlin-connected lawyer who was offering damaging information on then Democratic rival Hillary Clinton, his lawyers say.

Mr Trump's then-campaign chairman, Paul Manafort, and his son-in-law Jared Kushner also attended the meeting with Russian lawyer Natalia Veselnitskaya at Trump Tower on June 9 last year, two weeks after Mr Trump won the Republican nomination, the New York Times reported, citing three advisers to the White House.

Donald Trump Jr acknowledged the meeting, but said Ms Veselnitskaya had "no meaningful information".

*** So who is Natalia Veselnitskaya?

By her own account, the Russian lawyer that managed to slide her way into Trump Tower last year and meet with President Donald Trump's eldest son, his campaign manager and son-in-law is a former Moscow prosecutor who had been denied a visa to enter the United States.

Natalia Veselnitskaya filed an affidavit in a federal case in New York describing how she managed to get special permission to enter the United States after the visa denial to help represent a Russian company called Prevezon Holdings owned by the Russian businessman Denis Katsyv in a case brought against it by U.S. prosecutors.

"I represent victims in many criminal cases involving economic crimes. I have been retained by Denis Katsyv and the defendants in this action to assist their attorneys in the United States, Baker & Hostetler LLP to prepare their defense," she wrote in the January 2016 affidavit filed in court in New York City.

"As counsel to Defendants, it is important that I be able to participate in the defense of this action by traveling to the United States. For that reason, I applied for a visa to enter the United States, but was denied," she added. "I also applied for entry visas for my children, so that they could be together with me over the Christmas holiday while I was working in New York on this lawsuit, but this was also denied. However, the United States did issue a parole letter for me to enter the United States in order to help defend this lawsuit."

It was apparently during the time she was in the United States on that parole entry that she arranged to meet with Donald Trump Jr., Trump son-in-law Jared Kushner and former campaign manager Paul Manafort on June 9, 2016 at Trump Tower.

During the meeting Veselnitskaya raised the issue of restoring U.S. adoptions inside Russia if the United States would repeal the Magnitsky Act, a law passed in 2012 punishing Moscow for human rights violations in connection with the death of a lawyer who had discovered a massive money laundering scheme inside the country. More here from Circa.