Here we go: Go to Closethecampsnow dot org to get the information.
This Tuesday, July 2, while members of Congress are home for the Fourth of July holiday, we will gather at their local offices in protest. Our demands:
Close the Camps
Not One Dollar for Family Detention
 and Deportation
Bear Witness and Reunite Families
Will you join a local Close the Camps protest near you this Tuesday, July 2? Find an event and bring everyone you know.
***
Meanwhile, just published: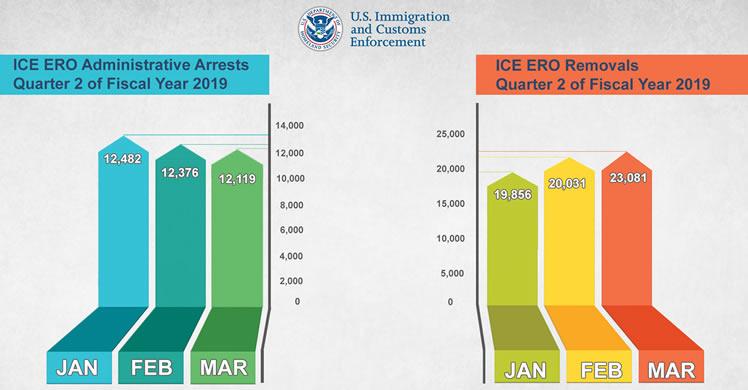 Statement attributable to Nathalie R. Asher (ICE Executive Associate Director) – The enforcement statistics from January-March 2019 illustrate that U.S. Immigration and Customs Enforcement is committed to arresting and removing unlawfully present aliens, with criminal histories, who threaten public safety and endanger immigrant communities. During this time period, more than 85 percent of aliens arrested by ICE Enforcement and Removal Operations officers, and more than 91 percent of aliens removed from the interior of the United States, had received criminal convictions or pending criminal charges.
The situation at the border continues to impact interior enforcement, with ERO personnel routinely detailed to support the processing and detention of arriving aliens. Administrative arrests of criminal aliens over the first two quarters of FY19 are down 14 percent versus the same time period in FY18. And, ICE removals stemming from U.S. Customs and Border Protection apprehensions have increased 10 percent in the first two quarters of FY19 over FY18. The agency is dedicated to using its authorities to enforce U.S. immigration laws, and ICE officers will continue to conduct enforcement humanely, respectfully and with professionalism.
ICE Removals by Arresting Agency: FY2019 Q2 (01/01/2019 – 03/31/2019)

| Arresting Agency | Convicted Criminal | Pending Criminal Charges | Other Immigration Violator | Total |
| --- | --- | --- | --- | --- |
| Total | 34,960 | 6,024 | 22,556 | 63,540 |
| CBP | 19,281 | 2,512 | 20,708 | 42,501 |
| ICE | 15,679 | 3,512 | 1,848 | 21,039 |
Editor's Note: The arrest and removal statistics provided in this announcement include preliminary data. Official numbers can vary slightly from preliminary data depending on when statistics are reported and collected. Enforcement data is not considered final and static until the end of the fiscal year.
***
How bad is it really?
For months, Democrats denied the illegal immigration crisis at the southern border, with Sen. Chuck Schumer, flanked by House Speaker Nancy Pelosi, going so far as to accuse President Donald Trump of working to "manufacture a crisis, stoke fear and divert attention from the turmoil in his administration."
The president, on the other hand, has made the situation on the southern border a top priority, in January declaring it both a "humanitarian and security crisis," and stressing it ever since. Read the full summary here.