No mention of an FBI investigation…..
Doing some digging, the tip likely came from the U.K. as it seems this terrifying scandal started there. The owner/founder of the company, Jose Alejandro ZAMORA YRALA uses a home for the business address.
Company status

Active
Correspondence address

Nova North, 11 Bressenden Place, London, England, SW1E 5BY
Role 

ACTIVE

Director
Appointed on

17 February 2015
Nationality

British
Country of residence

United Kingdom
Occupation

Managing Director
***
Source: As chief commercial officer of aircraft-parts supplier AOG Technics Ltd., Ray Kwong can look back on a well-rounded career at A-list companies including All Nippon Airways Co., Mitsubishi Heavy Industries Ltd. and Nissan Motor Co.
That, at least, is Kwong's two-decade corporate journey on what appears to be his LinkedIn profile, from which the self-proclaimed executive beams with a broad smile and striped tie in blue hues. Trouble is that — much like the company for which Kwong now claims to work — not all is as it seems.
Kwong, if he even exists, was never employed at Nissan, or at ANA for that matter. Neither company has records of him as a former worker, they said in response to queries by Bloomberg News. His employment history could also not be verified at Mitsubishi. What is used as his profile picture turns out to be a stock photo that's also washed up elsewhere on the Internet, from promotional material for a German textile startup to a clinic in Northbrook, Illinois.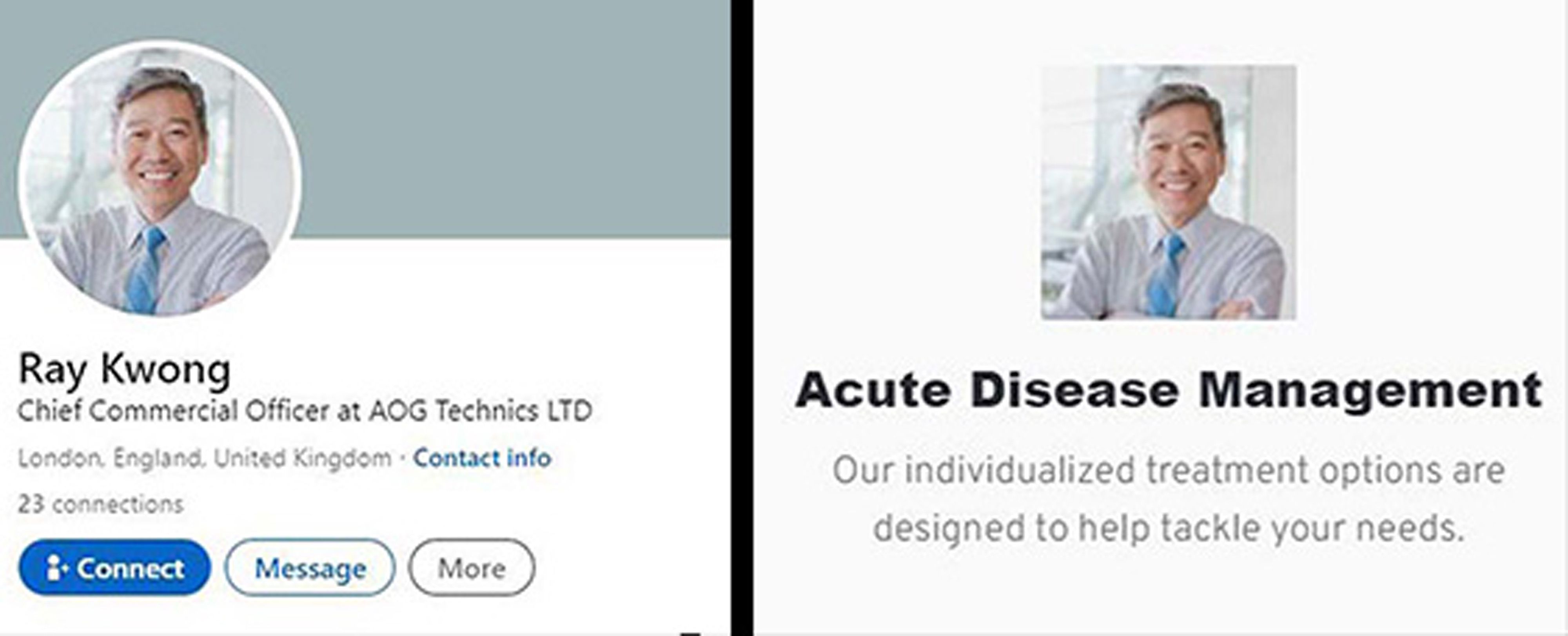 After Bloomberg reported on the case of bogus jet-engine repair parts being investigated by regulators, a deeper dive into AOG revealed that the fabrication not only concerned components, but extended to major aspects of the company behind the scandal. The proliferation of undocumented parts has sent shock waves through an industry where every component requires verification to ensure aircraft safety, leaving manufacturers, operators and authorities scrambling to determine the fallout.
***
In part from the Daily Mail:
The aviation industry has been rocked by reports thousands of jet-engine parts with fraudulent safety certificates have been installed onto passenger planes.

Major airlines including American Airlines, United Airlines and Southwest Airlines have pulled jets from their fleets as investigations into the potentially catastrophic faults are ongoing.

The scandal has zeroed in on a dubious airplane parts supplier named AOG Technics, which allegedly mass-produced fake safety certificates in order to sell its engine parts to airlines.

AOG Technics has also faced allegations it faked employees and was using stock photographs for fictitious staffers on LinkedIn, according to Bloomberg. Attempts to contact the company were unsuccessful.

With parts from the problematic company so far found in 126 engines across several airlines, questions are being raised over the effectiveness of the aviation industry's safety oversight measures.

But the Federal Aviation Administration, as well as investigators in Europe, have alleged that AOG Technics forged its documentation, an issue with potentially disastrous consequences in the event of a faulty part.

The most affected engine model was found to be a CFM56, which alarmingly holds the record for most engines ever sold to airlines at over 33,900.

It is currently installed in numerous jets across the world, most notably Boeing's predecessor to the 737 MAX and the initial version of the Airbus A320.

Both jets are extremely common in flights across the world each day.

The affected engine parts vary from small components such as screws and bolts to units vital for the propulsion of a jet, such as turbine blades.

As investigations into the potential scheme continue, it was found that dozens of the engines were inadvertently made by General Electric in a joint venture with Safran, which has since launched a lawsuit against AOG Technics.

The GE engines were reportedly installed during maintenance work, and then found their way into  Boeing and Airbus airplanes.

After American Airlines, United Airlines and Southwest Airlines pulled planes from their rosters, Delta Airlines said on Monday that it also removed a several engines from service.

Affected airlines have said they quickly identified engines certified by AOG Technics, which made up only a fraction of their total number, and claim passenger safety has not been compromised.

But according to the lawsuit filed by GE and Safran, the aviation parts supplier used a large scale falsification system to sell its parts to airlines.