JOINT BASE PEARL HARBOR-HICKAM, Hawaii —
When her duty day is over, Army Sgt. 1st Class Jennifer Owen often wonders if she did enough to help identify fallen service members.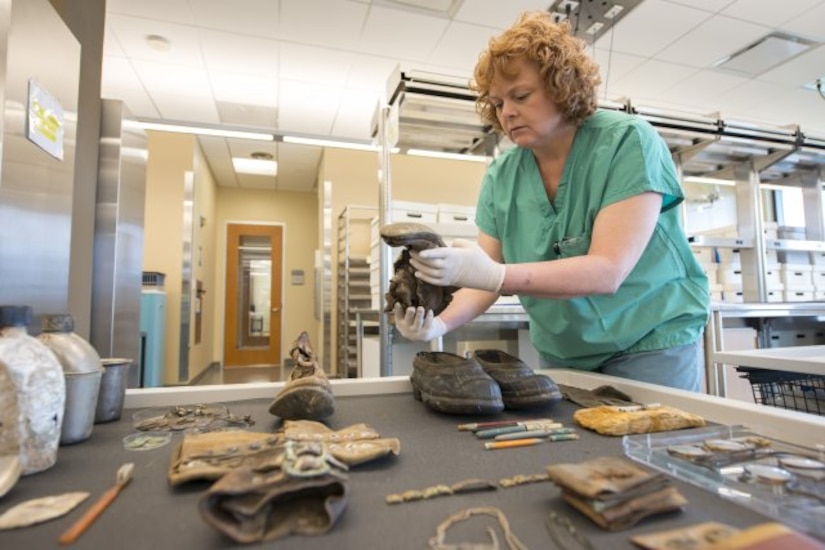 As the noncommissioned officer in charge of the morgue at the Defense POW/MIA Accounting Agency, which is tasked to account for more than 82,000 Americans missing from past conflicts, she analyzes human remains and personal effects in hopes to close a cold case.
"At the end of the day, I have to be able to look in the mirror and say I've done my best," she said. "And when I get up in the morning, I say I'm going to do better, because these families have been waiting years and years."
Owens is one of about 100 service members and civilians who work at the agency's laboratories here and at Offutt Air Force Base in Nebraska. Each year, the labs identify the remains of around 200 Americans that are then reunited with families.
On Aug. 1, more than 50 cases containing remains believed to be those of American service members were provided to DPAA by North Korea.
The remains are now undergoing further analysis and identification at the labs.
The painstaking work, which can take months to years to complete, is Owen's passion. Whenever a positive identification comes in, she said, it is as if the service member's name is given back.
'These Are All Heroes'
"What drives me the most is that these are heroes," she said, looking across a lab holding hundreds of unknown remains. "These are all heroes [who] have a name and a family."
Each year, DPAA conducts up to 80 investigation and recovery team missions throughout the world to pinpoint last known locations of missing Americans and to attempt to excavate their remains.
"The work is complex, the work is difficult, and it takes that dedication, that passion … to be able to perform this solemn obligation that we make to the nation and to the families," said Kelly McKeague, the agency's director.
The joint agency, which employs many service members and veterans, has agreements with nearly 50 nations that assist in its missions, he added.
Most of the missing fell at World War II battle sites in the Pacific region. There are also almost 7,700 service members unaccounted for from the Korean War, with the majority believed to be in North Korea.
DPAA teams were allowed to conduct missions in North Korea from 1996 to 2005, but operations were halted as diplomatic relations deteriorated in the region. Agency officials hope these missions could soon start up again.
Before he became the agency's lab director, John Byrd had the opportunity to help recover Americans who fought in North Korea at the Battle of Unsan. The 1950 battle pitted Chinese forces against American and South Korean troops.
When remains are identified by his staff it is always a testament to good field and lab work that solved the decades-old case, Byrd said.
"It's extremely gratifying," he said, "and it kind of keeps you grounded where you know why you're here and why you're doing this work."
DNA Testing
A majority of DPAA cases involve some type of DNA testing. Samples are taken from the remains and sent to the Armed Forces DNA Identification Lab in Delaware.
To help this process, family members who have a missing loved one are encouraged to provide a DNA sample that will serve as a comparison.
If no reference samples are on file, a battalion of professional genealogists working for service casualty offices will try to locate family members.
Many times their starting point is the service member's home address from the 1940s, if they served in World War II. This makes it extremely difficult to track down a living family member as the years pass on.
"It's one of the greatest challenges of all. How do you find close family members of a missing serviceman from 1944?" Byrd asked. "It's not easy. Some [cases] we run into dead-ends and we can't find anybody."
The Defense Department has kept dental records of troops dating back to World War I that can be used to help in the identification process.
In 2005, the agency also discovered another method that has proved successful. Many troops who served in early conflicts had to get chest X-rays as part of a tuberculosis screening when they first signed up.
Like the dental records, these radiographs were stored in a warehouse by the DoD. DPAA later obtained thousands of copies of them. Lab personnel use them as a comparison tool, since the shape of each person's chest is different.
"The process of comparing this induction chest x-ray to an x-ray we take from the remains is analogous to doing fingerprint comparison," Byrd said. "It's a very similar kind of mindset that you take when you look at the two side-by-side; you're looking for commonalities and differences."
When a service member is identified, family members often come to the lab so they can participate in escorting the remains back home, he said. For those who work at the lab, those family member visits make the months or years of work seem worthwhile.
"When you have a family member come in and the staff who actually worked on the case get to meet them, they get to see the tangible results of their hard work," Byrd said. "It's definitely a boost to their morale."
In the Field
Before that sort of closure can start for families, recovery teams spend weeks at a time doing the grunt work of excavating sites.
Army Capt. Brandon Lucas, who serves as a team leader, recalled his team digging nearly 20 feet into the ground in Laos in search of an F-4 Phantom fighter pilot who vanished during the Vietnam War.
While no remains were found on that mission, they were still able to confidently close the site and shift efforts elsewhere.
Then there was another mission in Slovenia, where the tail gunner of a bomber aircraft from World War II went missing.
When his plane crashed, the gunner was the only one in his aircrew killed. Residents later buried him next to a church.
As Lucas' team arrived at the site, the townspeople still knew about the crash and the gunner. Residents regularly visited his team, often bringing Lucas and the others food and drinks. An elderly woman even told him that for decades she would clean the grave site once a week.
When his team recovered the remains, a somber tone spread through the community.
"A lot of them actually shed tears when we found the remains," Lucas said. "It was special to them and it was special to me."
The poignant moment, along with others he has experienced during missions, galvanized the meaning of the mission for him.
"I'm potentially bringing back a fallen comrade," Lucas said. "I would want to know that if it was me lost out there somebody is trying to recover me and give my family closure."
Maritime Recovery
Recovery missions also extend out into the sea, where many service members have disappeared as a result of aircraft crashes or ships sunk.
While she served as commander of the 8th Theater Sustainment Command, Army Maj. Gen. Susan A. Davidson was an advocate for her unit to support the solemn mission.
The unit regularly supplies DPAA with highly-trained Army divers from the 7th Engineer Dive Detachment, who often work on the sea floor with no visibility and use a suction hose to remove loose sediment from recovery sites.
On a barge, team members then sift through the sediment for the remains or personal effects of those missing.
When divers returned to Hawaii, she encouraged them to share their experiences and what they got out of the mission with others in the unit.
"They come back a different person and they have a different respect for our Army and for what we do," Davidson said.
Back at the lab, Owen and others strive to identity those heroes who have been found.
"I feel that I am part of something so much bigger that I can contribute to," she said.