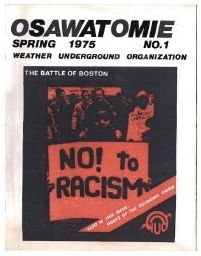 Who is John Brown and Why Osawatomie?
Earlier this month, President Obama gave a speech at a local high school in Osawatomie, Kansas, a town of only a few thousand people. While much of the blowback of the speech regarded his references to Theodore Roosevelt and the plan of New Nationalism, it is important to determine why the location in Kansas was chosen. Perhaps it will lay more creditability to the text of the speech itself.
This summary is a rather long piece should you choose to read all the provided links, yet it is suggested that Patriots take the time to in fact understand what is behind the curtain with the political quests of Barack Obama as is defined by his private armies.
It is prudent to return to 1975 and a forgotten organization named Weather Underground. Members of the Weather Underground have rotated through the ranks and most have remained true to the organization's missions and objectives. Bill Ayers and Bernadine Dohrn remain committed through education by altering history which Howard Zinn was key to accomplishing  by recruiting the very radical concepts of the mantra born in Osawatomie using John Brown as the historical springboard to the ground war within America.
The Weather Underground Organization was radical enough such that the FBI created a comprehensive file that can only be viewed with conditions attached and is not available for general public consumption.
Taken from this website,   below is a piece of text that will give rise to the chosen location of Obama's speech and nothing is by chance.
But revolutionaries expect adversity, expect to be fought every inch of the way by an entrenched ruling class, expect to confront danger and demoralization and overcome it, with creativity and audacity.
Theory and ideology are important tools, and we should make study of Marxism-Leninism an important part of our work.
It is also important to understand the facts spoken within the speech and the twisted comparisons as revealed by several media blog posts. Overwhelm the system is the audacious and extreme objective to weaken the and eventually fracture the very foundation of America as we have arrived at this very moment without so much as a tear shed or a collective actionable mission to protect and defend our land as is the very duty of the American citizen. Sure we have bloggers, the Tea Party, Freedomworks and 9.12 groups, yet if citizens were current on events and learned of the motivations of the destruction set by the likes of Weather Underground spin-off organizations such as ACORN and SEIU, America would not be facing the meltdowns were are today not only domestically but internationally.
We have many key leaders in Washington DC that are in key cabinet positions that assuredly endorse Rule for Radicals. Here is a sample in video form that forces us to revisit Hillary Clinton and her historical ties and college thesis.  Lawmakers in Washington DC are more indoctrinated to protecting against individual failures while destroying our liberties to achieve that objective all under the 'general welfare' clause and packaged for political correctness.
The end result, America has in fact becomes slaves to the Federal government, which is the expanded position John Brown sought to end.