KABUL, Afghanistan (April 13, 2017) – A GBU-43/B Massive Ordnance Air Blast bomb strikes ISIS-K cave and tunnel systems in the Achin district of the Nangarhar Province in eastern Afghanistan at 7:32 p.m. local time Thursday. The strike was designed to minimize risk to Afghan and U.S. Forces conducting clearing operations in the area while maximizing the destruction of ISIS-K fighters and facilities and eliminate any perceived safe haven for ISIS-K in Afghanistan
***
So what do those caves and tunnels look like that have been used by al Qaeda, bin Ladin and Islamic State?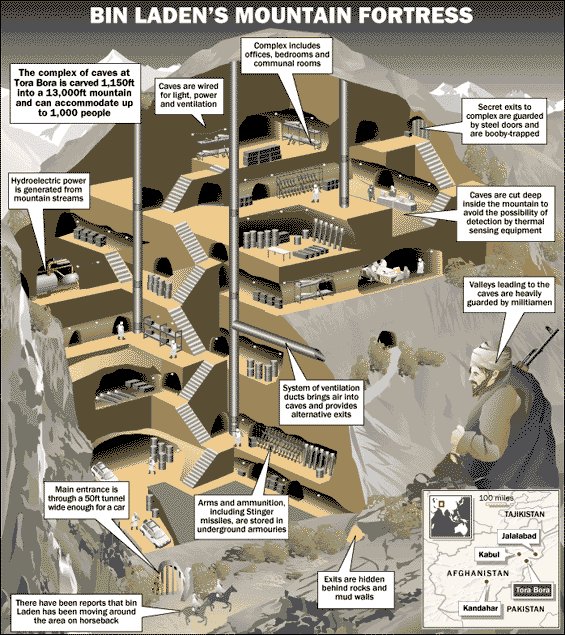 Meanwhile, Russia and Iran are in meetings regarding Afghanistan. Russia is bragging too about their weapons that is bigger than the U.S. MOAB.
The 21,600-pound MOAB was developed in 2003 as a weapon to attack against elite Republican Guard units during the invasion of Iraq. But the bomb, which replaced the Vietnam-era 15,000-pound BLU-82 Daisy Cutter, was not used in that conflict because of the rapidity of Saddam Hussein's army.

Soon after the Pentagon announced the new weapon, Russia began working on a counterpart. In 2007, it successfully tested the massive thermobaric weapon.

The bomber-dropped bomb is designed to explode midair by ignition of a fuel-air mixture that produces massive blast effects comparable to small tactical nuclear weapons.

"All that is alive merely evaporates," Gen. Alexander Rukshin, deputy chief of the Russian general staff, was quoted as saying at the time.

Thermobaric devices detonate in two stages, with an initial blast dispersing explosive materials in a cloud that is then ignited by a secondary charge. The explosion generates a much bigger pressure wave than conventional explosives, followed by a vacuum effect that compounds damage and injuries caused by the blast.

Russian sources have claimed their weapon has a power equivalent to 44 tons of TNT – or four times that of the MOAB – despite being somewhat lighter than the U.S. munition at 16,650 pounds. Because of its yield and the extremely high temperatures it generates, it is slated to replace smaller battlefield nukes currently in the Russian arsenal.

When the Russian air force began bombing rebel positions in Syria in September 2015, smaller thermobaric bombs were used against Islamic State positions, but the FOAB was never deployed. More here.