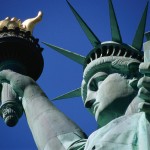 A series of debates, town halls and media events have led us to a handful of primary voting locations across America where the Republican field has whittled the number candidates racing for the White House down to four. The narrative of all candidates as a collective has been in full opposition to the Obama doctrine, a doctrine which is a moving target that appeases all issues and topics with no foundation except that of distribution of everything.
One must look now at the four that remain standing and the numbers that track their vote and electability ranking. To break in down simply is to say the electorate is just damned stupid when Newt Gingrich and Ron Paul are not receiving the lion share of the ballots that are cast. Kudos to Paul as he speaks only to the messages of liberty, the debt and the exit of occupational forces in foreign countries without define mission objectives.
Newt Gingrich on the other hand speaks to those same issues as Paul, however Newt serves up much more for the sake of America and the alleged engaged population is too indoctrinated to hear Newt's solutions.
Newt has a long history of thinking out of the box where concepts are offered that are innovative and refreshing. Newt has played the DC hustle game and that demonstrates he can stand toe to toe with the progressives as required to advance America, so yes, Newt was and is a hustler. As I see it however, you cant bullshit a bullshitter and Newt has the savvy to spot a bullshitter wherever they roam.
As a history professor, owning a PhD, Newt has a skill set that breaks down an issue to its core, a speaking ability to keep the argument simple and well defined. Americans are still too comfortable to seek the reconstruction that is required in all of DC for which Newt argues to achieve.
Newt is bold as demonstrated by having no fear to examine all that ails America as he has authored countless summaries, solutions and books that speak to re-tooling DC politics and has published all of them in various forms for the electorate to read, but have they read them? I submit the answer is no, as voters are too apathetic to perform their respective duty as a citizen to engage often as the sheriff of government.
Washington DC has been a nasty and nefarious machine whose engine operates with unlimited fuel sources paid for by lobby networks and media since the early 1900's. Newt is telling America that he has no fear to throw sand in the gears of that engine to neutralize the transmission of a runaway vehicle.
America must embrace new century innovations and be inspired to look for creative conceptual restoration of government. America cannot grow and expand into the future with old tired business as usual playbooks. We dont need minimum wage and we dont need government schools. We cant prosper with a damning of growth tax code and we can fund a United Nations, NGO's or the Millennium Challenge or the Merida Initiative where money goes offshore for projects that are outside the scope of America's best interest without a voice in how those funds are spent. The list is long, yet if the electorate would stop casting ballots for personal reasons and vote for the sake or our country and her future, then Newt's mission objectives is the clear choice. Newt does not only tell you this verbally but he has written and published the same. Remember the written word is more powerful than the spoken, so go visit his site at Newt.org and learn it, which is your duty as a citizen.