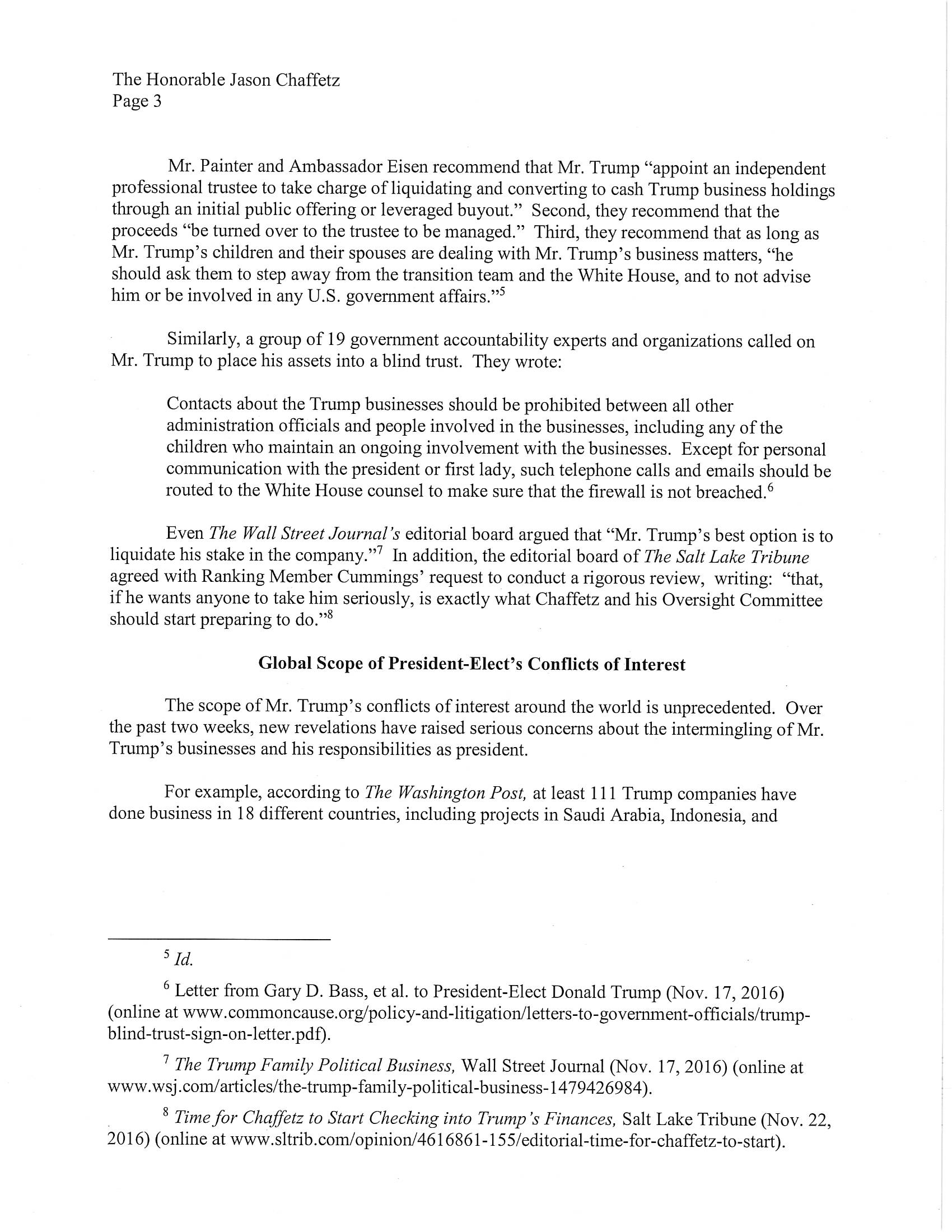 letter-to-chaffetz-re-trump-conflict-of-interests
Read the full letter in the link above. It has 17 signatures noted on the last page. It is obvious there is an operation underway to interfere in the Trump administration from the outset and to continue to political division within Congress.
It should also be mentioned that Politico posted an item regarding Hillary political operative David Brock that is working to destroy Trump. With Jill Stein challenging the voting results in a few states, something else is afoot here. Could the money raised so far which is estimated above $6 million be the launch of early petty cash to recruit, cultivate and mentor a new bench of democrat political hit personnel?
Brock: The Nation has described Brock as a "conservative journalistic assassin turned progressive empire-builder"; National Review has called him a "right-wing assassin turned left-wing assassin" and Politico has profiled him as a "former right-wing journalist-turned-pro-Clinton crusader."      (Wikipedia)
David Brock gathering donors to 'kick Donald Trump's ass'
The Clinton enforcer is launching Koch brothers-like donor network to rebuild liberal power.
Hillary Clinton's attack dog David Brock is launching his own Koch-brothers-like donor network to finance attacks on President-elect Donald Trump and to rebuild the political left after Trump's stunning victory over Clinton last week.

Brock on Thursday night emailed more than 200 of the biggest donors on the left — including finance titans George Soros, Tom Steyer and Donald Sussman — inviting them to a retreat in Palm Beach over inauguration weekend to assess what Democrats did wrong in 2016, figure out how to correct it and raise cash for those initiatives.

"This will be THE gathering for Democratic donors from across the country to hear from a broad and diverse group of leaders about the next steps for progressives under a Trump Administration," Brock wrote to the donors in an email obtained by POLITICO.

The retreat, planned as the first in a series of regular gatherings, will feature appearances by an array of Democratic elected officials, operatives and liberal thinkers and group officials, Brock explained in an interview.

Though he said he had yet to extend invitations beyond those sent to donors Thursday night, he predicted there would be significant interest, noting that the keynote address at his last major donor conference, back in 2013, was delivered by former President Bill Clinton.

"What better way to spend inaugural weekend than talking about how to kick Donald Trump's ass?" Brock said.

Brock — a self-described right-wing hitman-turned-Clinton enforcer — has used his relationships with some of the left's deepest pockets to build an armada of aggressive political outfits that have become pillars of the institutional left and that raised a combined $65 million during the 2016 cycle.

Brock's groups include the conservative media monitoring nonprofit Media Matters, the opposition research super PAC American Bridge and the legal watchdog Citizens for Responsibility and Ethics in Washington.

Other groups in his network include the liberal media-funding vehicle American Independent Institute, the media-training nonprofit Franklin Forum and the for-profit social media operation ShareBlue, which The New York Times described as "Hillary Clinton's Outrage Machine."

A seventh group, a super PAC called Correct the Record that was created to coordinate directly with Clinton's campaign, is winding down, though Brock said that a number of its functions and personnel likely will be absorbed by his other groups.

While the entire political left is grappling with how to move on after Clinton's devastating loss, it could be a particular challenge for Brock and his groups, since he was so closely associated with Clinton.

Brock acknowledged in the interview: "There is no question that we poured our heart and soul into this election for Hillary, but these institutions were built before her campaign and were intended to outlast it."

And in his email to donors, he pointed out that he created Media Matters more than a decade ago to help the left push back during George W. Bush's presidency.

"In 2005, we were part of a successful progressive effort to regroup, retool and recover," he wrote. "While today's situation is more dire, media matters more than ever."

One of the areas where the left has been at a disadvantage is using the legal and regulatory system to call out Republican politicians and groups, Brock said. He cited the success of the conservative group Judicial Watch in using the Freedom of Information Act and legal system to pry free emails from Clinton's State Department.

"Judicial Watch has a $30 million budget, and they had a significant impact on the election," he said, comparing it to CREW's $2-million budget. "And if we're heading into an administration that looks like it could well be as corrupt as the gilded age, we need to significantly reinforce the capacities for an aggressive ethics watchdog."

The Palm Beach retreat in some ways seems to be a challenge to the 12-year-old Democracy Alliance, a club of liberal financiers that was started by Soros and a handful of other major donors to fund the institutional left.

In fact, the club, which held its annual winter meeting this week in Washington, helped launch Media Matters, and many of Brock's donors are included among its ranks.

Brock said he's inviting the president of the DA, as the club is known, to his Palm Beach retreat.

But, while the Democracy Alliance at its winter meeting discussed ways to push back on the Trump administration, many of the group's members have tried to train its focus on pressuring Democrats from the left on issues like fighting climate change, money in politics and drug laws.

Brock's network, on the other hand, is more overtly and aggressively political, and has been largely agnostic on the philosophical divisions with which Democrats are grappling.

"We don't think of this as representing a faction of the Democratic Party, but a cross-section of it, so we're not going to precook things ideologically," he said. "It is very politically minded, and there is an urgency to it."