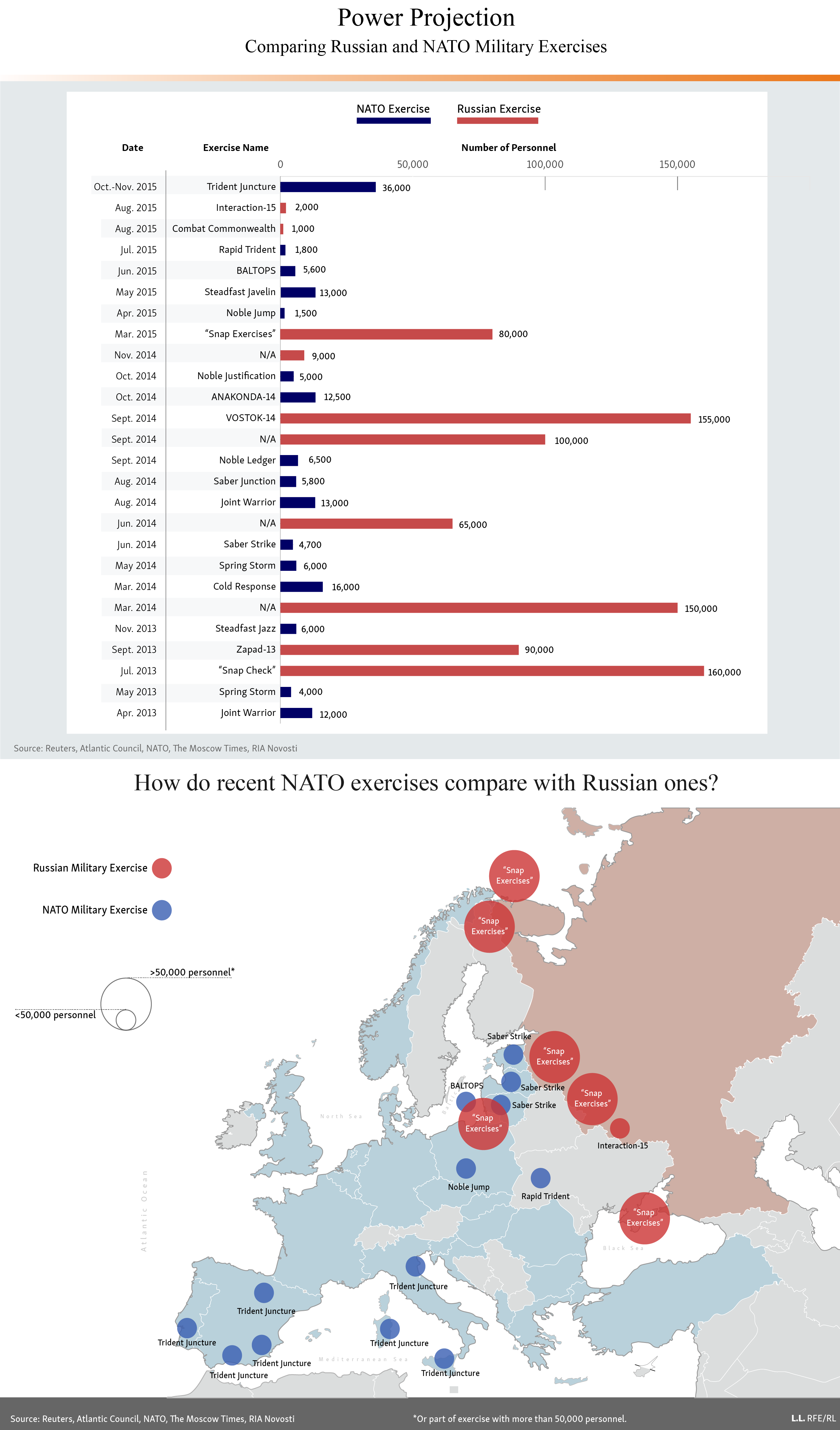 Citation: RFEL
*****
Huge NATO Exercise Is a Rehearsal for a Russian Invasion
TORUN, Poland — US, British and Polish soldiers parachuted to the ground in Poland on Tuesday in a mass show of force as NATO launched its biggest war games in eastern Europe since the Cold War.

The exercises — staged against the backdrop of a military and diplomatic standoff between Russia and the West — have rattled the Kremlin.

NATO says the 10-day Anaconda maneuvers involving 31,000 troops are intended to shore up security on the alliance's eastern flank, where member states have been spooked by Russia's increasingly assertive actions.

"There's no reason to be nervous," Ben Hodges, Commanding General, US Army Europe, told reporters, insisting the exercises were purely "defensive".

They are being held a month ahead of a NATO summit in Warsaw set to seal its largest revamp since the Cold War by deploying more troop rotations to eastern European members deeply wary of Russia after its 2014 annexation of Crimea from Ukraine.

Moscow fiercely opposes the NATO moves, billed by the US-led alliance as part of its "deterrence and dialogue" strategy.

'Trust deficit'

And the Kremlin reacted angrily to the start of the maneuvers, NATO's biggest since the Trident drills last year involving 36,000 troops in Italy, Spain and Portugal.

"The exercises… do not contribute to an atmosphere of trust and security," said spokesman Dmitry Peskov.

"Unfortunately we are still witnessing a deficit in mutual trust."

Anaconda involves troops from 24 states, including 14,000 from the US, as well as ex-Soviet "Partnership for Peace" states like Ukraine.

US generals in Torun, central Poland, said it took just 24 hours for 500 rapid "Global Response" paratroopers to deploy 4,500 miles (7,200 kilometers) from the world's largest military base in Fort Bragg, North Carolina.

Russia has long protested at NATO's expansion in its Soviet-era backyard and in 1997 NATO formally agreed not to install permanent bases in former Warsaw Pact states.

Since the Ukraine conflict erupted in 2014 however, NATO has established a high-speed "spearhead" response force, complete with forward command and logistic centers in eastern states.

The Pentagon said in March it would deploy an additional armored brigade of about 4,200 troops in eastern Europe from early 2017 on a rotational basis.

While NATO cut all practical cooperation with Moscow over the Ukraine crisis, the alliance plans formal talks with the Russians before the July 8-9 summit.

"The Cold War is history and we want it to stay that way," NATO chief Jens Stoltenberg said last week.

But last month Moscow and Washington accused each other of mounting an aggressive military presence in Europe as the US broke ground on a missile shield in Poland and Romania.

Russia has vowed to "end threats" posed

by the missile system, despite US assurances it is intended to ward of potential attacks by "rogue" states in the Middle East.

Moscow has significantly stepped up its presence in the Baltic Sea area and its jets regularly violate the airspace of smaller ex-Soviet NATO allies like Estonia. In April, they even buzzed a US naval destroyer.

'Test of wills'

Some analysts question whether NATO's current strategy — using rotational rather than permanent forces — can secure its eastern flank.

"When push comes to shove, how long will it really take to mobilize at break-neck speed troops in the possibility of a threat of an attack?" Carnegie Europe analyst Judy Dempsey said in an interview with AFP.

"Russian exercises are sophisticated, they're big, they're intimidating and look what they're doing in Kaliningrad," she said, referring to Moscow's maneuvers in the Russian enclave sandwiched between Poland and Lithuania.

"It's like a warning to NATO: 'don't forget, we're right inside NATO territory'."

The Kremlin has said it would set up three new divisions in the west and south of Russia by the end of the year to counter NATO forces near its border.

Describing the confrontation as "a test of wills", Dempsey said she believes Moscow's saber-rattling is ultimately aimed at stopping NATO from encroaching even further into its backyard, with ex-Soviet republics Georgia and Ukraine keen to join the Western alliance.