DENISE SIMON ON THE RADIO
The Denise Simon Experience is broadcasted worldwide on WDDQ - Talk 92.1FM in Valdosta, GA at the following times (all times are eastern):
Late Thurs. / Early Friday. - Midnight - 2:00AM
In addition, you are able to catch Denise on the Donna Fiducia Productions 24/7/365 Streaming Feed!
And of course you can listen to her On Demand archives anytime by going to the Denise Simon Experience Archive Page
THIS WEEK'S SHOW:
In addition, Denise can be often heard on the USA Transnational Report which airs on Red State Talk Radio at the following times:
STUDIO A:  Saturday  -  8:00AM
STUDIO B:  Sunday  -  2:00AM
---
THE CAPTAIN'S AMERICA - THIRD WATCH
Denise is also a regular guest / analyst on The Captain's America - Third Watch, hosted by Matt Bruce.
Nationally syndicated and broadcast live from Tampa, FL every Monday through Friday from 2:00AM - 6:00AM on WGUL AM680 The Answer, Red State Talk Radio, and a multitude of stations across America!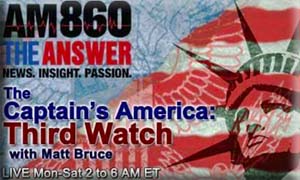 ---
JOIN OUR TEAM!
Talk 92.1FM - The Official Home of THE DENISE SIMON EXPERIENCE
DONNA FIDUCIA PRODUCTIONS - 24/7/365 STREAMING FEED